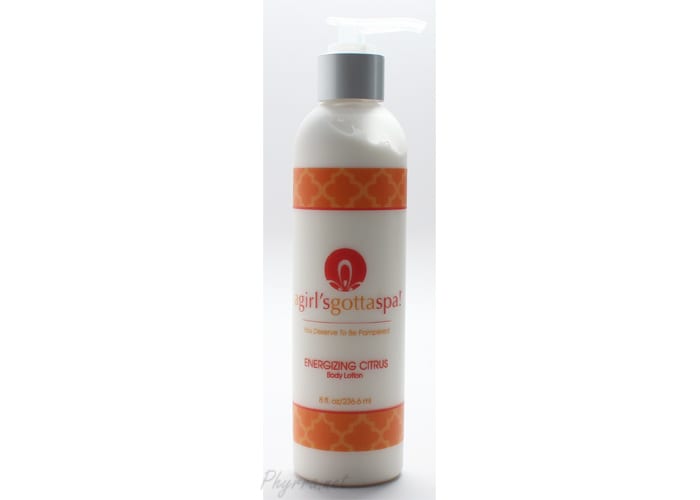 I'm excited to finally be able to talk to you about A Girl's Gotta Spa! Energizing Citrus Body Lotion. Energizing Citrus Body Lotion is the brain child of Shannon from A Girl's Gotta Spa! blog. It's a luxury body lotion (and there's even a shower gel too). Shannon is a friend of mine as well as a fellow beauty blogger and I was very happy for her when she started her company, especially when she went for Leaping Bunny Certification.
A Girl's Gotta Spa! Energizing Citrus Body Lotion Review
A Girl's Gotta Spa! is cruelty free and Leaping Bunny Certified.
About A Girl's Gotta Spa Energizing Citrus Body Lotion
A Girl's Gotta Spa!® Energizing Citrus Body Lotion is a natural, light, sheer lotion which absorbs easily to help restore your skin's natural moisture balance. It's blended with olive oil, African shea butter and unprocessed natural cocoa butter, which smoothes, hydrates and helps to improve skin elasticity. Powerful essential oils treat the skin and enlighten the senses. Use SPF after using this lotion if you are going to go outside as Vitamin C can cause photosensitivity.
Sulfate free
Paraben free
Petrochemical free
Synthetic Fragrance free
Synthetic Dye free
Cruelty free
94% Natural
Vegan
Leaping Bunny Certified
Ingredients
Purified Water, Olea Europaea (Olive) Fruit Oil, Butyrospermum Parkii (Shea Butter), Theobroma Cacao (Cocoa) Seed Butter, Vegetable-based Emulsifying Wax (Cetearyl Alcohol, Polysorbate 60), Citrus Paradisii (Pink Grapefruit) Oil, Phenoxyethanol, Caprylyl Glycol, Sorbic Acid, Citrus Aurantifolia (Lime) Oil, Citrus Medica Limonum (Lemon) Peel Oil, Citrus Sinensis (Orange) Oil.
Price
$22 for 8 fl. oz.
Availability
A Girl's Gotta Spa!
I'm very pleased that in addition to being cruelty free and vegan, Shannon chose to get her products Leaping Bunny Certified. Leaping Bunny Certification is a big deal to me because it means that Shannon took the time to verify that her suppliers do not test their ingredients on animals. I want everyone to be nice to bunnies!
When creating her line, it was important to Shannon to create products that were as natural as possible, as well as paraben free. Because these are natural, they have a shelf life of 6 months from when they are opened. They should be stored in a dark, cool place and not exposed to sun or heat.
Shannon wanted to make a body lotion that would penetrate deeply into the skin and hydrate it. She wanted people to feel invigorated when they smelled the citrus scent.
When I used Energizing Citrus Body Lotion for the first time, I immediately loved the scent, which is a mix of pink grapefruit, orange, lemon and lime, all 100% pure essential oils. It's a sweet orange scent to me. The scent lingers for me, which I like, and later I can smell a hint of lime.
The formula is very moisturizing. I love the combination of shea butter, olive oil, and cocoa butter together. It's very emollient and feels good when you rub it into your skin. It doesn't leave my hands or body feeling greasy. I'm really impressed that such a light formula can moisturize my skin so well, especially my heels which always need extra TLC!
If you are looking for a high quality, luxury, natural, vegan body lotion, this is definitely the product to check out. I'm thoroughly impressed with the formula.
Pros
Leaping Bunny Certified
Cruelty free
Vegan
94% natural
Free of sulfates, parabens, petrochemicals, synthetic fgragrances, synthetic dyes
Deeply moisturizing formula
Cons
More expensive than your average body lotion
If you don't like citrus scents you may not like this