I've got the new Fyrinnae Samhain 2012 colors for you, plus a few extra! I also picked up the pressed versions of Immortality and Jade Ghost. The Samhain 2012 collection is made up of one lip lustre called Ghost's Kiss, and 8 eyeshadows. The eyeshadows are Mystical Hedgehog, Mermaid Masquerade, Witchy Woodland Creatures, Velveteen Werewolf, Sultry Samhain, Bonfire Spirits, Ethereal Éire and Mischevious Sidhe.

All colors are swatched on bare skin.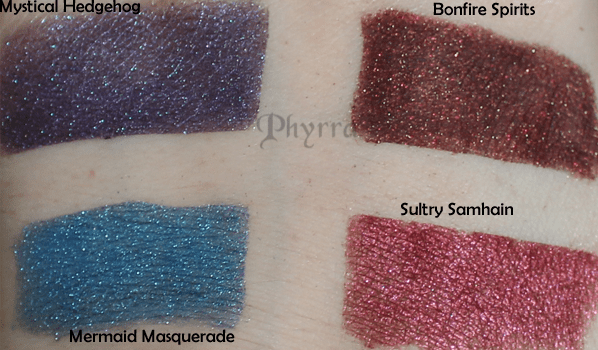 Mystical Hedgehog
Appears as a vibrant, shimmering purple with a turquoise-green highlight at a distance, but changes to a warmer purple to pink at an angle or close to light.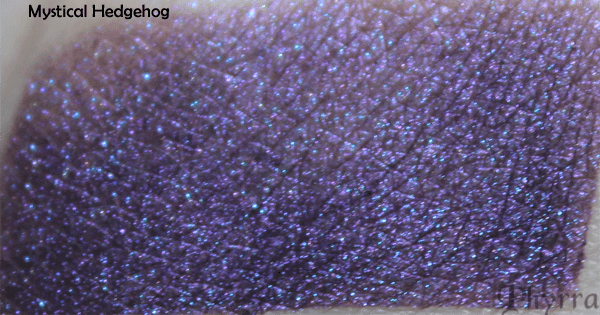 My Take
Perfectly deep purple with with gorgeous turquoise glimmers. I love this color so much!
Mermaid Masquerade
Bright, rich, shimmering royal blue. Moved closer to light or at an angle, and it turns purple to pink, though still retaining hints of blue.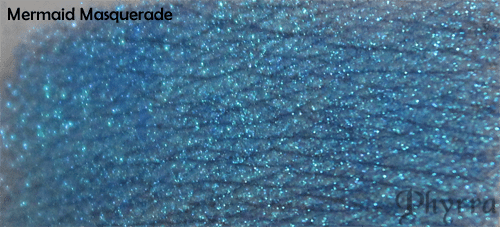 My Take
Rich royal blue with blue shimmer, almost like the sun reflecting on the water.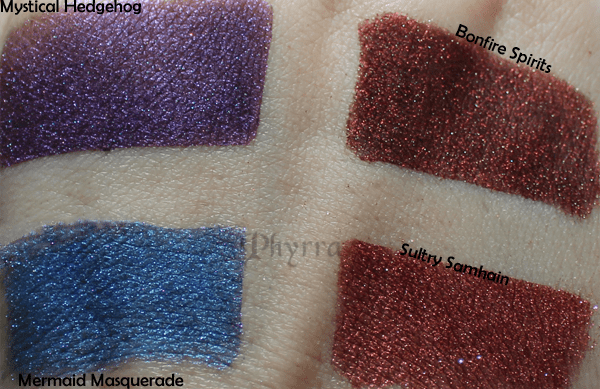 Bonfire Spirits
Smoldering warm red and a touch of chartreuse mingle in a deep base. Almost an Arcane, as the green appears blue at angle or with light changes, but not by much. Somewhat of a "vampy" earthtone.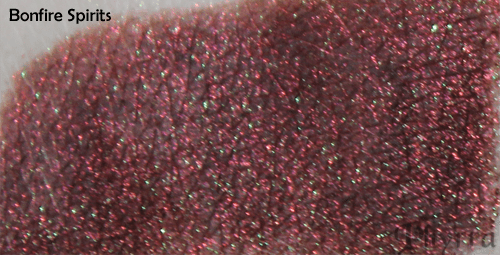 My Take
Deep burgundy brown with complex shimmers of green, red, orange and gold.
Sultry Samhain
Stunning metallic bright burgundy, gleaming and sparkling with a bit of lighter pink. Closer to light or at an angle, and it warms to pink to an orange-gold hue. Similar to Velvet Vampire, but much cooler.



My Take
Metallic burgundy with shimmer with pink sparkles. There are golden hues around the edges.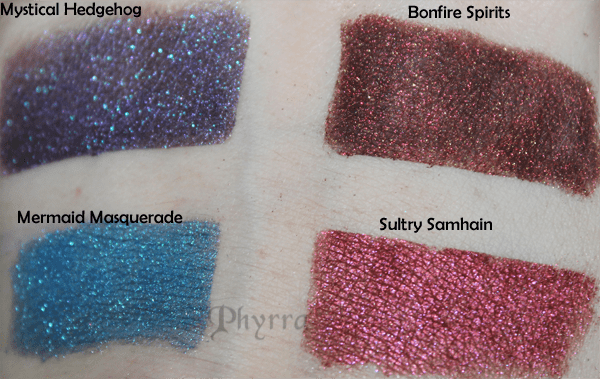 These shades have an almost wet, diamond like lustre finish. The pink shows up fairly easily in Sultry Samhain.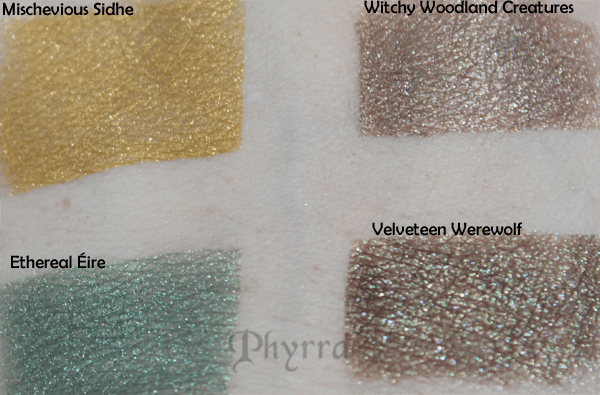 Mischevious Sidhe
Brilliant, glittering, shining, semi-metallic gold. Yellow and rich like real 24 karat, with no beige or bronze hues. Appears to be a mustard shade in the jar, but is metallic and sparkling once applied.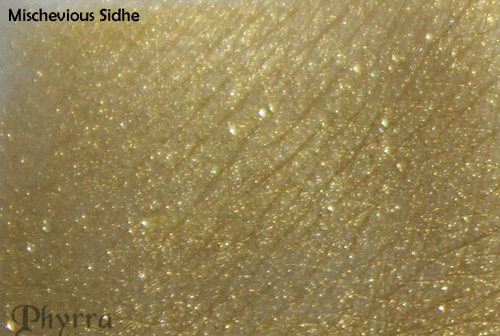 My Take
Yellow-toned sparkling gold. I love the name!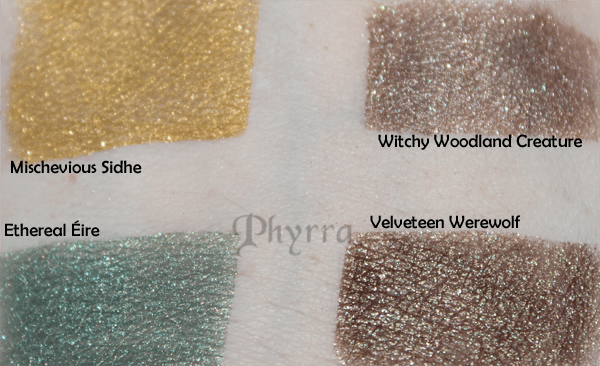 Ethereal Éire
Varying hues of gold, blue, and green create a shade that appears silvery sage, but light reflects different hues. A versatile shadow, but not boring. Graced with a sprinkle of pale green sparkle.



My Take
Soft, pale green with a hint of gold iridescence and blue sparkles.

Another swatch of Ethereal Éire, which is really lovely.
Witchy Woodland Creatures
Glimmering, multi-faceted cocoa taupe. Shades of copper and silver, with hints of pink, gold, and green shimmer on a neutral taupe-brown base make this shadow suitable for a wide range of skintones.



My Take
Light brown taupe with a soft copper sheen. You can see sparkles of green and pink and gold shimmer.
Velveteen Werewolf
Complex whirl of lime green and gold on a shimmering brown base, graced with a touch of lavender sparkle. Moved close to light or at an angle, and the shadow warms to hues of peach and pink on rusty brown.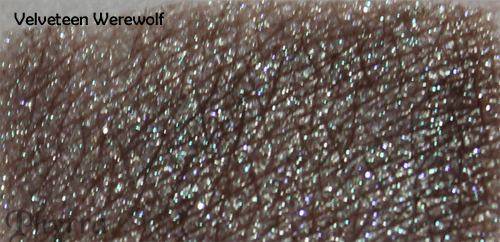 My Take
Shimmery brown with strong gold and green sparkles.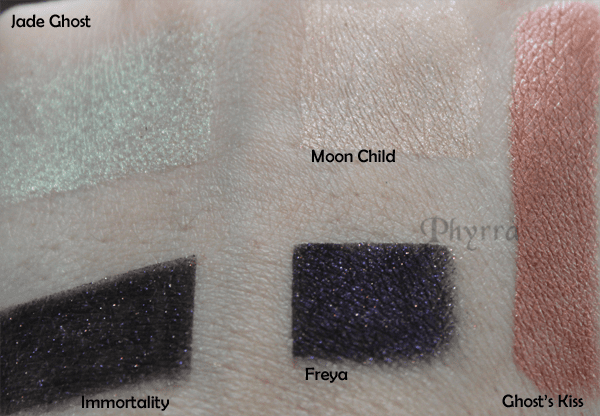 Ghost's Kiss Lip Lustre
Slightly shimmery "nude" with hues of copper and pink. Semi-transparent. Neither overly warm or cool, so it's suitable for a wide range of skintones. Samhain 2012




My Take
Nude copper soft pink hues.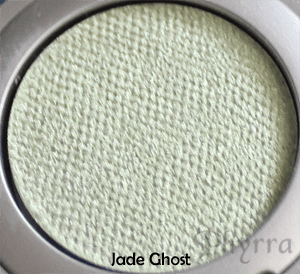 Jade Ghost Pressed Shadow
Slightly shimmery pale white-green. Appears pastel in the pan, but once applied, it has no white base but an iridescent glow of light green shimmer and a touch of sparkle. Looks great alone or over other colors.



My Take
Soft, iridescent white green.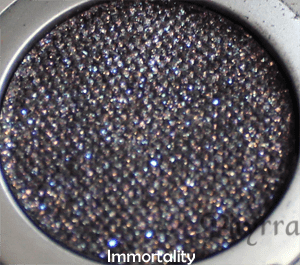 Immortality Pressed Shadow
A rainbow of sparkle in soft black. Sheer without primer or base (but…why would you use it without? Just noting that for swatching – you'll want to apply over a primer at least), and not as deep as the loose shadow version, but buildable.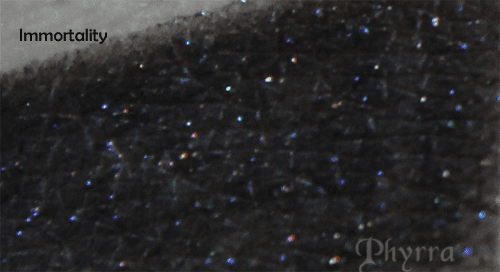 My Take
Soft black with beautiful rainbow sparkles.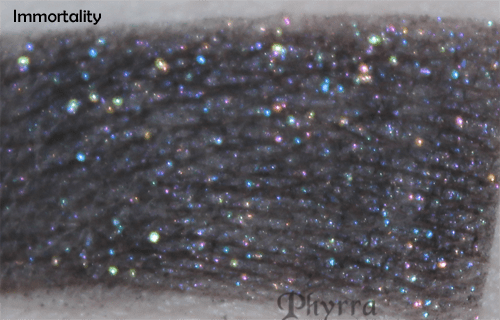 Here's another swatch of Immortality, I just love the rainbow explosion!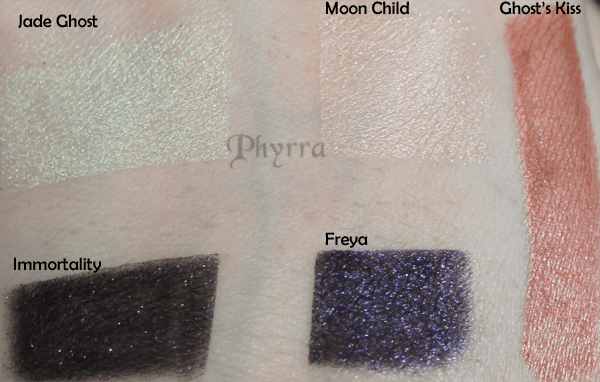 Moon Child
Soft glimmering ivory shade with just the right amount of shimmer and sparkle and a touch of coppery highlight.



My Take
Soft ivory beige with slight coppery highlight.
Freya
Glowing warm purple shimmer on black.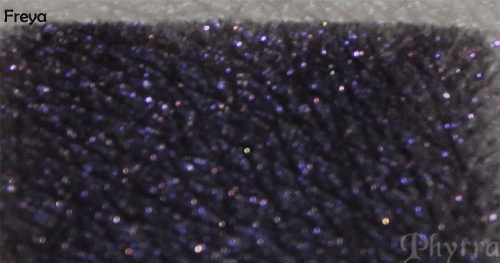 My Take
Warm purple shimmer, with a sparkling diamond sheen, on a black base.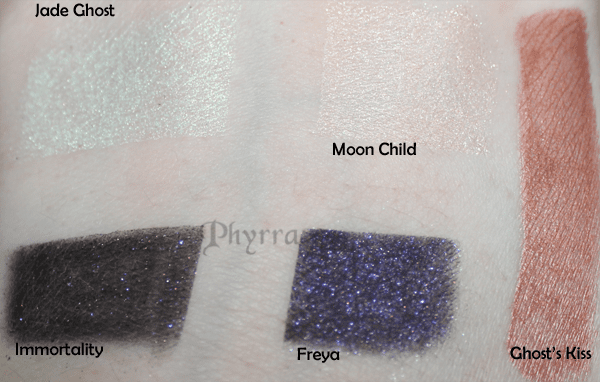 I love the new colors from Fyrinnae. I'm happy that it's not an LE collection, so the colors will be around for several months. So don't despair if you can't pick the new color up now, they'll still be around. I'll have a video up soon of my swatches.
Oh! I really like the pressed versions of Immortality and Jade Ghost. I'll swatch them side by side with the loose soon.
I love the complexity of Bonfire Spirits. Sultry Samhain is very pretty. Mystical Hedgehog is my favorite! I'm looking forward to wearing Ghost's Kiss. Ethereal Éire is gorgeous.
You can see my video of the swatches here. The video shows off the complexity of the colors, as well as their shimmer.
Here's a look that I did with several of the colors.


What shades are your favorite?
Products purchased by me. All opinions are my own.