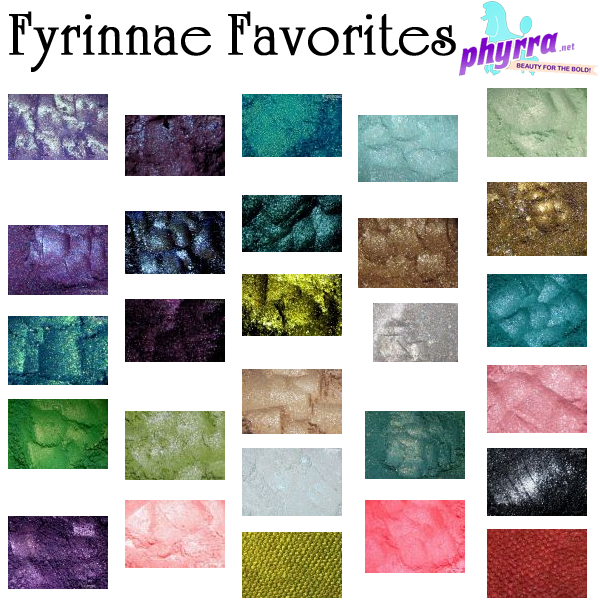 I get asked this question all the time, so I thought I'd share my Fyrinnae Favorites with you all. Because I own 5+ years worth of Fyrinnae, I limited my favorites to colors that are currently sold. A couple of shades will be disappearing soon, though! I only list eyeshadows here, not lip lustres. Also, Pixie Epoxy is a MUST HAVE! It's amazing to 'foil' or use with glittery / ultra shimmery shades.
In general, if you're in doubt, check out the Arcane Magics. All of those colors are very complex and highly unique. You can't go wrong with Arcane Magics! There are lots of other great colors, though.
As you can tell, teal blues, purples, bright lime greens, and glowing shades make up most of my favorites.
1. Faerie Glamour (Arcane Magic)
Semi-matte violet base with an aqua shimmer that changes to a bright purple-pink when closer to light or seen at an angle.
2. Wicked
Deep, dark purple with turquoise shimmer.
3. Digital Faerie
Stunning deep sky blue with green shimmer.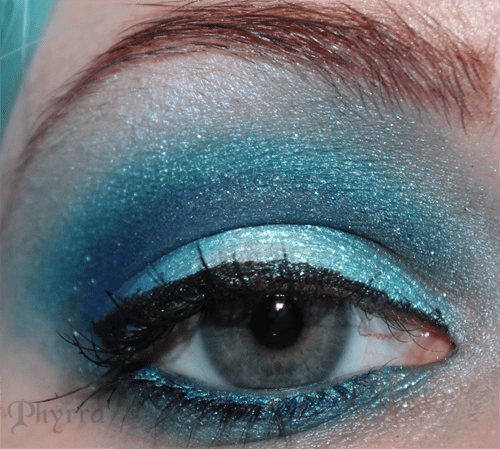 4. Futuristic Glamrock (Arcane Magic)
Futuristic Glamrock is a pale translucent aqua-blue, sparkling with a hint of coordinating hues. Bring it closer to light or change the angle in some cases, and it turns to icy pink. The eye shadow equivalent of Ultra Phantom. (soon to be discontinued)
5. Electric Stardust (Arcane Magic)
Electric Stardust is a light, glowing, mint green sparkle (no white base, so can be easily layered with darker colors). Brought closer to light, it changes to a pale aqua-blue. (soon to be discontinued)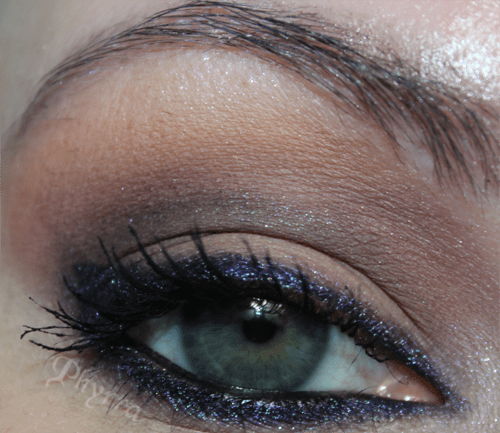 6. Mystical Hedgehog (Arcane Magic)
Appears as a vibrant, shimmering purple with a turquoise-green highlight at a distance, but changes to a warmer purple to pink at an angle or close to light.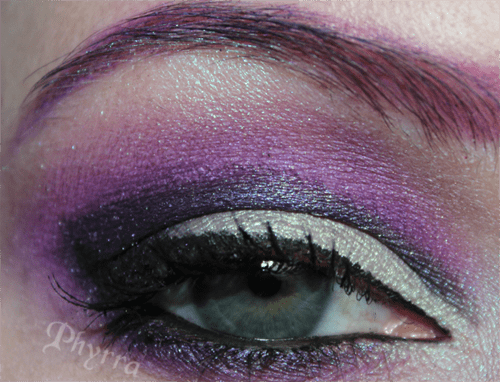 7. Glitterboi (Arcane Magic)
Glitterboi is a deep blend of midnight blue, violet, and a hint of pink sparkle on a black base, and as the angle changes or light-distance decreases, changes to a light, gleaming grape, then to vibrant metallic pink.
8. Sorceress (Arcane Magic)
Soft black shadow with shimmer which changes from a brilliant aqua to vibrant cool pink, depending on light and angle.
9. Book of the Dead
A slightly aged gleaming, sparkling beige-gold, fit for Osiris himself (we could hope!), graced with flashes of sparkle in varying hues. Neutral tone, not yellow.
10. Shenanigans
A rainbow of sparkle fills rich, metallic gold over a dark base.
11. Sleepy Hollow
Lush deep ocean blue with a flash of sage green as the light hits, and touch of gold sparkle as well.
12. Shinigami
Deep, smoldering purple entwinted with a scattering of blue and crimson sparkle.
13. Dressed to Kill
Glimmering, glowing, gilded green with flashes of gold and green sparkle.
14. Dinosaur Plushie
A flamboyant, eclectic dinosaur covered in glitter, perhaps. Name is unrelated to shade…as usual. Dinosaur Plushie is filled with multi-colored sparkle, some of which can change hue in different light.
15. Pteranodon
Bright shimmering turquoise, enhanced with a touch of silver sparkle.
16. Bitey Tyrannosaur
Brilliant lime green. Vibrant green and gold shimmer top a lush green base. More green than "Omgwtf" and less flat.
17. Oh, My Stars
Brilliant lime green filled with violet and purple sparkle.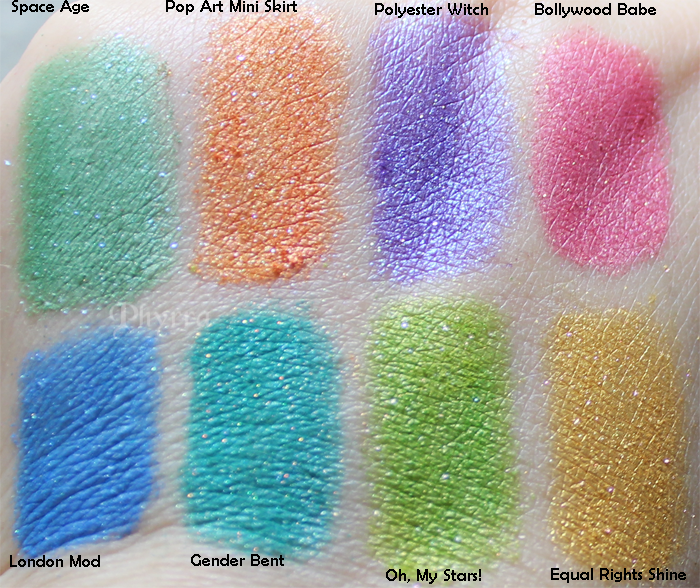 18. Nijiro
Ivory with rainbow sparkles.
19. Gender Bent
Vivid, somewhat shimmery teal graced with bold orange sparkle.
20. Chaotic Evil
A little deeper than it appears here, Chaotic Evil is a brilliant cool shimmering pink loaded with silvery sparkle.
21. Cuddlefish
Cuddlefish is a vibrant violet, loaded with varying hues of purple and blue-violet sparkle, and is more blue-tone than it appears here. You'll definitely want a sticky base or sealant with this shadow.
22. Cupcake Frosting
This is is a "glowing", soft pink shade. It's not pastel, but a semi-sheer sparkle shade much like Electric Stardust and Otherworld.
23. Winter, Again
Semi-sheer white with soft blue and turquoise shimmer. Looks very pale in the jar, but once applied can give a ethereal aqua-blue glow, especially when applied wet.
24. Superstar
Superstar is a very bright hot pink, graced with a subtle blue highlight.
25. Kuroneko
Kuroneko is deep black filled with silver sparkle. When used wet or over a sticky base, it has a metallic-looking overlay.
26. Aztec Gold
Stunning deep metallic gold over a rich olive green base.
27. Hitched
Bright, metallic satiny warm red. No sparkle, just a softly gleaming finish.
You can follow Fyrinnae on Twitter or Instagram. You can check out more Fyrinnae posts.
So now you know my favorites from Fyrinnae. What are your favorites? Please tell me in the comments below!