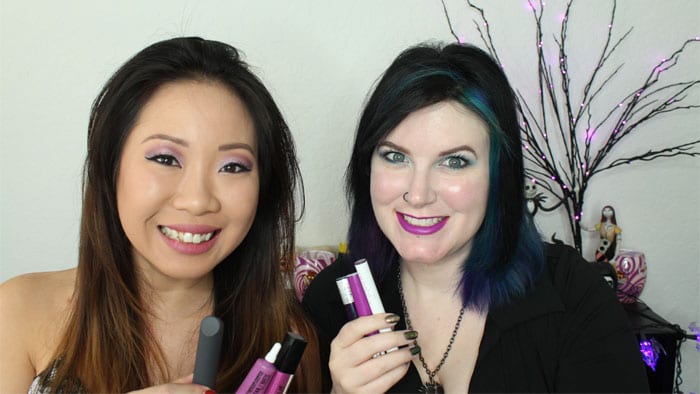 Today I've got a special video for you! I'm bringing you my favorite purple lipsticks with Eugenia, and she's sharing hers too! All of ours are cruelty free and many are vegan. We also filmed a video with our favorite pink lipsticks. Watch it here!
Favorite Purple Lipsticks with Eugenia

If you like this video and want to see more like it please thumbs up, comment and share!
My Picks
1. Pretty Zombie Vegan Liquid Lipstick in Purple Poison (vegan)
2. Fyrinnae Matte Liquid Lipstick in Desire (vegan) (shown with Colour Pop Lip Pencil in Feminist)
3. Colour Pop Lippie Stix in Leather (vegan)
Eugenia's Picks
1. OCC Lip Tar in Hoochie (vegan)
2. Armour Beauty Purple Rain
3. Bite Beauty Luminous Creme Lipstick in Violet
Trust me, it was hard to narrow it down to 3 for this video! I also love Colour Pop Lippie Stix in Feminist, Brills and Grind. And of course, Fyrinnae Delicious is amazing, as well as Pretty Zombie 3 Witches, and OCC Pagan and Technopagan!
What are your favorite purple lipsticks?
Last Updated on