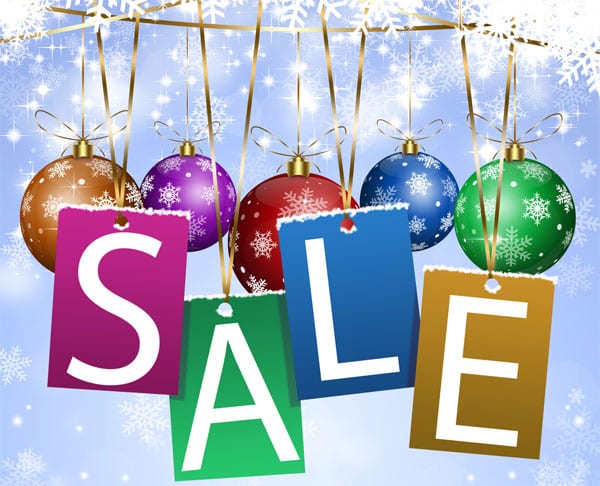 I was poking around the Sephora website (yes, I'm a VIB Rouge and it shows) and found some fabulous finds at Sephora that I just had to share. While they have tons of things on sale, these are my cruelty free picks. Also, if you're shopping between Dec. 25 and Jan. 1, 2014, take an extra 20% off of sale items with the code EXTRA20. If you're VIB Rouge use code EXTRAEARLY to save now. I don't know if these items will still be on sale then, and some of them are too good to pass up!
Pr + purchased by me.
Fabulous Finds at Sephora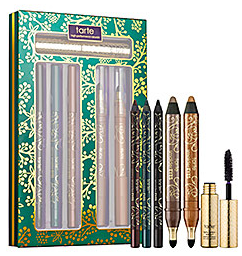 Tarte Stop & Stare 6-Piece Eyeliner & Lash Set – $27
I love this set and I bought it during the VIB sale, but this is even cheaper! Rose Gold eyeshadow pencil and Onyx liner are awesome. Rose Gold and Onyx are must haves for me; I'm so glad I bought them. See my review.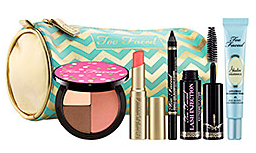 Too Faced All I Want For Christmas – $36
This is a perfect set for neutral lovers. See my review.
Tarte Amazonian Clay 12-Hour Blush – $14
The shades Fearless (golden pink with gold shimmer) and Empowered (apricot pink) are on sale.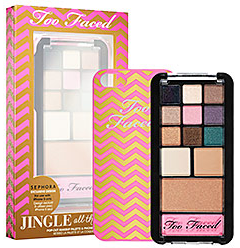 Too Faced Jingle All the Way – $19
This cute little palette with the LE iPhone 5 case is marked down. See my review.
Deborah Lippman Wicked Set – $20
Inspired by the Broadway musical Wicked to celebrate its 10th anniversary, this pretty trio is one I've had my eye on for a long time.
Tarte Beauty & the Box Amazonian Clay Eye Shadow Quad – $10
Two of the quads, Beauty Resolutions and Through the Grapevine are both on sale.
Tarte SmolderEYES Amazonian Clay Waterproof Liner – $12
Two of these awesome shadow pencils are on sale – Taupe and Champagne. Taupe was exclusive to the Stop & Stare set. I have Golden Black, Bronze, Taupe and Rose Gold. Great pencils.
bareMinerals Remix READY Eyeshadow 4.0 Wild Thing – $22
I love this quad! The Wild Thing features Sensational (iridescent aqua), Elitist (bronzed taupe), Icon (electric chartreuse), and Controversy (deep marine blue). See my review.
Tarte EmphasEYES Waterproof Clay Shadow Stick – $8
A cream eye shadow stick that glides on smoothly for long-lasting, velvety color. Available in Moss Green, Charcoal, Moca Berry and Champagne.
Tarte Skinny SmolderEYES Intense Amazonian Clay Waterproof Liner  – $10
A slimmer version of Tarte's best-selling SmolderEYES Amazonian Clay Waterproof Liners. New colors include – Gold, Bronze Agate, Peridot Green, Azurite Green, Smoky Quartz, Onyx, Plum Tanzanite, Purple Garnet. These are a STEAL at $10. You need Onyx! It has lasted several hours on my waterline! Love it!
Do you see any steals you have to have? Do you have all your Holiday shopping done?