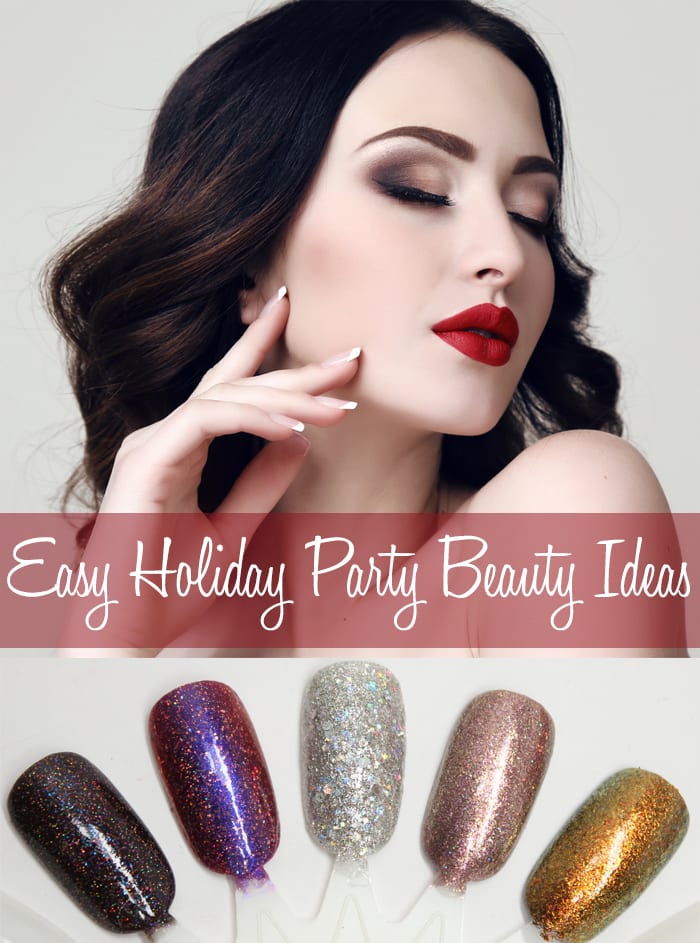 Happy Makeup Wars Monday! Today I'm sharing my easy holiday party beauty ideas. These are beauty looks and products that I reach for that have extra sparkle. Nails are quick and easy, as I almost always reach for multi-chromes or holographic, glittery shades. Lips are usually some combination of red, burgundy or gold. If I'm pressed for time,  a simple black cat eye liner can be amped up with glitter or metallics. If I've got more time, it's easy to uses metallics on the lid for an impact. Or go all out with a smoky eye! I love adding a glow to my skin with primer and the perfect highlighter.
Easy Holiday Party Beauty Ideas
Almost everything in this post is vegan. This post contains a mix of press samples and products purchased by me.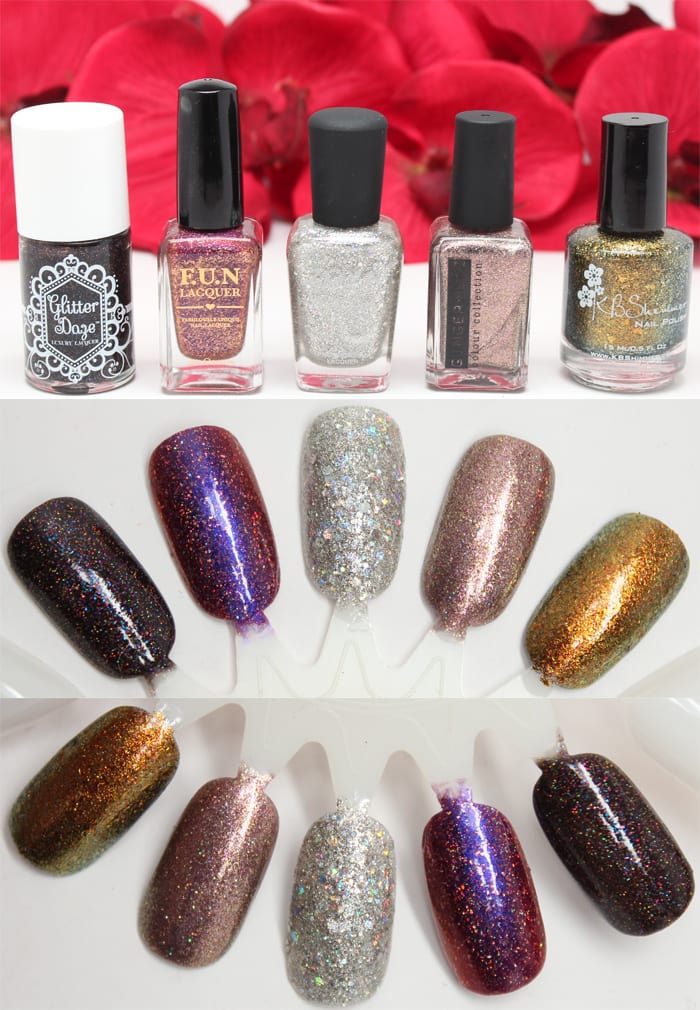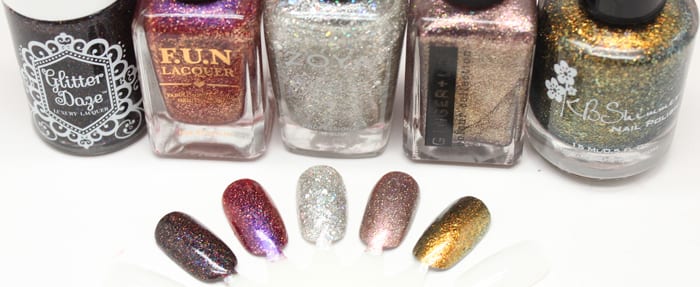 Blingy Nail Polish
I personally prefer my nails to be amazingly sparkly or eye catching for the holidays. I love a good scattered holo polish. Below are my top 5 choices.
Fun Lacquer Cheers to the Holidays (H) – filled with fine and micro holographic glitter, this multi-chrome nail polish shifts through red, blues, purples and orange. I mostly see it shifting from red to purple. I'm wearing this today. (v)
GlitterDaze Bellatrix – a black-based polish stuffed with holographic gold shimmer, magenta micro glitter and glowing iridescent shimmer. See my review. (v)
Zoya Cosmo – silver crystal sparkles with lots of iridescent and holographic glitters. Add a top coat for extra sparkle. (v)
Ginger & Liz Such a Lady – metallic antique rose gold with glitter and holo sparkle. See my review. (v)
KBShimmer Pros & Bronze – gold flakie polish that shifts to bronze and orange with hints of green. See my review. (v)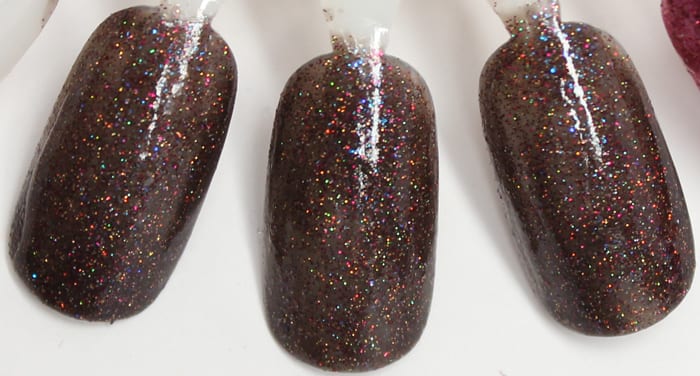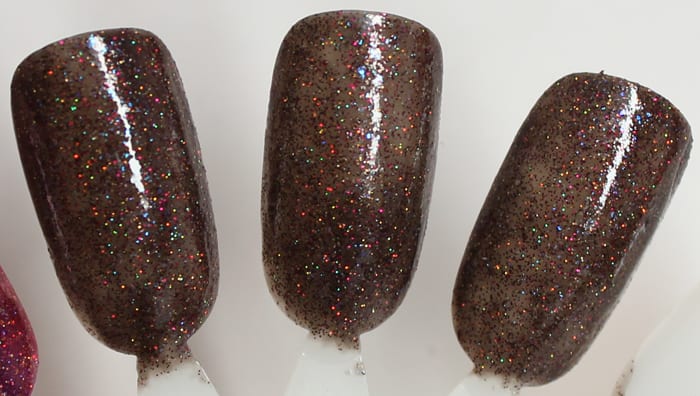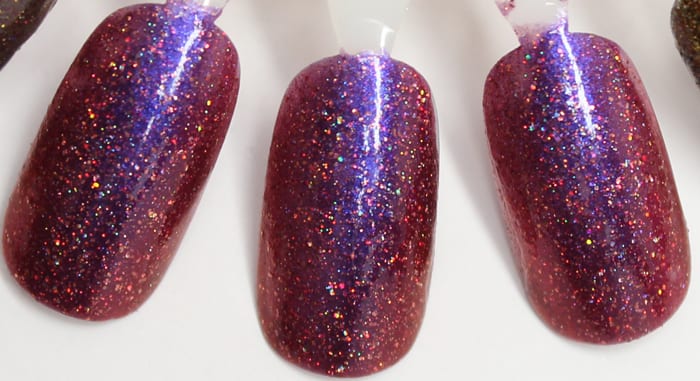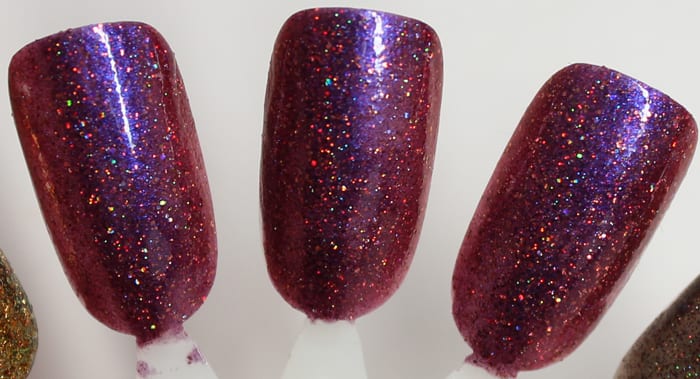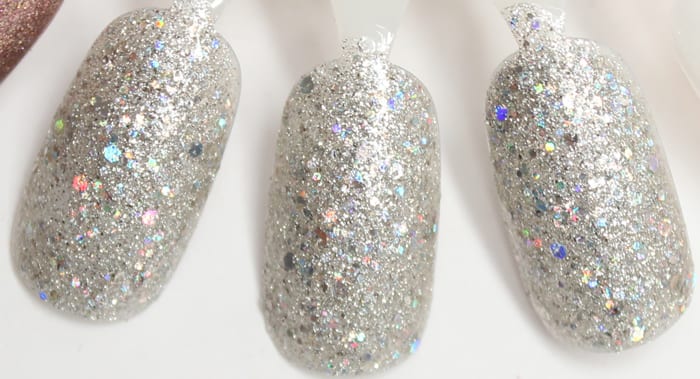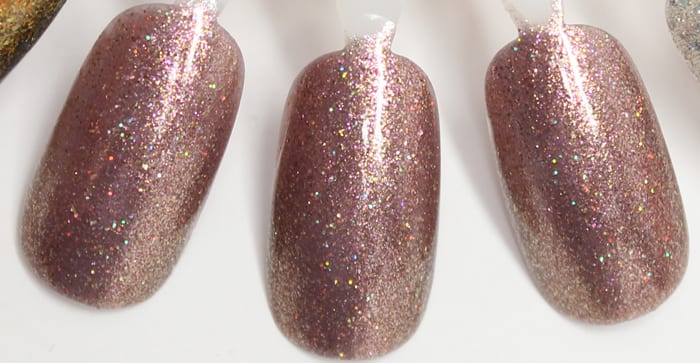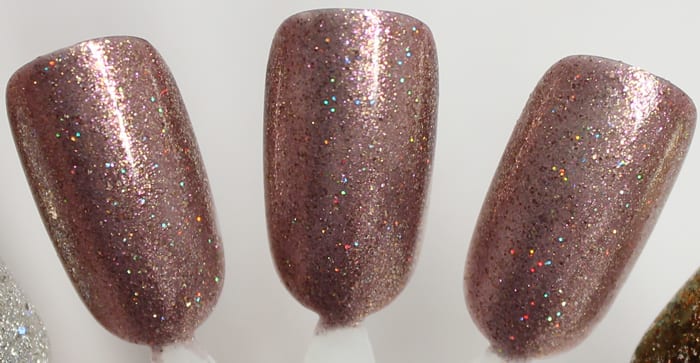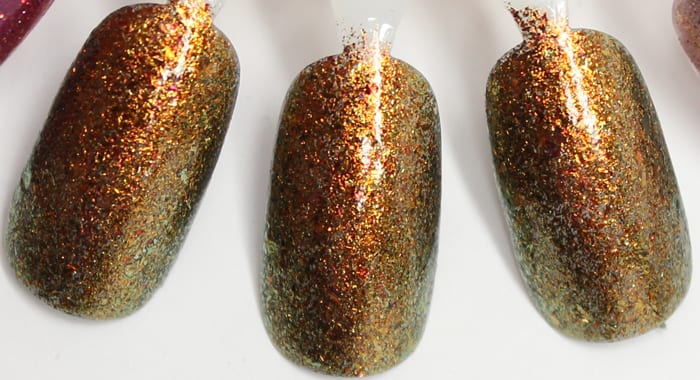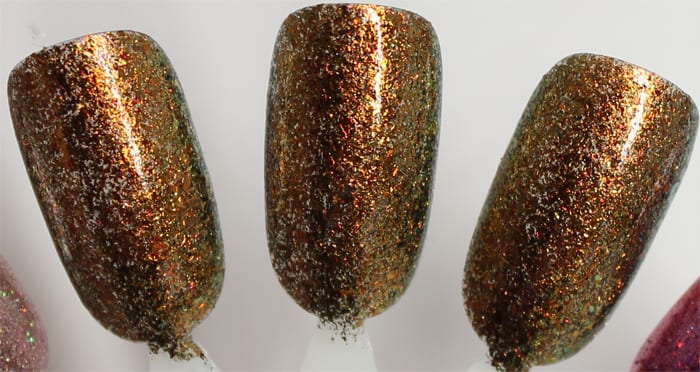 I just had to share larger swatches of all the nail polishes because they're all so gorgeous. These are all easy on and easy off, too. Cosmo can be worn matte or you can apply a few coats of topcoat to make it super shiny.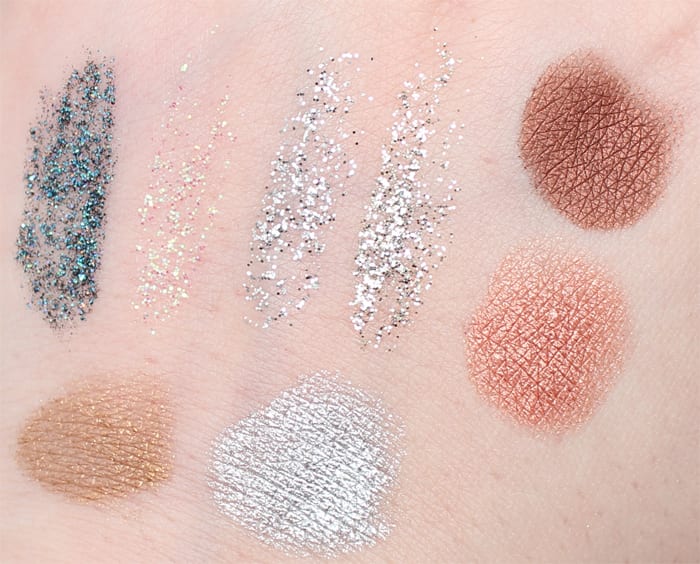 Killer Eyeliner
I love adding glitter or shine to my black eyeliner for the holidays. If you're not a fan of glitter, go for metallic. You can skip eyeshadow (or just apply a base shade, my favorite is Urban Decay Walk of Shame), then wing out your black eyeliner and layer the glitter on top or add a second liner on top as an accent.
NARS Eye Paint in Black Valley – my favorite black eyeliner.
Urban Decay Heavy Metal Glitter Eyeliner in Spandex – deep blue-black with iridescent glitter (v)
Urban Decay Heavy Metal Glitter Eyeliner in Distortion – iridescent glitter (v)
Urban Decay Heavy Metal Glitter Eyeliner in Glam Rock – silver glitter (v)
Urban Decay Heavy Metal Glitter Eyeliner in Midnight Cowboy – gold glitter (v)
NARS Eye Paint in Interstellar – silver metallic
NARS Eye Paint in Iskandar – gold metallic
Colour Pop Creme Gel in Over Board – warm metallic bronze (v)
Colour Pop Creme Gel in Get Paid – metallic rose gold (v)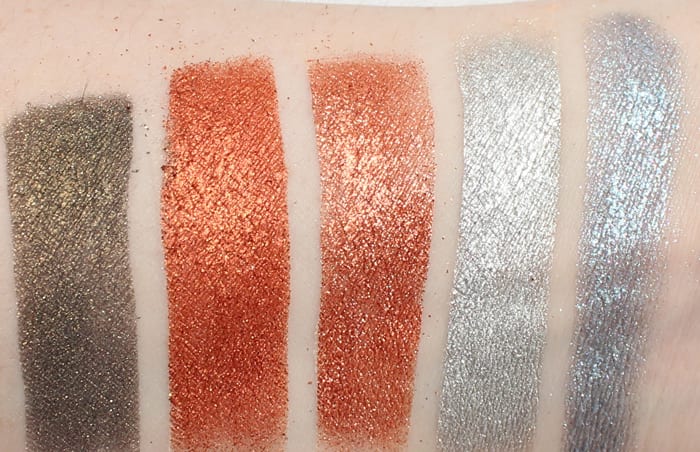 Sparkly Lids
If glittery eyeliner isn't to your taste, go for metallic eyeshadows or a smoky look. I would use neutral or grey crease shades like Makeup Geek Bedrock and Concrete Jungle with Dinosaur Plushie or Grand Tiara. I would use neutral or warm crease shades Darling Girl Hot as Baelfire or #BreakTheInternet with Penelope, Pumpkin Spice or Goldilux. You can also do a quick and easy smoky look by applying black eyeliner to your lid, then layering Corrupt on top, then using Silk Naturals Chase, Kensington, or Nobel to blend out the edges.
Fyrinnae Dinosaur Plushie – metallic silver with multi-colored sparkle (v)
Sugarpill Penelope – super sparkly metallic copper (v)
Sugarpill Pumpkin Spice – dark metallic copper (LE) (v)
Sugarpill Grand Tiara – super sparkly metallic silver (v)
Sugarpill Goldilux – super sparkly metallic gold (v)
Silk Naturals Corrupt – blackened gold with gold shimmer (v)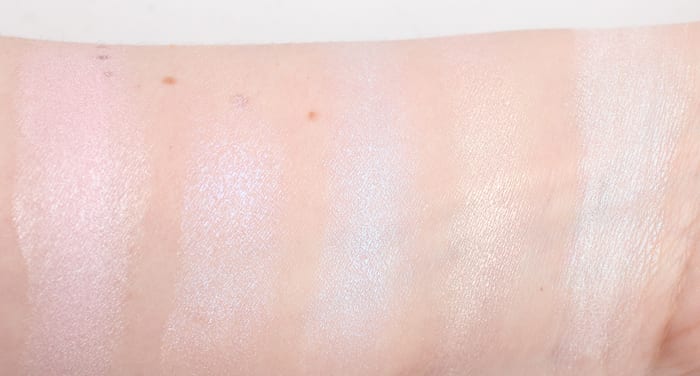 Accentuate Your Cheeks with Highlighter
I prefer my highlighter to be visible, as I'm not a fan of subtle. Since I have pale skin, I usually reach for iridescent highlighters. (See a ton of subtle to spectacular highlighters)
Notoriously Morbid Osteomancy – white highlighter with silvery blue iridescence (v)
Too Faced Candlelight Glow Duo – white gold and golden pink
Looxi Luna – iridescent blue
Looxi Ever After – iridescent violet
Dose of Colors Pearl Dust – iridescent pink
Glowy Complexion
Keep your makeup lasting longer with primer and setting spray. For foundation ideas see my top cruelty free foundations.
Cover FX Illuminating Primer – a fabulous primer that gives a subtle glow (v)
Nyx Angel Veil Primer – this primer gives a more noticeable glow
Urban Decay All Nighter Setting Spray – the best at keeping your makeup in place all night. (v)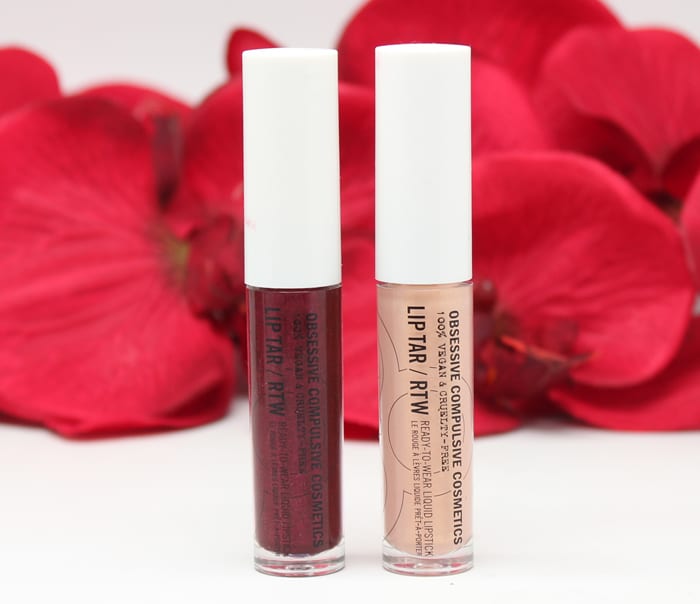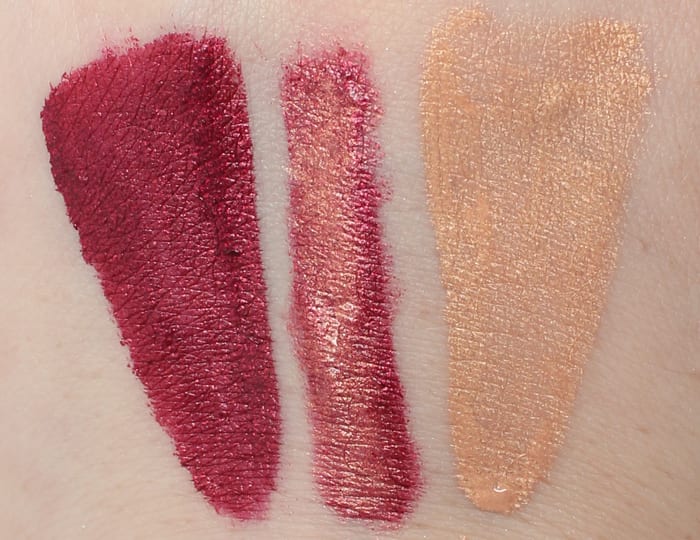 Holiday Lips
It's hard to beat red, wine or gold for holiday lips. I love layering products to make the perfect lip. However, you can always opt for a classic red. Try Bad Blood or Cherry Black on their own. Try using Black Dahlia pencil as a base, then pat Black Metal Dahlia onto the lips. Add extra dimension by applying Hollywood to the center of the lips. Or mix Black Metal Dahlia and Hollywood for a bronzed red. If you go for a smoky eyeshadow look, opt for softer lips with Vice, Stark Naked, Hollywood or Smashed. You can also line your lips with Black Dahlia pencil, then dab Smashed on top, or opt for a softer pencil color like OCC Lydia.
Urban Decay Matte Revolution Lipstick in Bad Blood – a stunning red (see me wearing it)
Obsessive Compulsive Cosmetics Colour Pencil in Black Dahlia – a blackened red pencil (v)
Obsessive Compulsive Cosmetics RTW in Black Metal Dahlia – blackened red with red metallic pearl (see me wearing it)(v)
Obsessive Compulsive Cosmetics RTW in Hollywood – beige with gold metallic pearl (see me wearing it)(v)
Bite Beauty Agave Lip Mask in Smashed – sheer red wine (see me wearing it)
Urban Decay Matte Revolution Lipstick in Stark Naked – peachy nude
Silk Naturals Velvet Matte Lipstick in Vice – light peachy nude (see swatches)(v)
Silk Naturals Lipstick in Cherry Black – deep blackened red (see me wearing it)(v)
Check out some of  my pretty holiday party makeup tutorials!

What are your easy holiday party beauty ideas? What do you wear?

[inlinkz_linkup id=571521 mode=1]