On Sunday, Dragon Con starts winding down. Ray and I had brunch with LiAnn (Sparklecrack) and Becky (Sirvinya), which was really nice. We shopped and hung out. Becky took off for several panels, but Dave and I met up with her later for drinks.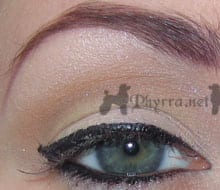 Eyes:
Too Faced Shadow Insurance
Silk Naturals Cutie Pie – lid
Silk Naturals Bareback – crease and outer corner of lid
MAC Creamy Bisque – browbone
Urban Decay 24/7 liquid liner in Perversion – upper and lower lash line
Urban Decay 24/7 liner in Perversion – lower water line
MAC Blackberry – to define brows
Face:
Smashbox Face Primer
Too Faced Amazing Face Pressed foundation in Vanilla Creme
Cheeks:
MAC Stunner
Lips:
Buxom Big & Healthy Lip Stick in Monte Carlo – blotted

These bottom two pictures were taken by my friend M, but I had to share them here. My friends did the entire Monster High group below, and I think they look amazing. Also my friend M did a breathtaking Black Swan.