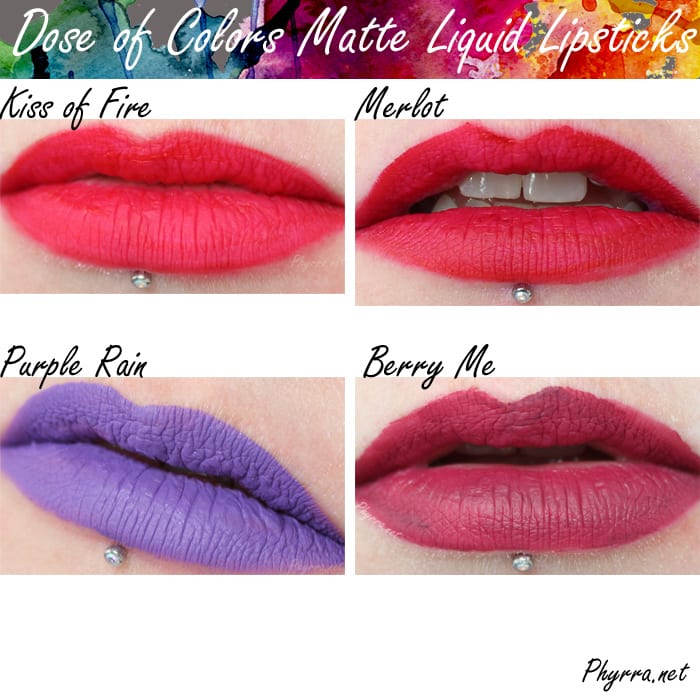 After testing the Dose of Colors Matte Liquid Lipsticks, I'm finally ready to share my review. I shared a sneak peek with you earlier this week. I also did a comparison post, per reader request. These lipsticks are cruelty free and vegan, paraben free and gluten free.
Dose of Colors Matte Liquid Lipsticks Review
Price
$18 individually
$63 in the bundle
Availability
Dose of Colors
Ingredients
Isododecane Synthetic Beeswax VP/Hexadecene Copolymer Octyldodecanol Cyclopentasiloxane C18-36 Acid Triglyceride Disteardimonium Hectorite Phenoxyethanol Alcohol denatured Ethylhexylglycerin MAY CONTAIN: ± D&C Red No.28 Aluminum Lake (CI 45410) FD&C Red No.40 Aluminum Lake (CI 16035) Titanium dioxide (CI 77891) FD&C Yellow No 5 Lake (CI 19140) Aluminum Oxide Red 6 Lake (CI 15850) D&C Red 27 Lake (CI 45410) FD&C Red 7 Calcium Lake (CI 15850:1) Iron Oxides (CI 77499) FD&C Blue No.1 Aluminum Lake (CI 42090)

You can see my swatch comparison video above.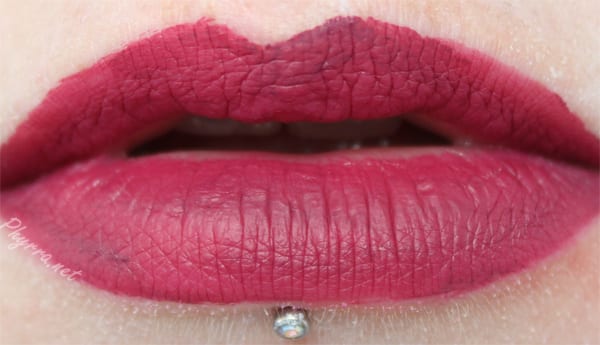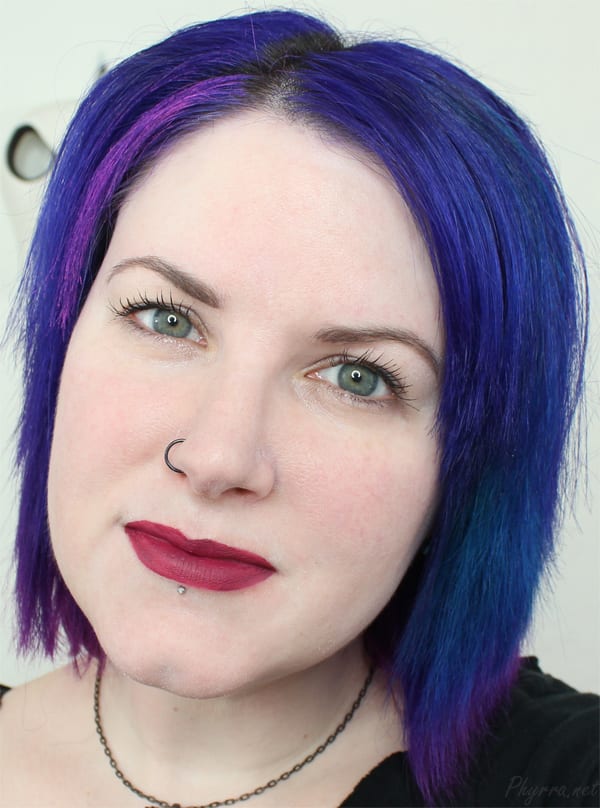 Berry Me
This shade just does not look like it does on the website. It's definitely not a magenta berry shade. It's more like a red plum shade with brown tones to me. In some areas it clung more to my lips as the texture felt more dry than Kiss of Fire or Merlot.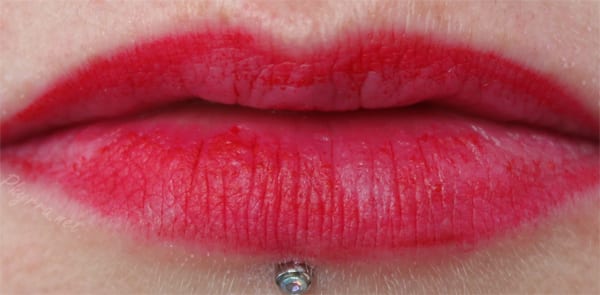 Kiss of Fire after 6 hours of wear. I had dinner, wiped (not dabbed) my mouth a ton, and drank a lot of tea. If you're more dainty than I am, you would have less wear.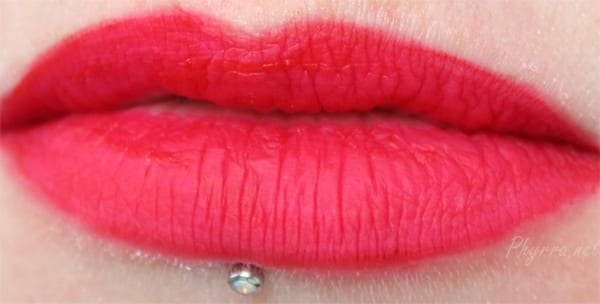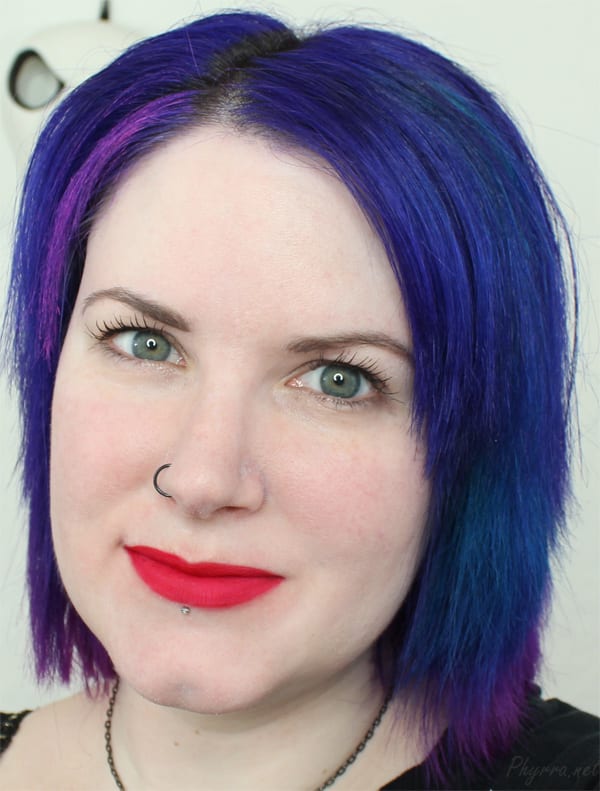 Kiss of Fire
Kiss of Fire is an amazing bright red that makes it fun for me to wear red again. I love it! It's stunning! I almost feel like it nears neon brightness. It was the easiest shade to apply and the most comfortable to wear. This is my favorite of all the shades.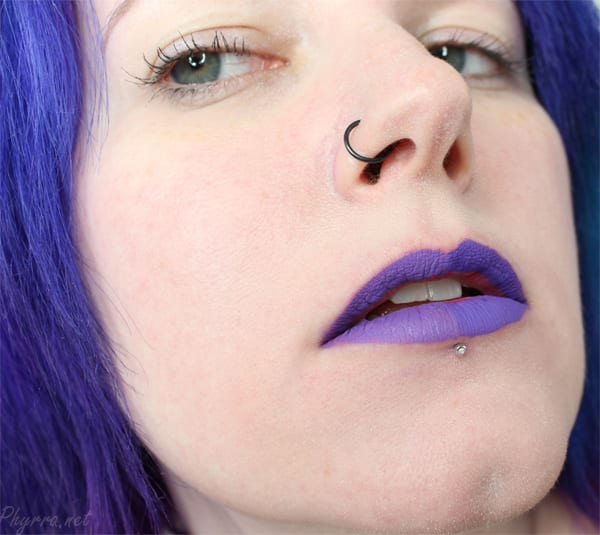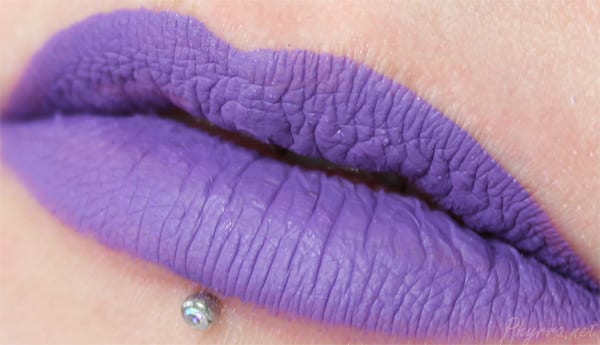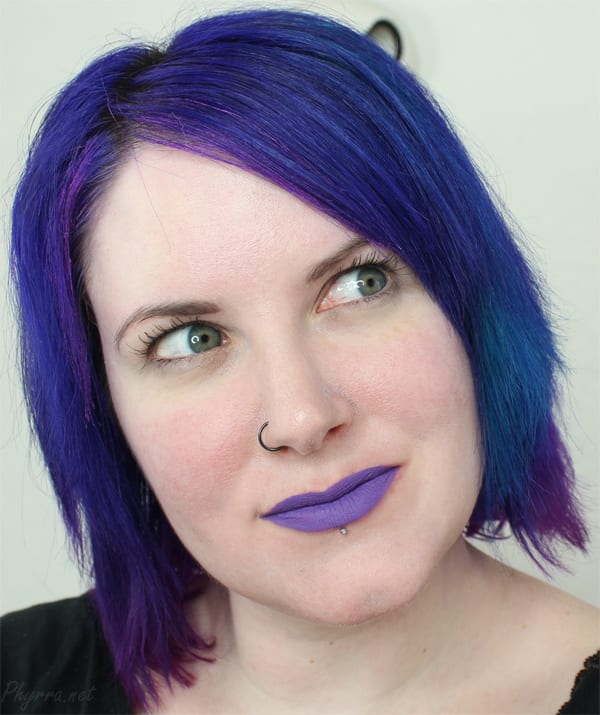 Purple Rain
For me, Purple Rain was the hardest of the 4 shades to apply. It had the driest formula. It was the most uncomfortable of the 4 to wear. It's a light violet purple shade that darkens slightly when dry. I honestly feel like the formula of Pretty Zombie 3 Witches is easier to wear, and puts less emphasis on lip lines. That said, I think Purple Rain looks good on me and I love the color.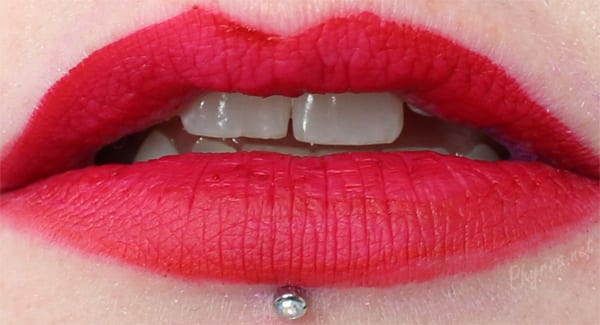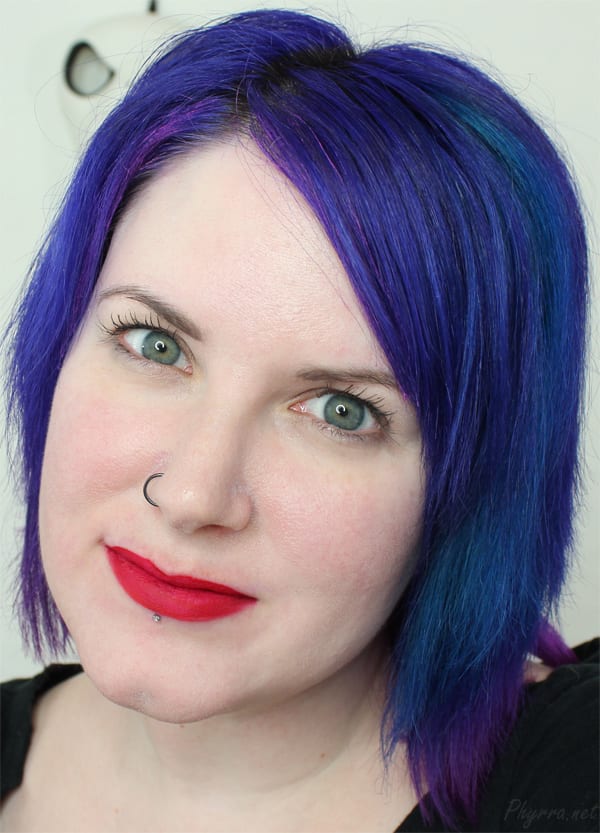 Merlot
To me, Merlot was the 2nd easiest shade to wear. Merlot and Kiss of Fire both had a thinner consistency than Berry Me and Purple Rain. Merlot is a less brighter red than Kiss of Fire. For my taste, they're too close together. However, if you are a red fan I am sure you can appreciate both.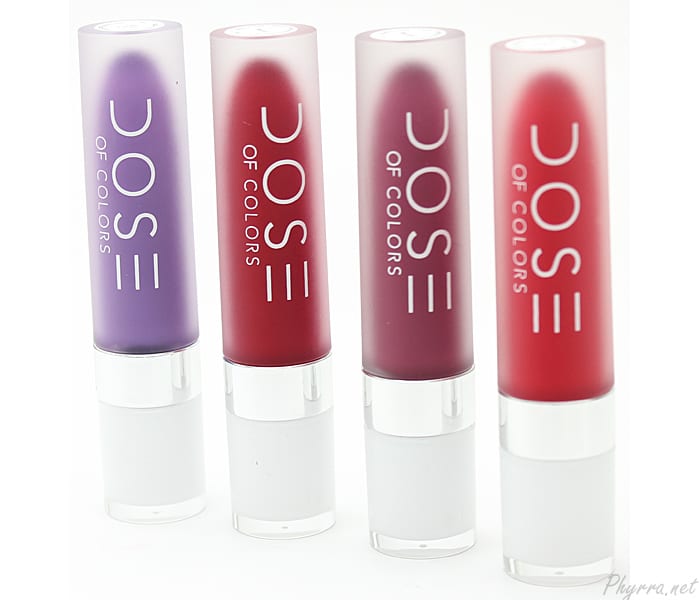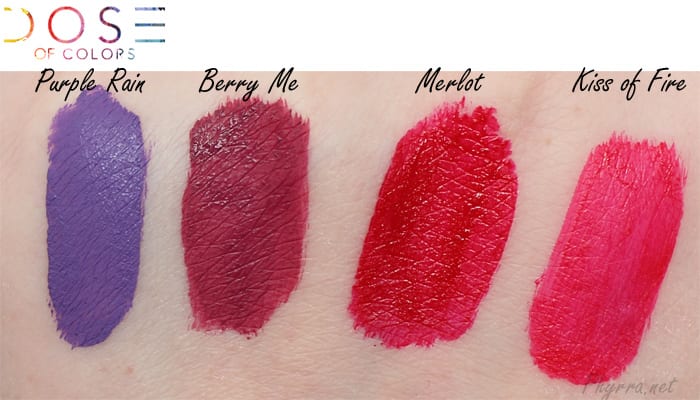 Overall, I think if you like liquid lipsticks you will like the Dose of Colors matte liquid lipsticks. I think Kiss of Fire and Merlot have the best formula between the 4. I felt like Berry Me and Purple Rain weren't quite as good formula wise. My favorite colors were Kiss of Fire and Purple Rain. Merlot didn't excite me and Berry Me was a let down. However, I can see all 4 shades having appeal.
My personal gripe is that I feel like Berry Me isn't accurately represented on the Dose of Colors website, but I get that monitors may vary. I don't feel like Purple Rain is an exact match either, but it's closer. I feel like Berry Me is a completely different color.
I like Purple Rain a lot. I'm glad it's not an exact match for 3 Witches, even if I don't think the formula of Purple Rain is as nice as Kiss of Fire.
I LOVE Kiss of Fire! Holy wow that's a gorgeous color and it applies beautifully. I love that it has nearly neon tones.
Merlot didn't do much for me. I feel like it's just a toned down Kiss of Fire.
If you're looking to expand your liquid lipstick collection, you like liquid lipsticks and you like these colors, I recommend you buy the bundle since it breaks down to $15.75 per lipstick. However, I'm still unsure of how much product is in each lipstick.
If you're only looking for individual shades I would recommend Pretty Zombie Liquid Lipsticks. I prefer that liquid lipstick formula to this one.
If you're wanting more Dose of Colors, I do recommend their glosses and lipsticks. Both have a great, comfortable formula and are super pigmented. However, both are long wearing and require minimal touch ups during the day. They also do not come off on my teeth, which I appreciate.
I guess I have mixed feelings about this set because I really will only use 2 of the products in it – Kiss of Fire and Purple Rain. I can't see Berry Me or Merlot getting much use from me. If I had it to do over I would purchase Purple Rain and Kiss of Fire, and I'd also throw in Dark Secrets from their regular lipstick line. I would not have purchased the set of 4 liquid lipsticks.
What do you think of the Dose of Colors Matte Liquid Lipsticks? Which color would you choose?
Pros
Cruelty free
Gluten free
Paraben free
Vegan
Long wearing formula
Cons
Formula is variable – some are dryer than others, and can be uncomfortable to wear
Limited color range
Last Updated on