Happy Friday! Today I'm happy to bring you my Darling Girl Darkly Sparkly purple eyeshadow tutorial featuring Darling Girl, Notoriously Morbid and Urban Decay. Many of you emailed me to ask me about the look I was wearing in my last video. This is it!

If you like this tutorial give it a thumbs up and share!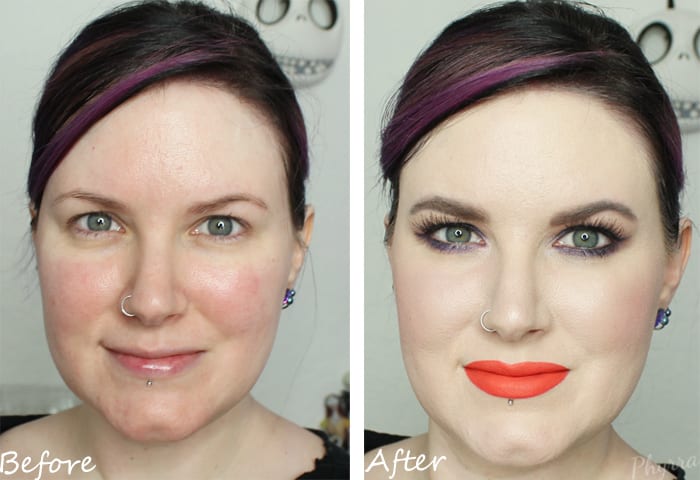 Eyes
Too Faced Shadow Insurance
Notoriously Morbid Nightshade – lid, crease, cat eye shape (vegan)
Notoriously Morbid Bone Daddy – lower lid (vegan)
Darling Girl Nerpette – lid
Darling Girl Siren Chic – lower lid, cat eye shape
Darling Girl #BreakTheInternet – crease
Urban Decay Walk of Shame (Naked Basics) – blend out edges
Urban Decay Crave (Naked Basics) – lashline
Darling Girl Tragic Death of Mr. Stay Puft – highlight under brows and at inner corner
Ardell Lashes Demi Wispies
UD 24/7 Liquid Liner in Perversion – at upper lash line  (vegan)
Perfekt Beauty Lash Perfection gel
Anastasia Beverly Hills Ash Brown and Granite brow pencils
Anastasia Beverly Hills Tinted Brow Gel in Granite
Face
Alba Botanica Fast Fix for Undereye Circles  (vegan)
Buxom Show Some Skin foundation in Tickle the Ivory + Cover FX Custom Cover Drops in N10  (vegan)
Darling Girl Fantasia – blush
Urban Decay Afterglow blush in Bang
Notoriously Morbid Power of the Fae – highlighter  (vegan)
Laura Geller Balance n Brighten in Porcelain – to add some glow
Tarte finishing powder in Fair
Lips
Urban Decay 24/7 Lip Pencil in Bang – line the lips  (vegan)
Colour Pop Matte Liquid Lipstick in Pacific  (vegan)
I went for orange cheeks and lips with my purple eyes. I really love how orange lips look with my purple hair. My lashes were a real trial for this look. I couldn't find my metal applicator for helping me to place it close to my lash line so I was fighting with my lashes, which is really annoying.
Darling Girl is having a HUGE sale right now on her eyeshadows. She's discontinuing a bunch of colors so that she can make room for new things. So if you're looking for some eyeshadows, be sure to check out her sale.
I tried to streamline this video to make it shorter and quicker, so I hope you like it!
Tonight, I'm spending time with friends and picking up stuff to start a sewing project. This weekend, I'll be doing a lot of writing.
What are your plans for the weekend?