I love finding great companies on etsy. I stumbled across Bunny Paige awhile ago and knew I needed to make an order. I placed an order for a custom Liberty Spike Headband. I don't typically wear headbands in the stiff style, as I prefer the wraparound / stretch style, but after seeing the colors, gems and spikes, I had to have one!
Bunny Paige Liberty Spike Headband Review

About the Bunny Paige Liberty Spike Headband
These ribbon-wrapped headband feature sparkling crystal Swarovski Elements and 1/2″ tall tree spikes. The spikes are drilled through the headband's base for extra durability and covered with soft felt patches that provide a comfortable, no-slip grip. Each headband is made to order and will take 3-5 business days to complete. If you need your headband by a certain date please let me know and together we can work something out.
Price
$20
Availability
Bunny Paige on Etsy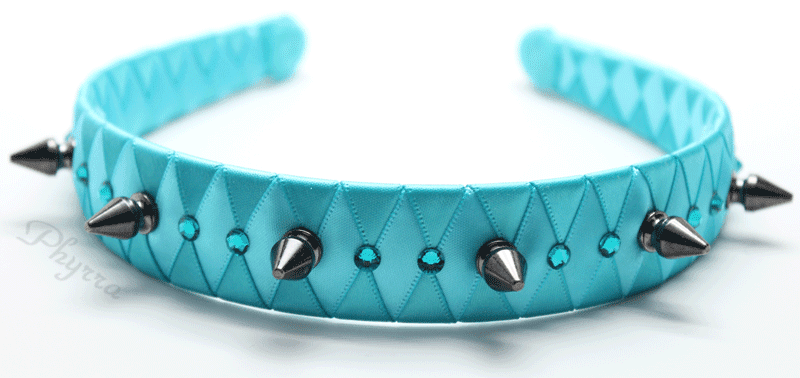 My Thoughts
I ordered Sea Nymph, which normally comes as turquoise ribbon, blue zircon crystals and gold spikes. I asked for the gold spikes to be switched out for silver. The headband is extremely well made and solid. The gems and spikes are attached very securely. It's very comfortable to wear and I personally love the style.
The headband was securely packaged and arrived well within the stated time frame.

I love the spiked headband design and I think it looks really cute with my hair.
You can custom order any color combination that you can think of from Bunny Paige. I think I need to order a purple one sometime soon! I love the look of Bordello, Razorblade, and Lolita.
What do you think of the Bunny Paige Liberty Spike Headband? What color combination would you go for?
Pros
Custom product
Well constructed
Endless color combinations
Cons
If you don't like alternative fashion or spikes this is not the headband for you