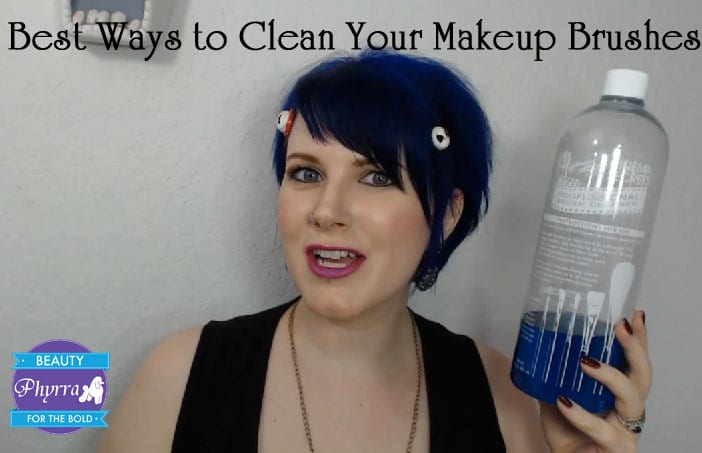 There are many methods available for cleaning makeup brushes. I'm going to share my best ways to clean your makeup brushes. I made a video to demonstrate my favorite method – Cinema Secrets Brush Cleaner (see the review).
Best Ways to Clean Your Makeup Brushes

Please give this video a thumbs up and subscribe!
Products Used
Other Brush Cleansers I like and have purchased
EnKore Brush Soap
Beautyblender Solid Sponge cleanser
Dr. Bronner's Pure Castile Baby Soap
bareMinerals Well Cared For Brush Conditioning Shampoo
glo Minerals Brush Cleaner spray
e.l.f. Brush Cleaner Spray
As I mentioned in the video, I have hard water in my home. This leads to brushes building up with gunk after many washes, so they would just never feel right after a while, which led to me getting rid of them. I thought for a while it might be because they were cheaper (Sonia Kashuk, e.l.f. etc) but then some of the Real Techniques brushes I had did the same thing. I finally realized it was most likely the hard water. I didn't find a solution until the Makeup Show Orlando (September 2013), and Cinema Secrets. It's a total brush saver!
By the way, having the smaller, shallow dish is critical! For a while I was using a 1 cup measuring cup, which is very big, and I ended up wasting it. The smaller, shallow 2 oz ramekin works so much better. I have a set of 12 of those and they get used for things like dip, condiments, and now one is dedicated to brush cleaning.
The sprays I like to use for quick daily cleaning. The deep conditioning shampoo is good for a deep weekly cleaning. Though I really only reach for Cinema Secrets anymore. What I really love about the Cinema Secrets is that even the largest, densest brushes only take about 30 minutes to dry. Most brushes are dry within a minute! Plus they smell delicious like vanilla!
The way to clean your brushes, no matter if you're using soap or a quick fix spray or Cinema Secrets is to use a figure 8 shape on either a hand towel or a paper towel. If you're doing a deeper cleaning in warm water, make sure you get the brush wet first in warm water. Then have a bowl filled with warm water and soap. Dip your brush into the bowl and swirl it around. Do the figure 8 shape on the palm of your hand with the brush, to work away the debris. Rinse and repeat until the brush looks clean. Gently dry the brush off with a hand towel. Shape the bristles the way you like them. Lay the brush out to dry.
What are your tips for the best ways to clean your makeup brushes? Have you tried any of my methods?