Best Single Wash Eyeshadows
Happy Makeup Wars Monday! Today I'm bringing you my picks for the best single wash eyeshadows. Single wash means colors that I will apply to my lid and crease, or all over the eye area for a simple eyeshadow look. Rather than tempt you with colors that are LE that you can't have, I dug through my extensive eyeshadow hoard to bring you shades that are currently available (as far as I'm aware). With almost all of these, I would still recommend using a base shade like my favorite Urban Decay Walk of Shame. It was hard to limit myself for this post. Some brands, like Sugarpill, Darling Girl and Fyrinnae, I just wanted to say 'ALL THE SHADES!' but I held myself back. With Fyrinnae, I didn't choose as many as I normally would have because their store was closed and I was afraid of choosing discontinued shades. So hopefully the ones I chose are still available. If not, Fyrinnae is great at recommending similar shades.
I've included sheer, duochrome, bright and dark shades. You can pair any of these with a cat eye or just mascara. There really are a lot of eyeshadows here because once I started swatching I just kind of kept going. Swatch fest! Many of these eyeshadows also look really cool over a black base – like Scout, Lumi or Dinosaur Plushie. I played with my macro lens, which I haven't used in a long time. I still need to figure out the best settings with the macro lens.. In my lightbox it looked like my ISO was fine, but the pictures turned out dark, so I need to up the ISO to brighten them.
All brands and colors cruelty free. Shades that  I know are vegan are marked as vegan. All eyeshadows swatched on Coastal Scents Step One primer. I swatch on primer because I have hooded eyes and without primer, eyeshadow wouldn't last an hour on me.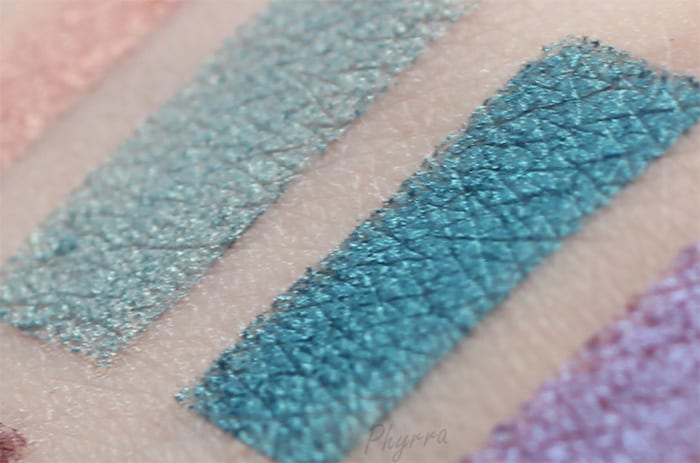 Urban Decay Haight (vegan)
mermaid blue
Urban Decay Omen
bright metallic purple with blue shift
Urban Decay Shattered (vegan)
turquoise with gold shift
Urban Decay X
peach with gold shift
Urban Decay Half Baked (vegan)
golden bronze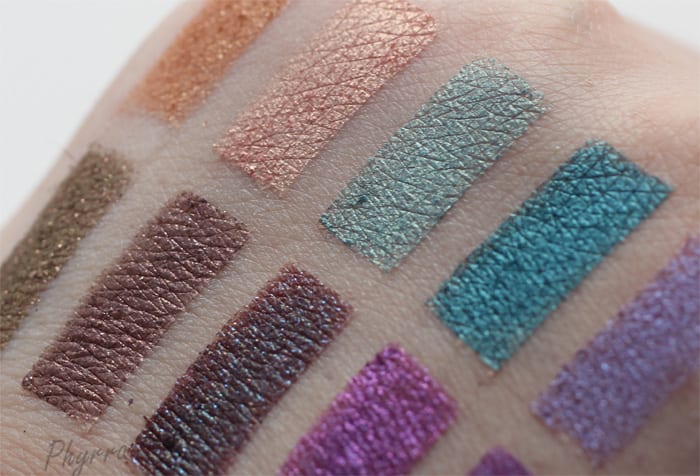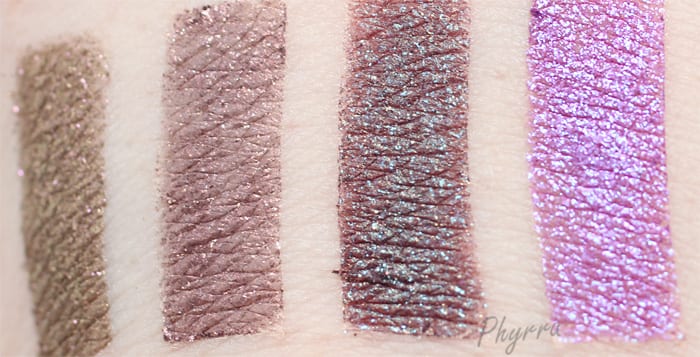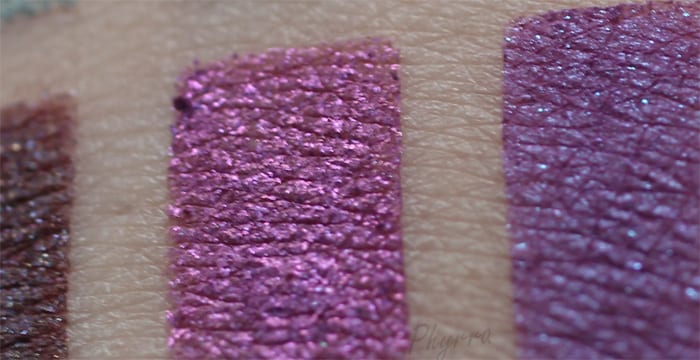 Colour Pop So Quiche
soft olive with a highly reflective gold and pink violet glittery duo chrome metallic finish
Colour Pop Cricket
a smoky mid-tone plum with warm and cool highlights of soft glitter.
Colour Pop Bae
rich eggplant purple with an emerald, and turquoise, glittery duo chrome metallic finish
Colour Pop Dare
Shockingly bright neon purple with hot pink and violet glitter.
Femme Fatale Inner Madness
cool-toned purple with a blue duochrome finish and blue/aqua sparkles.
—

Sugarpill Soot & Stars (vegan)
Metallic gunmetal with prismatic sparkle
Sugarpill Darling (vegan)
Stunning teal loaded with iridescent turquoise star bursts.
Sugarpill Absinthe (vegan)
A mischievous vivid lime green with yellow undertones.
Sugarpill Lumi (vegan)
Snow white with turquoise sheen and flashing bursts of blue and green. When worn over a dark base, this complex white transforms itself into your new favorite blue eyeshadow.
Inglot 03
shell pink with silver undertones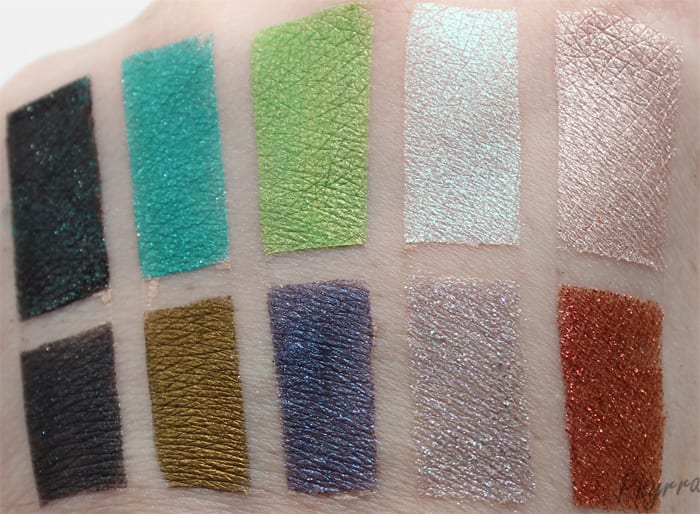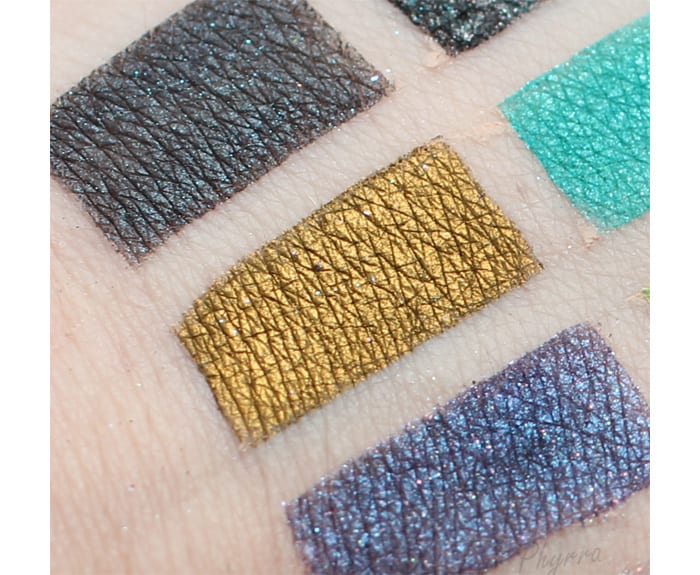 Fyrinnae Sorceress (vegan)
Soft charcoal with shimmer which changes from a brilliant aqua to vibrant cool pink, depending on light and angle.
Fyrinnae Aztec Gold (vegan)
deep metallic gold over a rich olive green base.
Fyrinnae Because Cats (vegan)
wine-grape layered on a dark base, sprinkled with rainbow sparkle.
Fyrinnae Dinosaur Plushie (vegan)
A flamboyant, eclectic dinosaur covered in glitter, perhaps.
Inglot 81
copper, pink, orange, cranberry
—




Virus Insanity Clawdeen
Clawdeen is a shimmery medium brown with iridescence that shifts from green to gold to purple.
Virus Insanity Glowstick
Glowstick is a blue toned teal with tons of rainbow iridescent glitter and silver rainbow hologram glitter.
Meow Santa Honey
metallic golden umber/bronze
The All Natural Face Black Gold (vegan)
matte black with gold specks
Glamour Doll Eyes Bunny Heart (vegan)
the perfect rose gold with a beautiful gold sheen and subtle copper sparkle.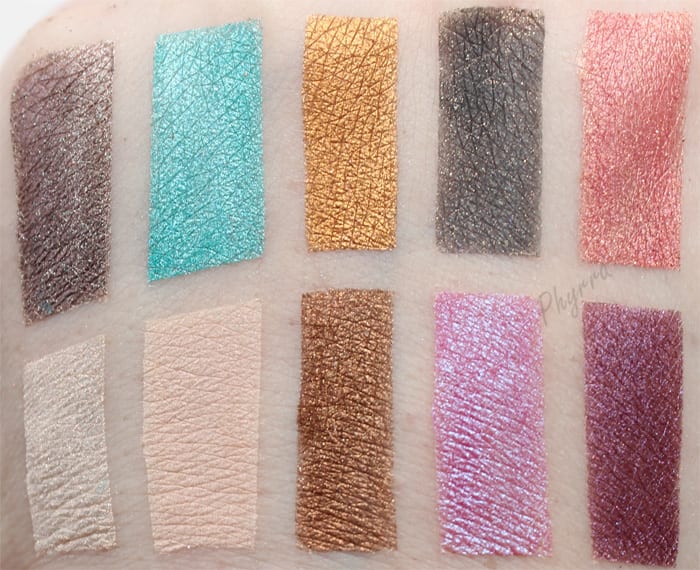 Silk Naturals Sonic (vegan)
a very light, pearlescent golden tone with an intense golden slightly pinkish copper highlight (mac vanilla clone)
Silk Naturals Cutie Pie (vegan)
a light tan demi-matte with pink interference pigment.
When I used to work in an uber conservative environment, Sonic and Cutie Pie were staples in my eyeshadow wardrobe.
Silk Naturals Scout (vegan)
a deep shimmering copper with hints of gold (ud smog clone)
Silk Naturals Stinger
a bright fuschia shimmer with blue highlights (similar to MAC Stars & Rockets or UD Fishnets)
Silk Naturals Siobhan (vegan)
deep reddish plum shimmer
—


Obsessive Compulsive Cosmetics Ironic (vegan)
gunmetal shimmer (I feel like this is grey with golden shimmer)
Obsessive Compulsive Cosmetics Technoir (vegan)
dark navy blue with purple shimmer
Makeup Geek Insomnia
A dark chocolate brown duochrome with blue/teal reflects.
Makeup Geek New Year's Eve
Light Gold Reflective Glitter
Makeup Geek Liquid Gold
True Metallic Gold
—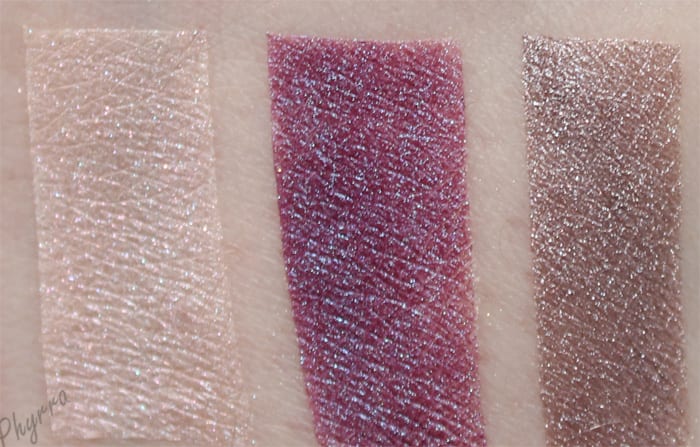 NARS Lysithea
shark grey
NARS Europa
gossamer pink peach
Darling Girl Tragic Death of Mr Stay Puft
A light toasted tan with a hint of blue, red and gold iridescence just like the adorable toasted villain we loved. Love this shade!
Darling Girl Nerpette
Deep reddish purple base with strong blue sheen.
Rouge Bunny Rouge Wishing for Wings
grey with slight lavender hue
—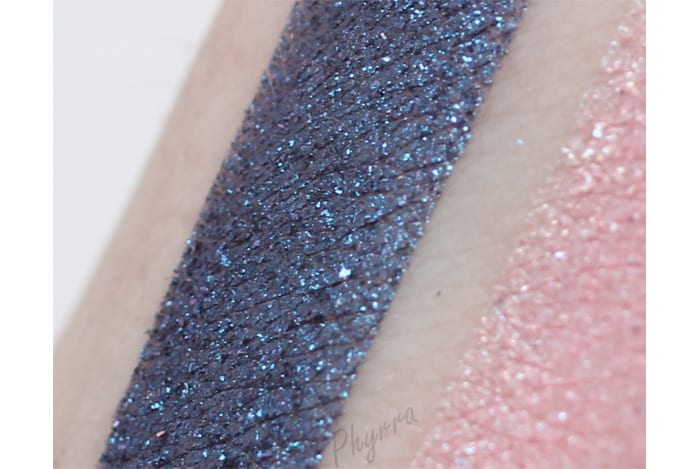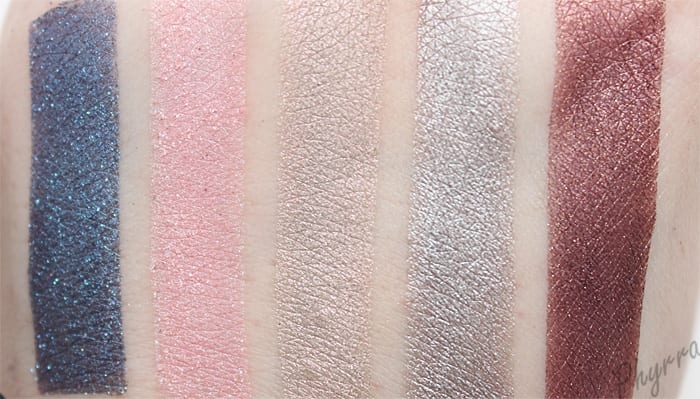 Notoriously Morbid Silent Samurai
A lapis/violet with such a strong cerulean shift and so much blue sparkle. This is currently available at Notoriously Morbid but will sell out soon because it's from the Walking Dead Vanishing Cabinet! It's such a gorgeous shade I had to include it.
Geek Chic Luck Dragon (vegan)
A warm coraly-pink (think cotton candy) with intense turquoise duochrome and stuffed to the scales with every color of pastel shimmer and iridescent glitter.
Makeup Geek Rockstar
Pale silver with purple iridescence (looks pinky violet to me)
Makeup Geek Mercury
Metallic medium silver
Makeup Geek Sensuous
Shimmery Purple with Flecks of Silver (this looks like it has gold flecks to me)
I just swatched these eyeshadows on regular primer. Many of these shades would benefit from Fyrinnae Pixie Epoxy, Darling Girl Glitter Glue or e.l.f. Studio Makeup Mist & Set to really help the colors pop and the duochromes come to life.
Which shades would you wear? How would you wear a single wash? On its own or with thick cat eye liner?
[inlinkz_linkup id=438627 mode=1]