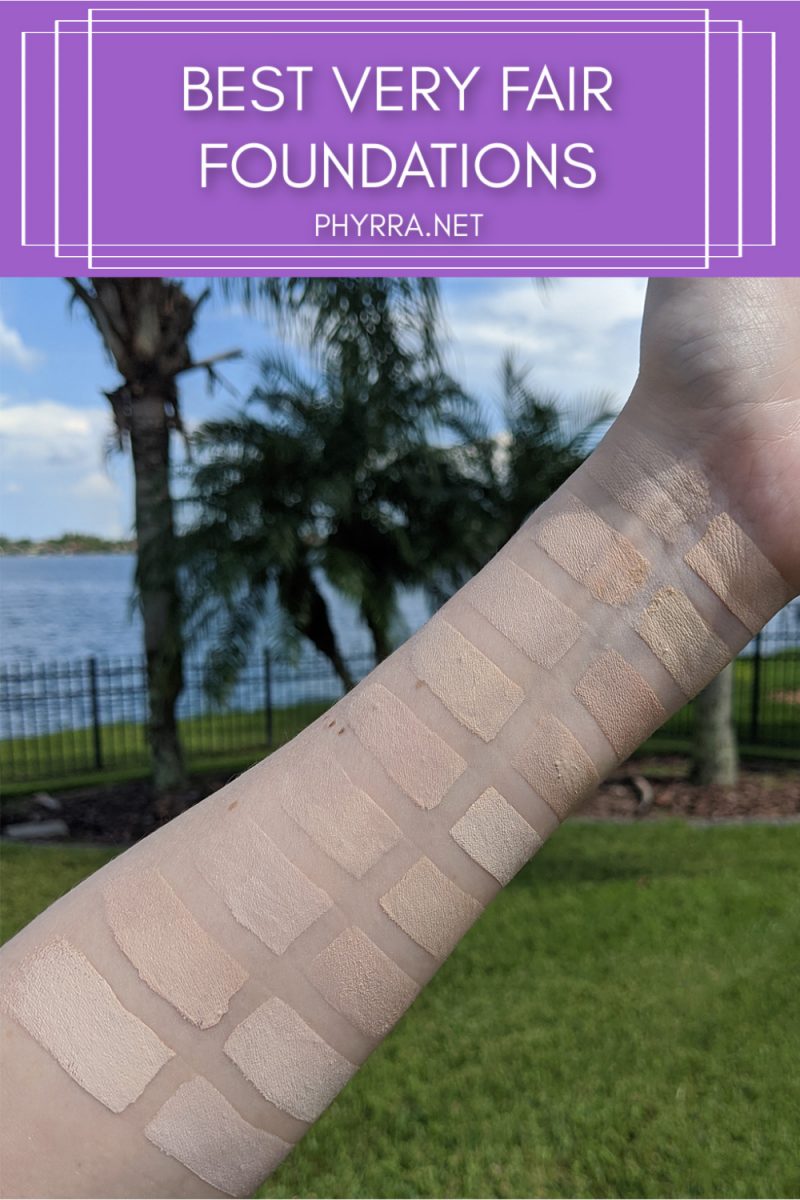 Best Foundation
Hey friends, today I'm sharing a roundup of the best foundation: very fair foundation swatches with you. I'm somewhere between very fair neutral to cool yellow in undertone. My skin concerns are anti-aging, dryness, redness from rosacea, and sensitivity. I look best in neutral to neutral cool to cool yellow undertone foundations. Some of these products are not a match for me, but I bought them all thinking they may work.
Best Foundation Swatches Indoors Under Artificial Light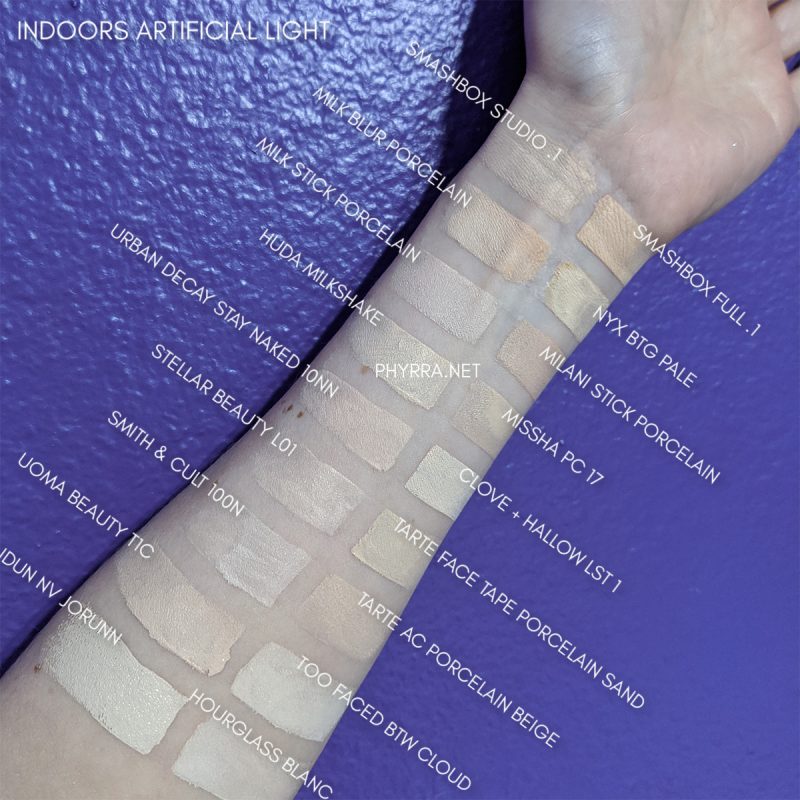 Indirect Sun Outdoors Swatches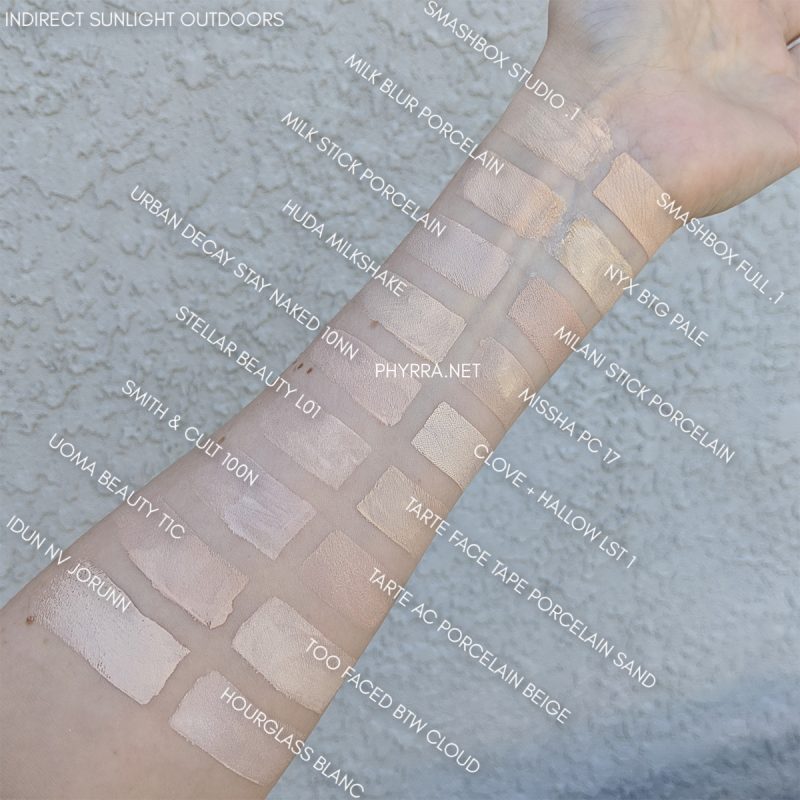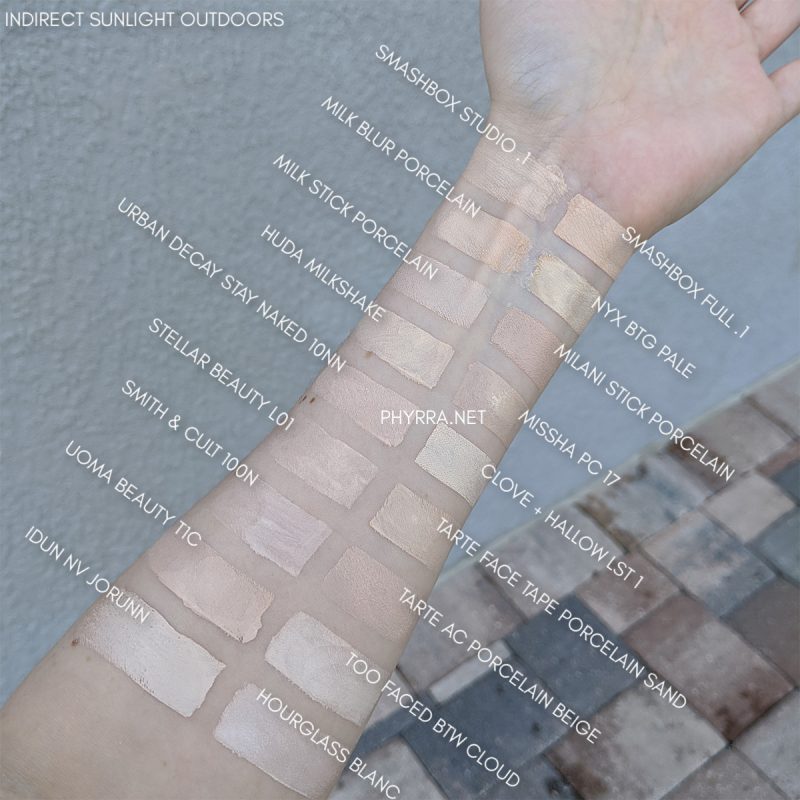 I took these photos in the shade of my house. This is indirect sunlight outdoors during the afternoon.
Indoors Indirect Sun by Window Swatches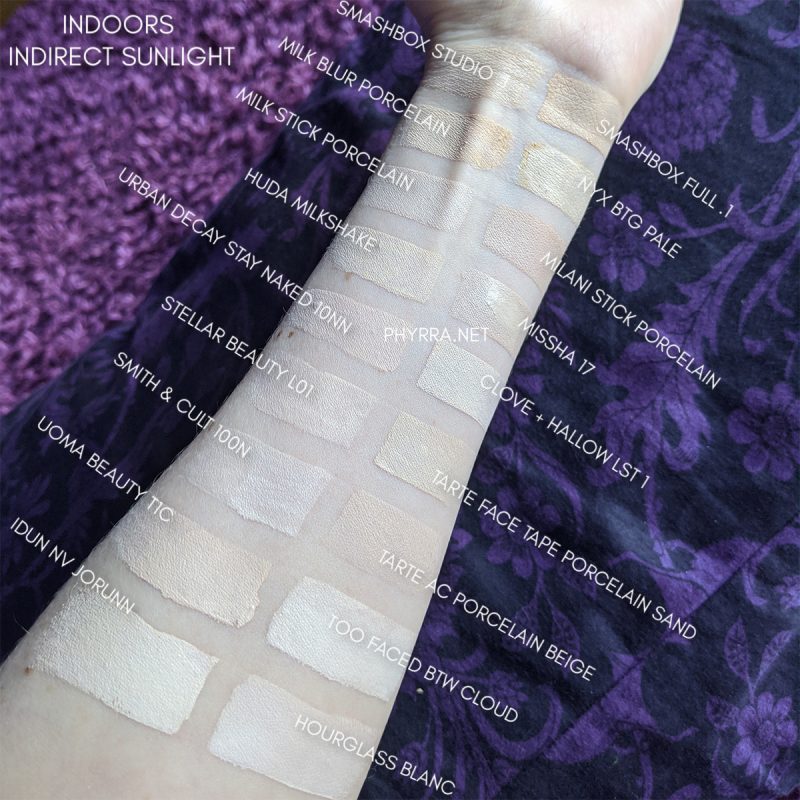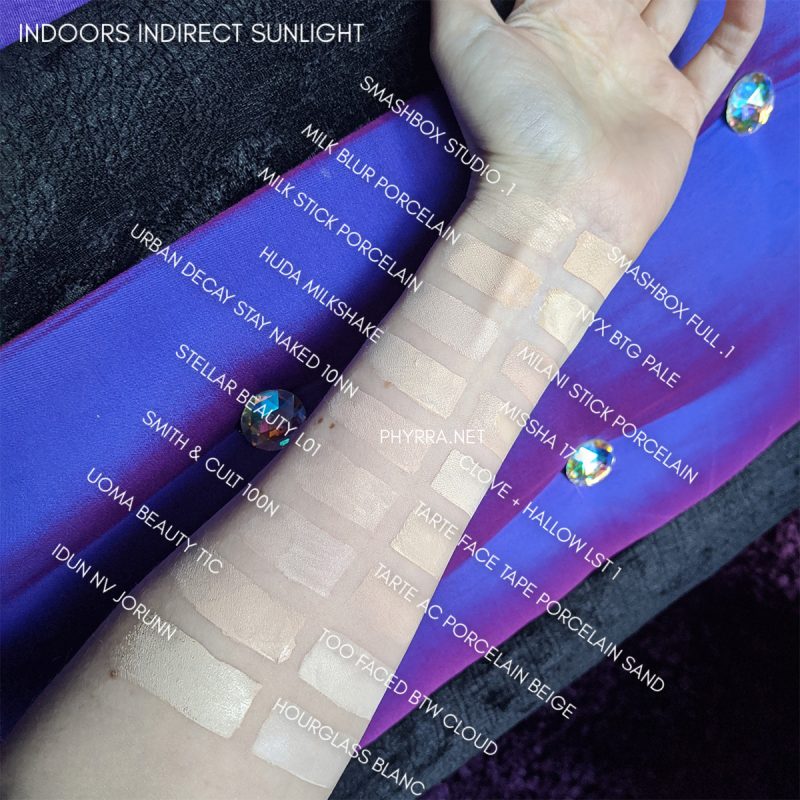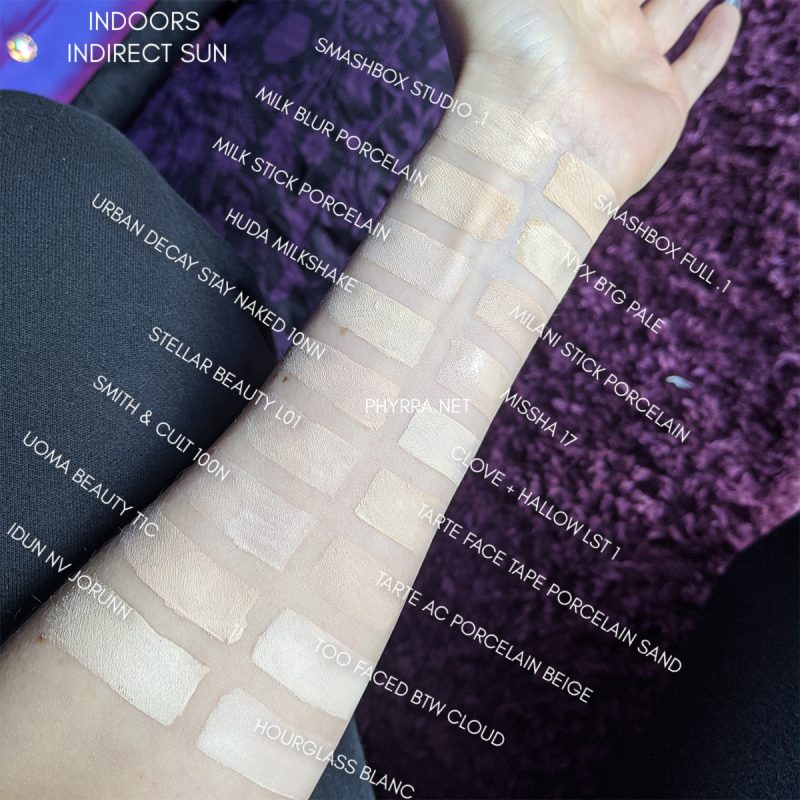 These photos were taken in my bedroom by my sliding glass doors that allow in a ton of natural indirect sunlight. I prefer to shoot in natural indirect sunlight when I have the option.
Best Foundation Swatches Outside in Direct Sunlight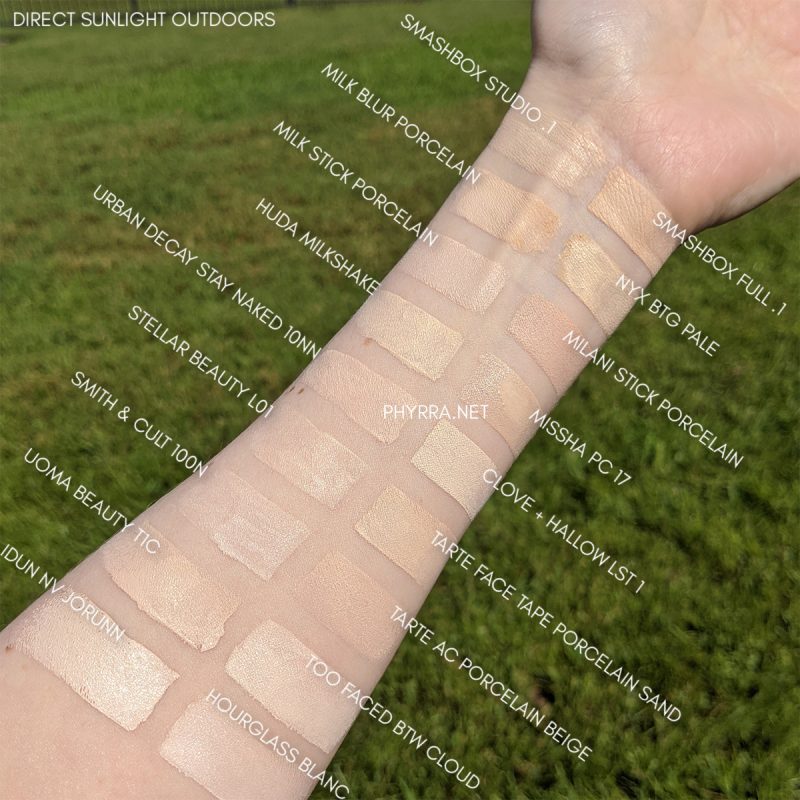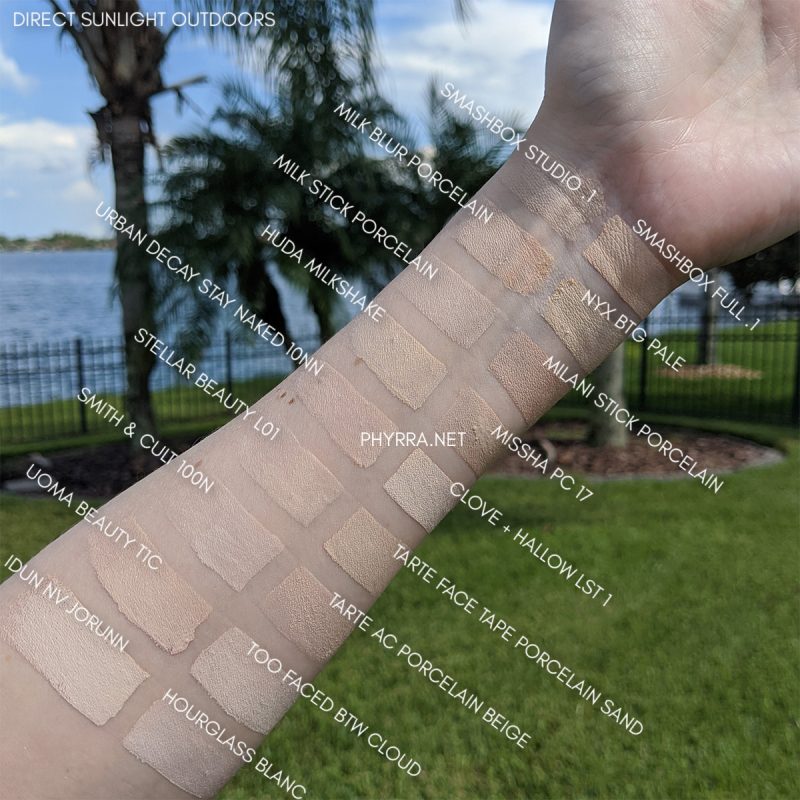 Best Foundation Features
* means PR sample
v means vegan
LB means Leaping Bunny Certified
PETA means Peta's Beauty Without Bunnies Program Certified
Best Foundation Thoughts
It always amazes me how much foundation shades can vary within the same brand, even when they're they exact same 'shade'. I find the Smashbox Studio Skin foundation in shade .1 to work well for my skintone. The Smashbox Full Coverage Waterproof Foundation in the shade .1 is too strongly peach for me to wear without thinning it out a bit.
Huda Beauty FauxFilter Foundation in Milkshake is a great full coverage foundation match for my very fair skin tone. Unfortunately, I hate the fragrance in this foundation, as the smell is often unbearable. It's also ultra full coverage. I feel like it looks very mask-like on me when I wear it.
Missha Perfect Cover BB Cream in 17 is gorgeous! I like the overall color of 17 Bright Beige and the finish is pretty.
Urban Decay Stay Naked Foundation in 10NN is a great match for my skin tone until it fully dries down. It oxidizes a bit on me. However, it was the finish that really made it not work for me. I feel like it emphasizes fine lines that I didn't even realize I had. I miss their old foundation and the One & Done. Not that I had a match in One & Done. I had to mix 50% white into O&D but I loved the finish and how it felt. Have you peeped the upcoming UD Stoned Vibes Palette? It looks so pretty! I can't wait to see real swatches with it. Also, currently obsessed with the new UD Stay Naked Face & Lip Tint. I purchased some and was sent some in PR, so will be swatching and reviewing ASAP.
Clove and Hallow Liquid Skin Tint Foundation in 1 is lovely. It's on the medium-full coverage side by my standards as I usually thin it out for more of a glow but I love the color! I desperately wish that they would create a matching foundation stick!
I wasn't particularly impressed by the Stellar Beauty Limitless Foundation in L01. I blindly bought it hoping it would work for me. I feel like it emphasized pores and fine lines. It's one of those foundations I should have returned to Sephora.
Smith and Cult Veiled Threat Weightless Micro-Blurring Foundation in 100N is an excellent color for my very fair skin. I do like the blurring effect.
Uoma Beauty Say What?! Foundation in T1C is nice but I wish I had purchased the neutral shade. When I wear T1C I can see a slight pink cast on my face vs. my neck and chest which appear slightly yellow. You can see what I mean in the last photo of my Uoma Beauty Tutorial.
Too Faced Born This Way Foundation is one I haven't worn in forever. Cloud matches me better than any of the other shades in this line. I was disappointed that there isn't a more yellow-toned neutral at this depth.
I love Idun Minerals! The Idun Minerals Nordic Veil in Jorunn is very full coverage by my standards but the neutral undertone makes it work well for me. I thin it out with a primer.
Hourglass Vanish Seamless Finish Liquid Foundation in Blanc is unfortunately too pink-toned on me. It's the right depth but wrong undertone. And ever other shade I tried has turned very dark and orange on me. It is a very full coverage formula. You can see how orange my face looks compared to the rest of my body with the Hourglass Vanish Seamless Finish Liquid Foundation in their shade down from Blanc in my Chilling Adventures of Sabrina Gothic Lookbook.
Tarte Face Tape Foundation in Porcelain Sand is a nice undertone for my very fair skin and I love it. I wish Tarte offered Porcelain Sand in every foundation they made. This is another full coverage foundation by my standards. The Tarte Amazonian Clay Foundation in Porcelain Beige is a bit too pink toned on my face. It's a classic full coverage foundation that has been around forever and so many people I know love it.
Nyx Born to Glow Liquid Foundation in Pale is an excellent cruelty-free drugstore foundation match for me. I love the Milani Conceal + Perfect Foundation Stick in Porcelain but if it was more yellow and less peach it would be a perfect match on me.
Milk Blur Matte Liquid Foundation in Porcelain works for me though wow did it partially oxidize badly for these swatches. It probably works well for me because I always thin it out with a glowy product. The Milk Flex Foundation Stick in Porcelain is a perfect match for me to make my face, neck, and chest look uniform. That is my goal with foundation.
Final Thoughts
The Milk Makeup Flex Stick Foundation is my pick for the overall best foundation from a department store brand because of how easy it is to customize the coverage. If you like it light to medium like me, no problem! Do you want full coverage? You can build it up! I'm hooked on foundation sticks. I feel like the shade Porcelain in the stick was custom made for my skin tone.
If you want a clean beauty option, I recommend either  Idun Minerals Nordic Veil or  Clove and Hallow Liquid Skin Tint Foundation.
If you've got very dry skin and you're on a budget, I would try Nyx Born to Glow Liquid Foundation. If you've got normal to oily skin on a budget, I would try Milani Conceal + Perfect Foundation Stick. Milani's stick foundation is my pick for the overall best foundation from the drugstore. I've bought this foundation for friends in the past who hate foundation and can never find a match
If you have very oily skin, I recommend picking up samples of the Milk Makeup Blur Matte Liquid Foundation or the Smashbox Full Coverage Waterproof Foundation.
What's your current foundation favorite?