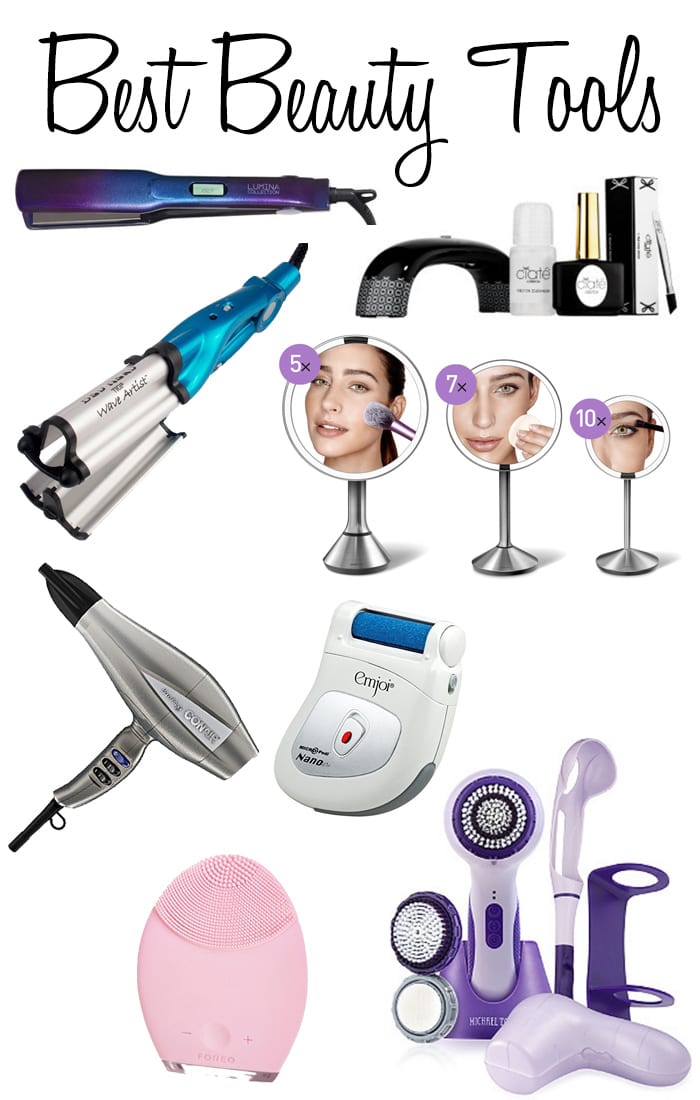 I wanted to share the best beauty tools in my arsenal. These are my tried and true tools that I use on a daily, weekly or monthly basis. This post contains a mix of press samples and products purchased by me.
Best Beauty Tools
Simple Human 5x (8″) and 10x (5″) Magnifying Mirrors
The LED lights on both mirrors are perfect for letting you see true to color makeup. I love these mirrors! I use the large one daily for my makeup. Ray likes to use the smaller one for shaving his face if he doesn't shave in the shower. They're both great for travel. They recharge with a USB cord. It also comes in a 7″ size.
Ciaté London Geltox Starter Kit
I bought this kit late last year and I've had time to use it once. So far I like it. You must wait until your nail polish is absolutely dry, then you can use it to harden your nails. I wanted it to use with all of my gorgeous indie nail polish. This hels your nails to stay strong.
HAIR
Paul Mitchell Lumina Flat Iron
I bought this flat iron during Black Friday and it is the best flat iron that I've ever tried. I use it slowly to smooth my hair and it stays straight until I next wash my hair. It heats up super fast and has an auto shut-off feature. It has a large range of temperatures. I use it on the lowest setting. Plus it's a blue-purple duohrome. It's so gorgeous!
Bed Head Deep Waver
I love to use this to add waves to my hair. I've had it for years and it's still my favorite tool for beachy waves. I use it once a month or so because I'm trying to heat style my hair less frequently. See my review.
Conair Infiniti Pro 3Q Hair Dryer
This is my favorite blow dryer! It's quick and it's quieter than anything else I own. I use this every time I blow dry my hair, so about every other time I wash my hair. See my review.
FACE & BODY
Michael Todd Soniclear
The Michael Todd Soniclear brush unique in that it has antimicrobial protection. It also uses a patent-pending sonic-wave powered technology to micro-massage away dirt. Ray likes to use it daily on his face. It has two brush heads, so it can be used on the face or body. See my review.
Foreo Luna
The Foreo Luna is a multi-purpose beauty tool. I use it for gently cleaning my sensitive skin and it can help serums to penetrate deeper int the skin. It also has a massage mode, which I use on my face. If I have a sinus headache, this can help to alleviate the headache. You get more than 450 uses from a single charge! Right now I like to use it for facial massage. See my review.
Emjoi Micro Pedi Callus Remover
This is great for smoothing out the rough spots on my feet. Just make sure you put a towel under your feet before you use it. I recommend using it at least once a month. See my review.
What are your picks for the best beauty tools?
[inlinkz_linkup id=571525 mode=1]