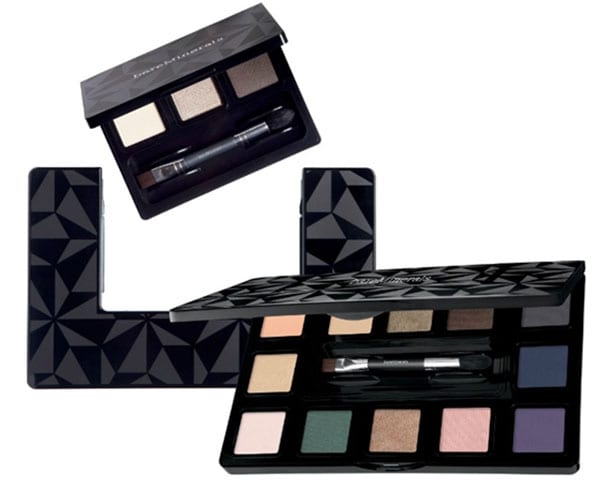 Happy Thursday! I'm happy today to be able to show you the bareMinerals Mix Master READY Convertible Eye shadow palette. The Mix Master is a very cool, convertible eyeshadow palette that lets you pop out any 3 shades into a portable palette that's small enough to toss into your makeup bag. Let's take a look!
PR sample

If you like my video please give it a thumbs up and share!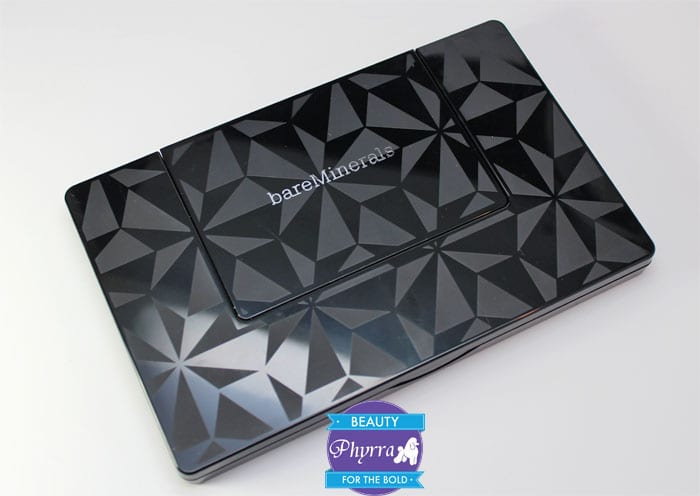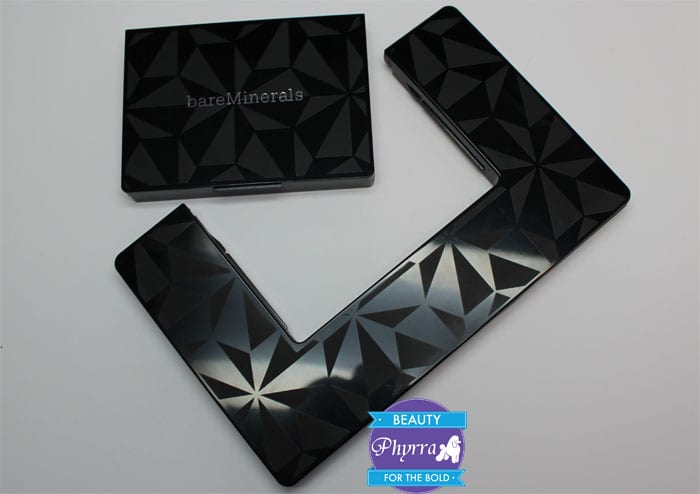 About the bareMinerals Mix Master READY 12 Eye Shadow Palette
This convertible eyeshadow palette includes twelve base, crease and liner shades that mix and match for endless on-the-go looks. Buff, blend, line and define effortlessly with the multi-tasking eye brush. Includes application tutorial for ultra-chic looks.
High-performance color with anti-aging benefits
Pure, intense, provocative color with seamless blendability
Long-wearing up to 12 hours
Includes 12 eyeshadows
Double-Ended Tapered Crease Defining & Flat Edge Liner Brush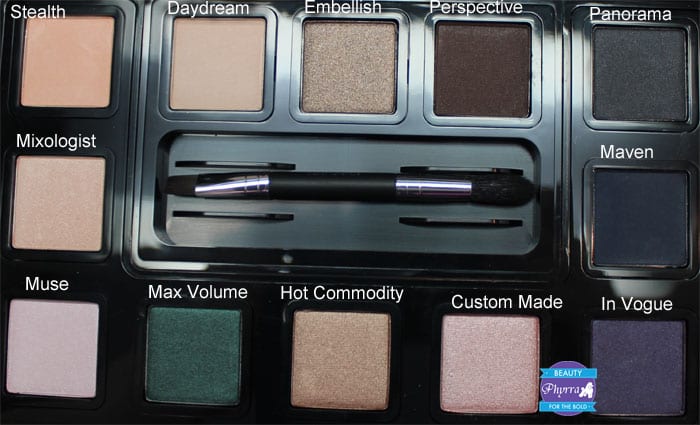 Design your own READY-to-go compact in three easy steps:
Pop any three shades out by pressing up from bottom.
Click into inner READY-to-go compact.
Slide inner compact out and go.
Price
$48 ($90 value)
Availability
Nordstrom, Macys, bareMinerals, Ulta, Sephora (though I haven't seen it show up at Sephora online yet).
Swatched on bare skin with no primer.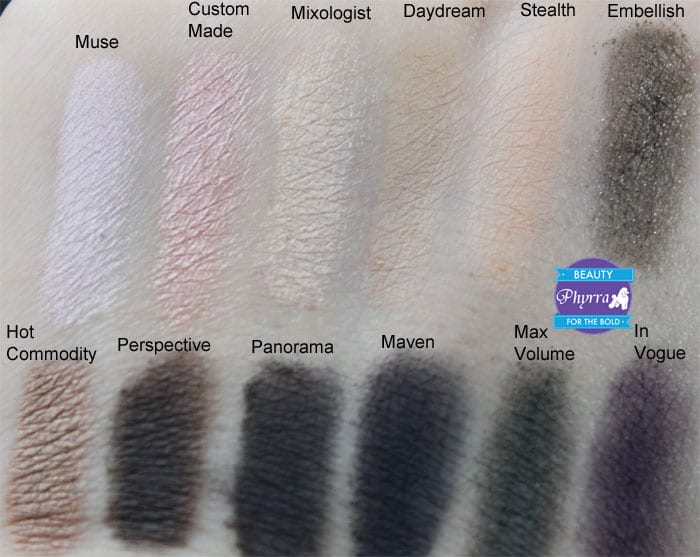 Muse (pink frost)
light glowing baby pink
Custom Made (pink quartz pearl)
light ballerina pink
Mixologist (champagne sheen)
champagne
Daydream (nude cream)
creamy beige
Stealth (apricot chiffon
light peachy apricot tones
Embellish (glittery pewter)
grey base with golden sheen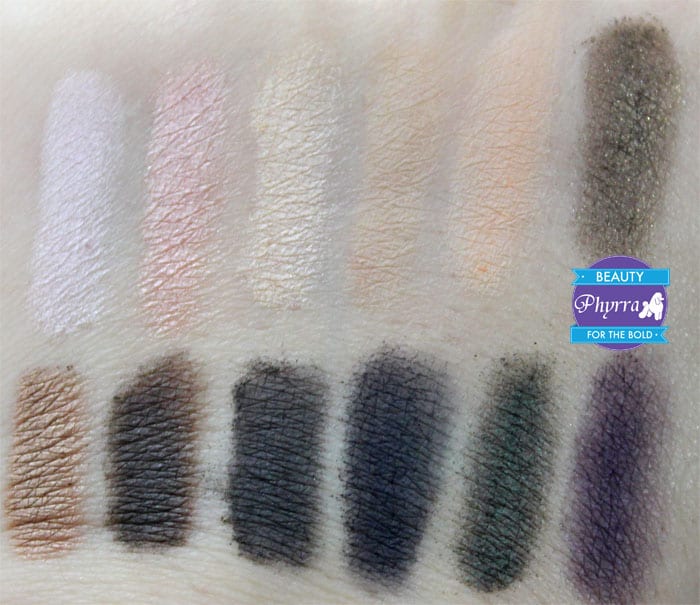 Hot Commodity (metallic medium copper)
muted copper with brown undertones
Perspective (deep espresso)
deep dark chocolate brown matte
Panorama (charcoal)
charcoal satin
Maven (blackened navy)
blackened navy matte
Max Volume (smoky jade)
blackened jade green satin
In Vogue (matte smoky purple)
matte smoky purple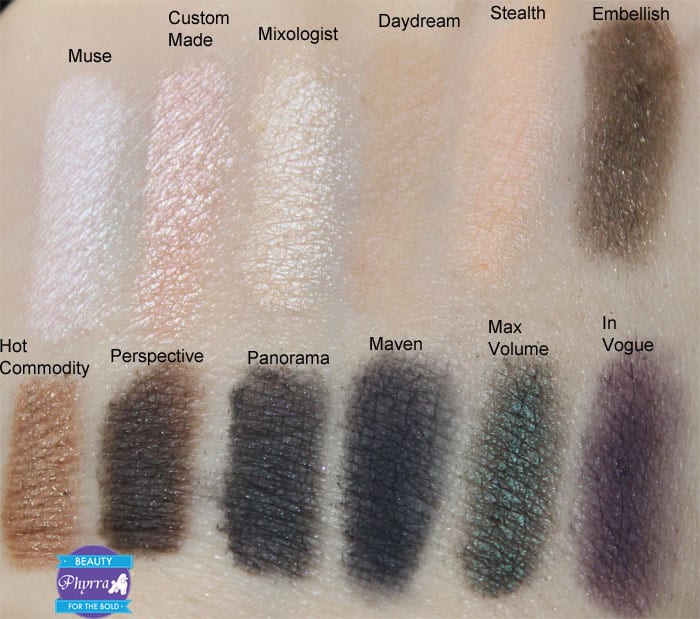 Packaging
The packaging is black patterned plastic and it does feel a bit heavier than you would expect, but I'm sure that's due to the fact that it needs to be sturdy enough to survive the popping items in and out. Be sure when you're popping out the eyeshadows to cup your hand over them so that they don't go flying across the room.
I really like that this palette included a push brush in it, which I've never seen any other palette do before. A+ for originality!
Value
Each eyeshadow in this palette is .05 oz of product (which is considered full size), so you're getting .60 oz. This breaks down to $4 per eyeshadow (if you don't add a value to the brush or the palette container), which is a very good deal to me!
The eyeshadows themselves are lovely. I didn't feel like there were any duds in the palette. With the smoky green, navy and purple, you've got lots of colors to choose from for a smoky eye. The copper, browns, champagnes and pinks are perfect for daytime looks. These 12 shades give you a lot of versatility.
I think this is one of the great holiday palettes this year. With the eyeshadows being lovely, the convertible case, and only $4 per eyeshadow, this is definitely a great deal.
What do you think of the bareMinerals Mix Master READY Convertible Eye Shadow Palette? Do you think bareMinerals will put out more shades that fit into it?