Hi! I'm Phyrra's friend Deb from It's me, deb! I blog about motherhood, trying to survive the teen years and unfortunately, dealing with chronic illness. I also love to drink wine and cook. So, Phyrra and I thought it would be great to share a recipe with you today- Baked Cod with Vegetables.
Since I'm a dance mom and we have to survive the torture of takeout often, most of my recipes are healthy. We eat a lot of fish because it's low in calories, heart healthy and easy to cook. I love meaty, white fish like cod because it has a mild flavor and it's always moist and flaky when cooked. There's not a whole lot you have to do to make it taste great. Here's one of my favorite ways to cook cod.
Baked Cod with Vegetables Recipe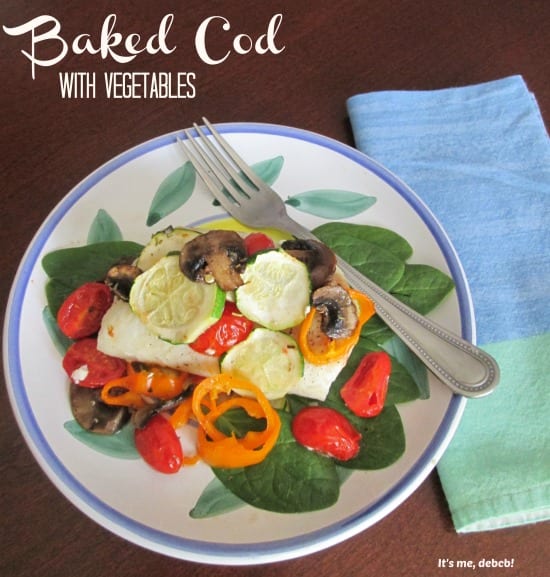 Ingredients:
4 Wild Alaskan Cod Fillets
1 large Zucchini- sliced
Six petite yellow peppers- sliced
1 pound mushrooms- sliced
12 cherry tomatoes- quartered
3 tablespoons olive oil.
1 teaspoon Italian seasoning
Salt and pepper to taste
Preheat the oven to 400 degrees. Slice all your vegetables. Toss them in a bowl with a two tablespoons of olive oil and a teaspoon of Italian seasoning. Lightly oil the fish fillets and season them with salt and pepper. Place the fish in a baking dish and top with vegetables. Bake for 20-25 minutes until fish is flaky.
Yes, that recipe really is that simple. You can vary the vegetables and even use what you have on hand in the kitchen. My favorite veggies to pair with any mild, white fish? Yellow squash, red pepper and fresh basil or oregano when you use Italian seasoning. Want something with a little more flavor? You can use artichoke hearts and capers. Want a totally turn-key meal? Serve the fish on a bed of spinach or mixed baby greens. With crusty bread and a glass of Chardonnay, it's a full meal.
Want some other great fish recipes? Try my Mahi Mahi with Black Bean and Mango Salsa or my Mediterranean Orange Roughy.