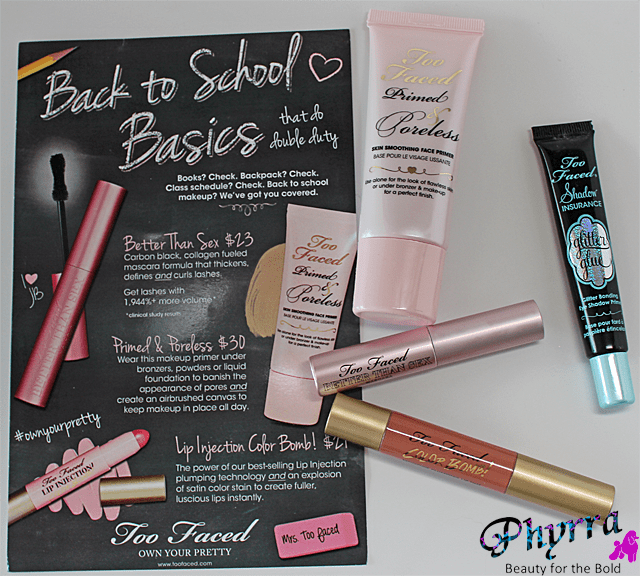 Let's go Back To School with Too Faced! Too Faced came up with some of their favorite products to recommend as Back to School Makeup Basics. Let's have a look at what they're suggesting.
Pr sample.
Back To School with Too Faced
They recommend:
Too Faced Primed & Poreless Face Primer
This is a great face primer. It fills in pores and provides a smooth canvas for applying your foundation. You can check out my review here. This is a product I've repurchased and loved. You need only a tiny bit to fill in your pores before applying foundation.
Too Faced Better Than Sex Mascara
This is the best mascara that I've tried all year. Seriously. I love it. You can see my review here.  You'll have dramatic lashes with this mascara.
Too Faced Lip Injection Color Bomb
With lots of pretty colors, if you love the lip plumping action, you'll adore these. Here's my review. I can only wear lip plumpers on occasion because my lips are too sensitive.
I am also suggesting Too Faced Glitter Glue, which I picked up to try out. This is supposed to keep your sparkly eyeshadows locked in place and prevent glitter fall out. Yay!
What do you think about these Back To School Makeup Basics with Too Faced? Have you tried them? I wanna know 🙂
Last Updated on