I'm completely in love with this Aqualillies for Tarte Amazonian Clay Waterproof Eye & Cheek Palette, so I wanted to review it for you. I had the opportunity to buy this when Coupons.com gave me a $50 gift certificate to Ulta. As soon as I saw this palette had been released, I'd been lusting after it. I thought the blush looked juicy and perfect for Summer.
Price
$38. Available at Ulta and Sephora, and online at Ulta .04 oz of eyeshadow per pan (6 eyeshadows), .23 oz of blush, .14 oz of highlighter, .13 oz of bronzer.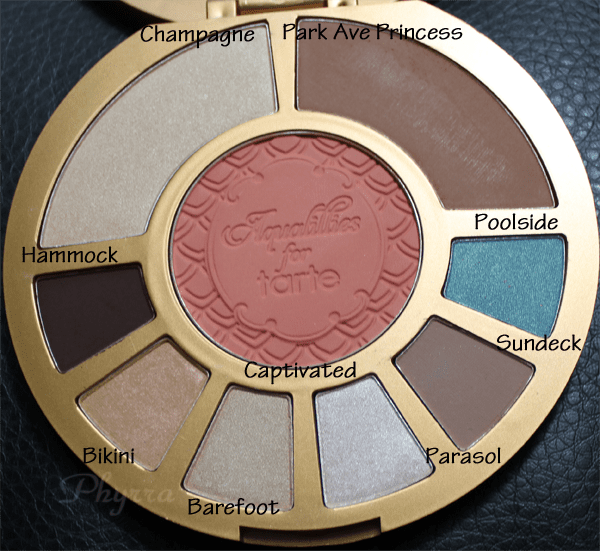 The Website Says
Make a splash this summer with tarte and the Aqualillies! This limited-edition waterproof palette, inspired by America's most glamorous synchronized swimming group, includes 6 new eye shadows, bronzer, highlighter, and  a limited-edition Amazonian clay 12-hour blush. All show-stopping shades are tucked inside a classically elegant, mirrored compact.
* Product Performance: Each nutrient rich formula inside this palette is infused with Amazonian clay, which is harvested from the banks of the Amazon River and naturally baked by the sun. Amazonian clay universally benefits all skin types for a fade-free, flawless finish that lasts up to 12 hours in shades ranging from soft to vivid to suit a wide variety of skin tones.
* Powered By: Amazonian clay. Amazonian clay minimizes oil in and around pores to balance skin and keep product in place.
* Skin-softening mineral pigments, which are known to soothe and soften skin, will help you create show-stopping looks both in and out of the pool and give you a good-for-you, gorgeous glow.
* Cruelty-free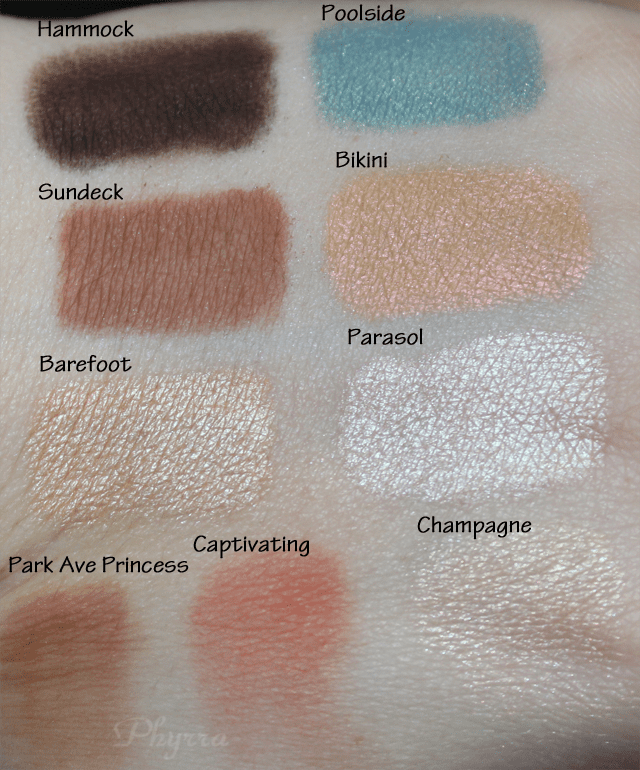 Poolside
turquoise
My Take
turquoise blue shimmer
Bikini
golden peach
My Take
peachy-gold-beige with pink shimmer
Parasol
champagne rose
My Take
creamy pearl
Hammock
chocolate brown
My Take
deep dark bitter chocolate brown
Sundeck
light brown
My Take
milky chocolate brown
Barefoot
golden nude
My Take
shimmery tan
Champagne
champagne highlight
My Take
pearly highlight
Captivating
warm peach blush
My Take
peachy apricot blush
Park Ave Princess
bronzer
My Take
bronzer or contour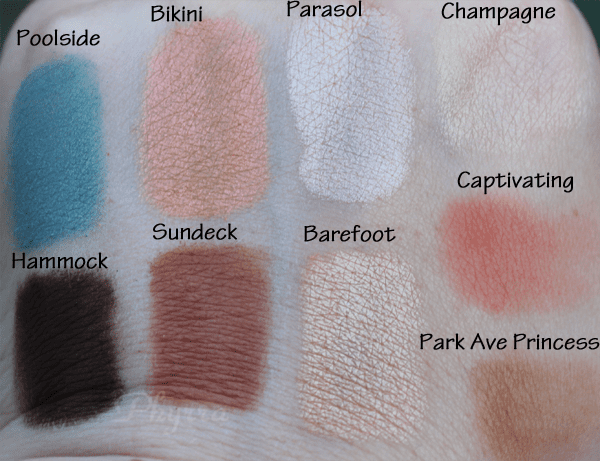 I buy in to all the hype with the Amazonian Clay products and I love them. Captivating certainly captivated my attention and I haven't regretted this purchase at all. I love that blush! The highlighter Champagne is perfect and I really like Park Avenue Princess for contouring.
When it comes to the eyeshadows, Bikini all the way! This color is similar to the Smashbox Shades of Fame Honey, which I love. It's a fantastic lid shade and great for brightening the eyes.
The eyeshadows all have good pigmentation, with Poolside being the weakest pigmentation wise. However, it still looks nice, especially if you layer it on top of a teal liner. Hammock could be used to line the eyes in addition to it working as a nice dark or contour shade.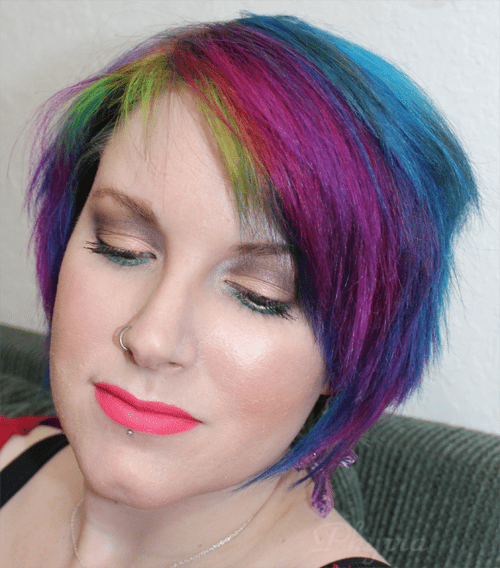 Wearing almost all of the shades in the Aqualillies for Tarte palette. I've got on Barefoot, Bikini, Hammock, Sundeck, Poolside and Parasol from the eyeshadows. I've got on Park Ave Princess, Captivating and Champagne for the cheeks.

You can see the 'Get Ready With Me' for this palette in the video above.
The cheek products coordinate together perfectly. I just can't get over how awesome that blush turned out to be. And while I never would have purchased Park Avenue Princess on its own, I'm happy to find out that it's quite wearable for me if used with a light hand as a contour.
I love the beautiful packaging and the fact that this is ultra portable, yet the amount of product is pretty amazing. A typical tarte blush is .2 oz, and the one in this palette is .23 oz. A typical MAC eyeshadow is .05 oz, so with each of the eyeshadows in here at .04 oz, they're just slightly under that in size, but where 6 MAC eyeshadows would cost you $72 (if you bought the refills), you're getting slightly more than a full size blush, 6 nearly full size eyeshadows, and half sized bronzer and highlighter. So this is a fantastic value for the price.
If you can find this product in-store (or get it online at Ulta), snatch it up. You won't regret it.
Have you fallen in love with Amazonian Clay and tarte?