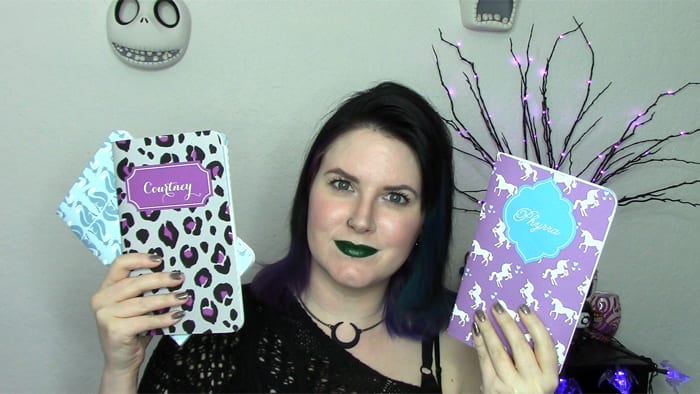 Looking for an alternative to Erin Condren Life Planner? I found one with May Designs! I wanted an alternative to the Erin Condren Life Planner that everyone has been obsessing over. When I mapped out what an Erin Condren Life Planner would cost me ($70) to get it customized the way I liked and I wasn't even 100% satisfied, I decided I should shop around. I looked at Melvedy Designs and Plum Paper Designs on etsy, but wasn't fully happy with what I found there, either. Finally after much google fu,  I found May Designs.
May Designs -- Alternative to Erin Condren Life Planner
May Designs - Alternative to Erin Condren Life Planner


If you like this video please give it a thumbs up, share and subscribe!

Price
$22 (varies by what you get inside, plus they have amazing sales)

Availabilit

I have to say that many of my friends -- Genia, Brittany and Judi, are obsessed with these life planners.

May Designs offer notebooks, cards, photo books, stationary, gift cards and custom books. Their designs range from whimsical and they have over 100 designs. They have a special section of books called the Rise Art collection to help raise awareness and provide better education with special needs through the Rise School and other initiatives. Owner and May Designs founder, Mica May, has a son with Down Syndrome. The Rise School Art Books originated from a beautiful canvas displayed in her son's school lobby.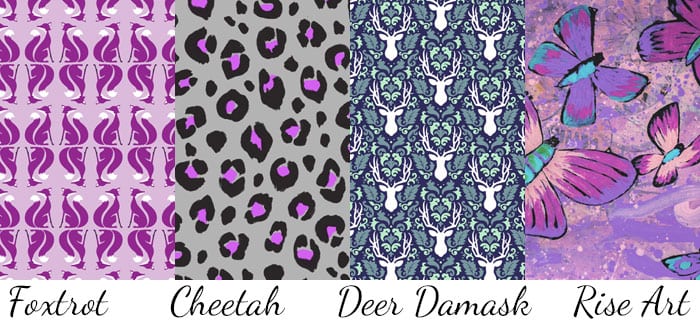 While I still couldn't fully customize what I got to the extent I wanted (why couldn't I choose the background color for my design from the  monogram colors? why?), I still found multiple designs I liked. I went with the Unicorn Mauve design, though I was tempted with the Cheetah Orchid, Cheetah Gray, Deer Damask and Fox Trot designs. If I get a second one it will most likely be a Fox Trot Ice or Cheetah Orchid. (May Designs had a major sale and I scored the Cheetah Gray for $11 and Fox Trot Ice for $17, plus free shipping)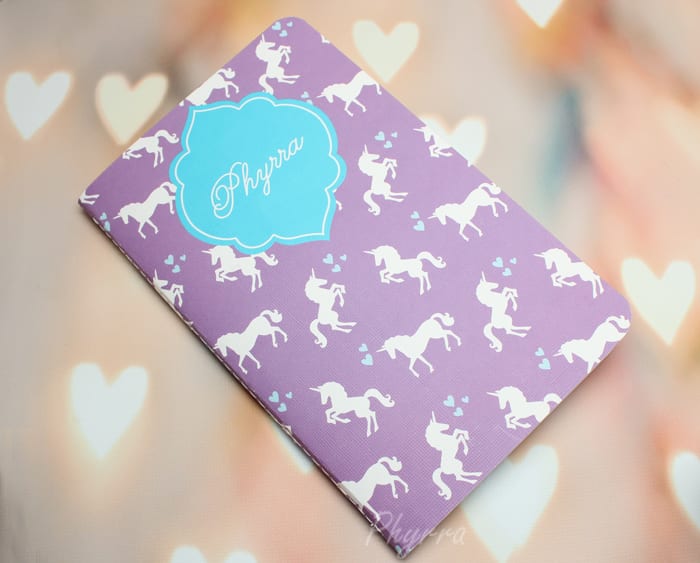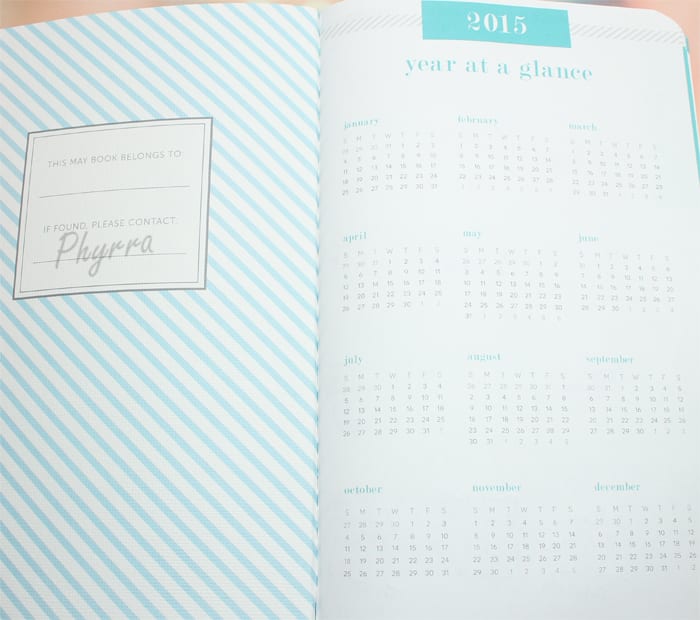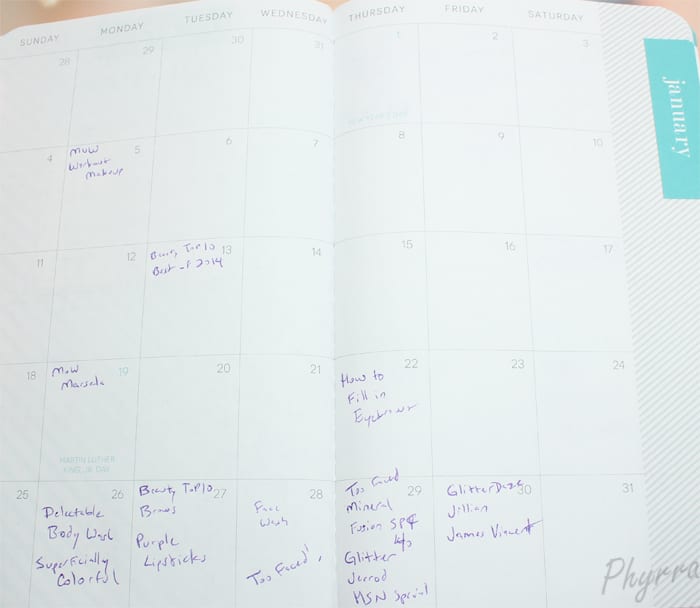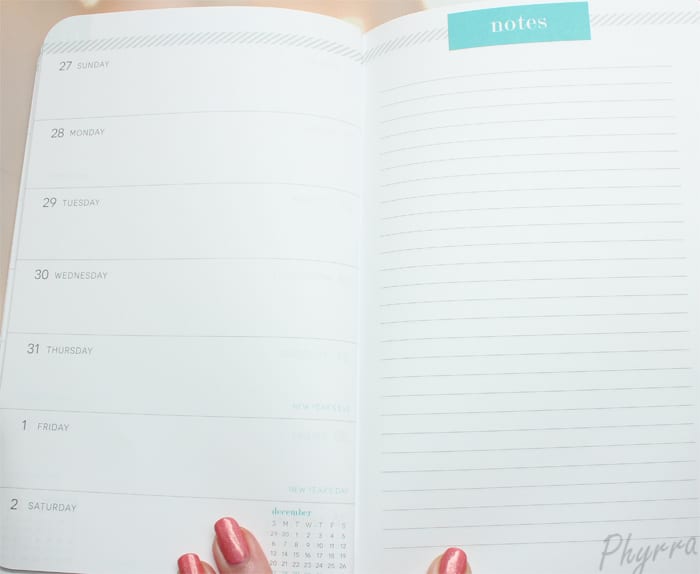 The May Books are 5″ x 8″, so very handbag friendly in size, but they're not spiral bound. They're stitched down the spine. They come with 80 pages. To create my book, I chose the Baroque background shape. I had Phyrra written in Flirty Script on the Teal monogram color. I wish I could have had the Magenta background instead of Mauve, but eh. I chose the 2015 Agenda: Months + Weeks (Jan to Dec, i would have preferred to customize this to Feb to Jan). My total for the book was $22 and they charged $6 for shipping.
What I bought the planner for is to plan blog posts and keep track of my group blogging posts. I use google calender for many different things, but this is the one area that I really feel like I was lacking good organization. I need the organization to get ahead on planning posts, and being able to see it in a different format really helps.
Since I bought 2 more books, I bought another personal one (Cheetah Gray). It says Courtney in calligraphy on a Fuchsia Rectangle with Academic Agenda, Months + Weeks. I also bought a Food & Exercise Journal (Fox Trot Ice).
What I don't love about them is that I can't choose one of the monogram colors for the base color of a design. I also wish that I could choose to lay out my calendar so that each Month View was followed by the corresponding week view, so January month view of 31 days/boxes, with the week view right after it of 31 days. Then on to February and so on. Instead it has the month calendar , followed by the month weeks. So there's a lot of unnecessary flipping around that I have to do, though I suppose I could just buy some tabs and fix that. The May Designs planners are not laminated or spiral bound, either. Additionally, I wish they started the day of the week on Monday, not Sunday.
I also would have preferred if I could have bought mine starting in February since I purchased at the end of January. Along those lines, I prefer  my weeks to start on Monday rather than Sunday since, you know, work weeks start on Monday.
There's a lot to love about them. You can customize the inside of the books, to a point, to what you need. This is really nice. I love that you can customize the design, to a point. You can choose to have the book monogrammed or not. I love the size of the books because they're easy to toss into a purse yet not so small they'll get lost. I really do love that they offer over 100 designs for the outside of your journal, in addition to many different types of planners inside.
I've spent a total of $50 and I now have 3 different journals that are all about the size of my kindle fire, making them easily portable.
I just couldn't pull the trigger on the Erin Condren Life Planners, for so many different reasons, and I'm very happy that I decided to buy May Designs planners instead. I like having my separate books for different spheres of my life. I like the customization.
I feel like the May Designs are a great value for the price, especially with the sales that they seem to do on Fridays.
What do you think of May Designs? Are you into Life Planners? Let me know!
Last Updated on