I've been obsessed with Spring lately. All I can think about is Spring Colors for lips and cheeks, and even eyes. I've got 9 poppin' shades that I'm crushin' on to share with you.
Spring Lip Lusts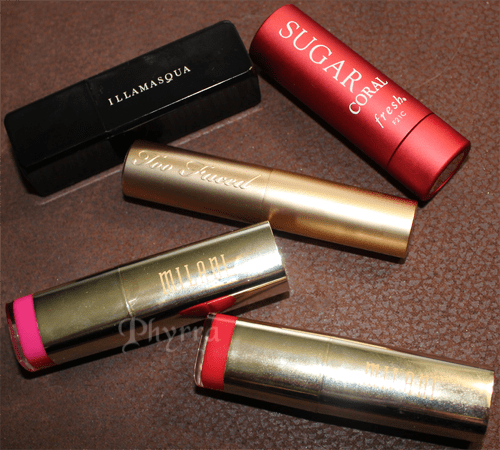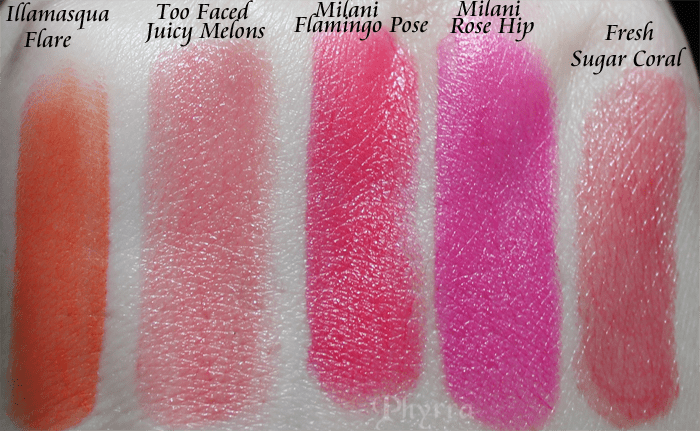 Illamasqua Lipstick in Flare – a bright orange matte
Every time Spring and Summer rolls around, I start reaching for orange lipsticks and glosses. They're fun, and Flare is no exception. It's a super bright orange.
Too Faced La Creme Lipstick in Juicy Melons – pink coral
Juicy Melons is a more demure pinky coral shade. It reminds me of bareMinerals the Natural High in lipstick form and without the gold shimmer.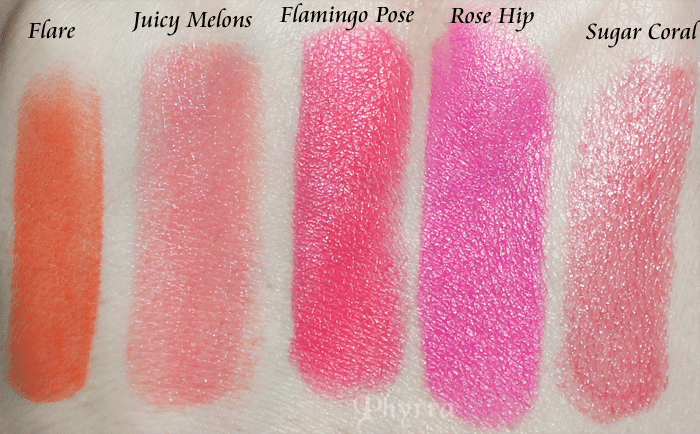 Fresh Sugar Coral – sheer dark peach
Coral reads as a red coral on my lips.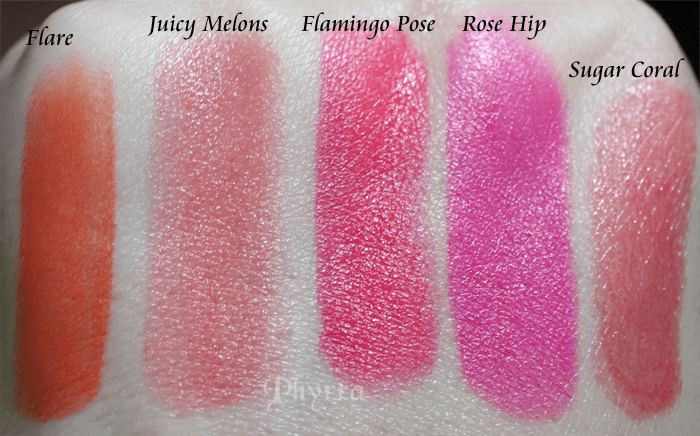 Milani Flamingo Pose – neon coral creme(reminds me of MAC Fusion Pink)
I just love this color! I love how it's nearly violet around the edges.
Milani Rose Hip – neon hot pink creme (brings to mind MAC Show Orchid)
It's my favorite shade of pink. Seriously. Perfect to pair with a cat eye.
Spring Cheek Crushes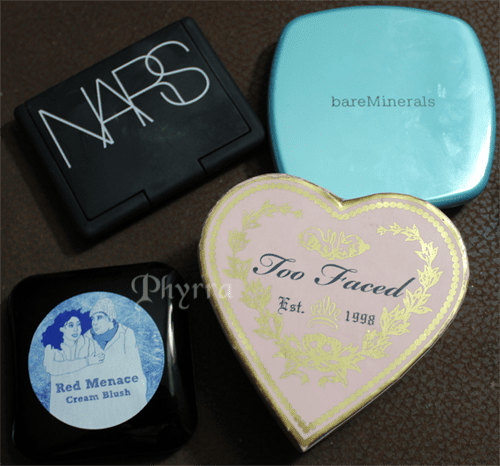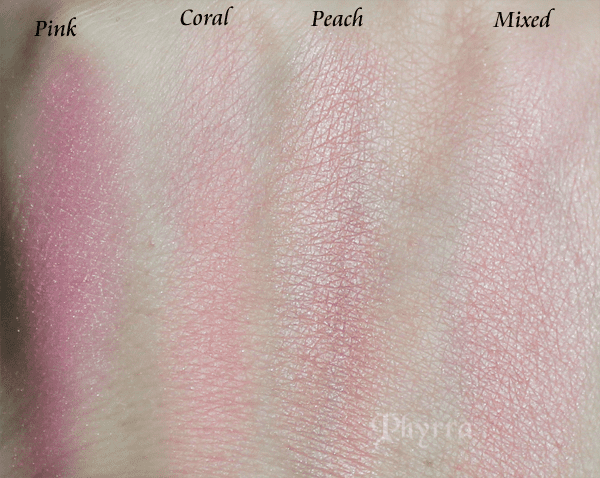 Too Faced Sweethearts – rose pink shimmer / soft coral pink / peachy pink shimmer
I love this blush! Really, it's 4 colors in one. I traveled with it for over 2 weeks and it was the only blush I needed. I could use the colors individually or swirled together and it looks perfect on me. It's the perfect blush!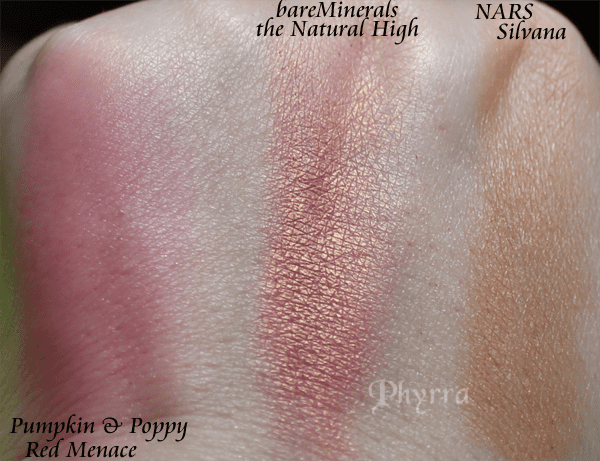 bareMinerals the Natural High – golden petal peach
This blush is absolutely lovely. To me it's a peachy-pink with gold shimmer. I swatched it heavily here, but if you apply it lighter, it's perfect. Others have pointed out that it's a good clone for NARS Orgasm and it lacks any chunky shimmer or glitter. It's perfectly pretty. I do like the official color description, too.
Pumpkin & Poppy Red Menace – red-pink cream
To me this is a hot pink cream blush and it gives a nice natural flush when used lightly.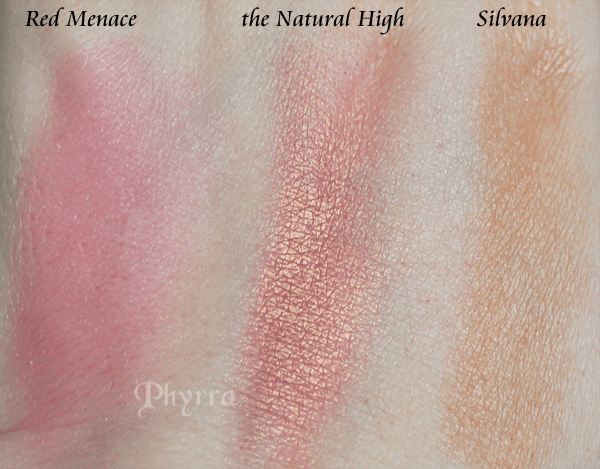 NARS Silvana – natural peach terracotta
Silvana is a vintage shade offered from NARS and I rarely see it discussed. I picked it up because I can use it as a contour or as a blush. I love it on me as a more natural cheek color.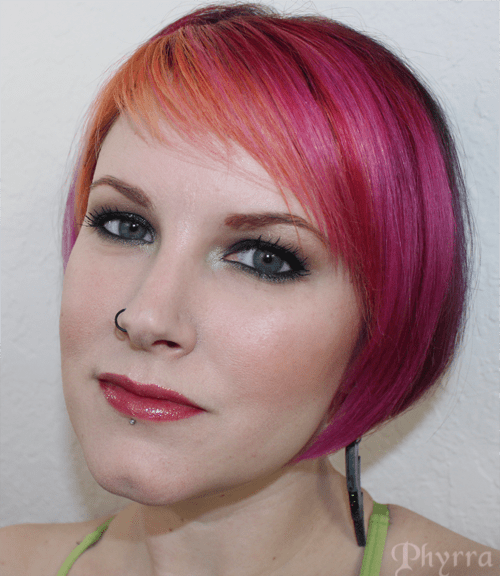 These are all colors that I love on me.
What colors are you drawn to wear for Spring? Are any of these a Lust Have for you?
Some products purchased by me. Some products sent for consideration. All opinions are my own.
To the best of my knowledge, all products are cruelty-free.
Last Updated on