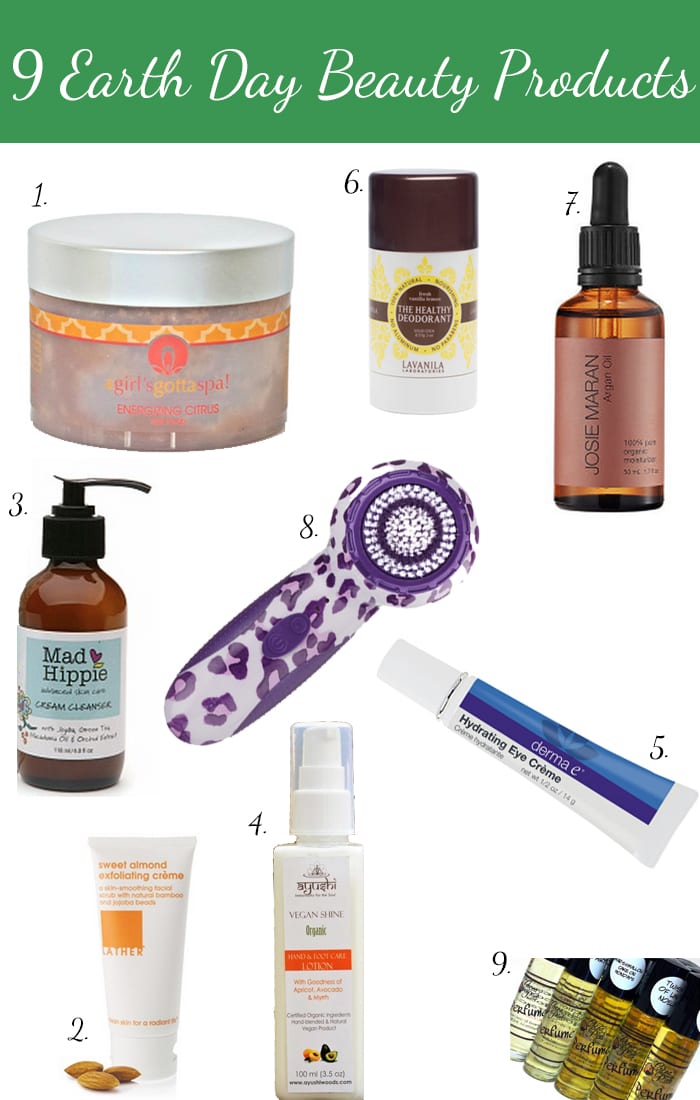 Happy Earth Day! April is Earth Month and today is Earth Day, so I have some Earth Day Beauty Products to share with you. All are, of course, cruelty free and 7 are vegan.
9 Earth Day Beauty Products
A Girl's Gotta Spa! Energizing Citrus Salt Scrub
This luxury scrub is made with dead sea salt, avocado oil, and green tea. It also has essential oils from pink grapefruit, orange, lemon and lime. It's 100% natural, Leaping Bunny Certified and vegan.
LATHER Sweet Almond Exfoliating Creme
I love a good scrub and this one is good for the environment! It doesn't contain any microbeads. It's a creme-based exfoliant that contains tiny non-abrasive jojoba beads to exfoliate. Their packaging is even eco-friendly and made with EcoPure to help accelerate biodegradation. See my review.
Mad Hippie Cream Cleanser
This is a new cream cleanser that I'm trying out and falling in love with because it's ultra moisturizing. It smells like shea butter, which is ok (but I wish it smelled like chamomile!) It's packed with goodness like organic jojoba oil, macadamia oil, sesame oil, green tea and shea butter. Vegan.
Ayushi Vegan Shine Hand and Foot Care Organic Lotion
This is a light, quickly absorbing lotion that has a pleasant minty smell. See my review. Vegan.
derma E Hydrating Eye Crème with Hyaluronic Acid
This contains hyaluronic acid to help hydrate and smooth the delicate eye area. It's packed with green tea, jojoba oil, Vitamins A, C and E. Vegan.
LAVANILA The Healthy Deodorant
I've been using the fresh vanilla lemon, which has a barely discernible scent, before and after the gym. While it doesn't stop sweating, it does keep me from getting stinky. Vegan.
Josie Maran 100% Pure Argan Oil
This is wonderfully moisturizing for the skin. In addition to that, it's housed in a recyclable glass bottle and purchased from women's cooperatives in Morocco. Vegan.
Michael Todd Soniclear Antimicrobial Cleaner Brush
I love this brush. I love that the bristles are antimicrobial, and that it vibrates rather than spinning, so it cleans deeper. Plus, it comes in purple leopard, though mine is 2 tone purple. How could you not love that? See my review.
Cocoa Pink Perfume Oil
I love my Cocoa Pink and they have so many scents available. Cinderella's Carriage, Hawaiian Cake and Beach Bum are three of my favorites. They also make an amazing sulfate free Princess Poo shampoo and Argan Therapy Creme conditioner. Vegan.
 How are you celebrating Earth Day? What are your Earth Day Beauty Product picks? Let me know below!