8 Tricks to Make Eyeshadow Blending Easier
I've got 8 tricks to make eyeshadow blending easier to share with you. Eyeshadow blending is hard, especially if you're new to makeup! I felt like I would blend and blend and still never come up with a great look when I first started out. These 8 tricks have really helped me improve my eyeshadow looks. So whether you're new to makeup or a pro, these are helpful!
PR + Purchased by me.
What I'm Wearing in the Video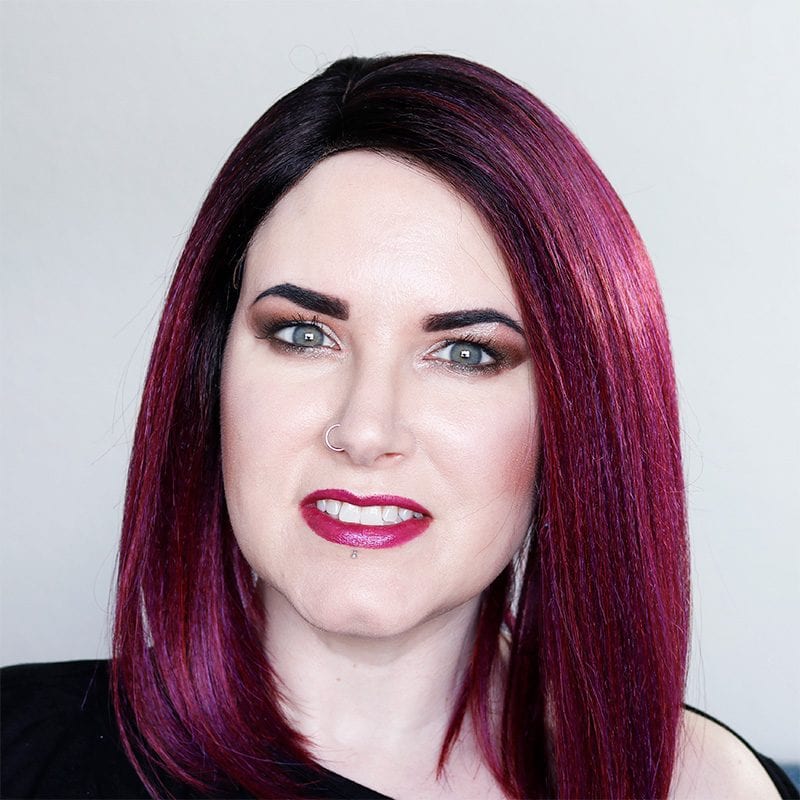 Fashion
Isis Chic Sangria Wig
Bunny Paige Spiked Volcano Heart
Bellabeat Leaf Urban
Patty Boutik One Shoulder Top
Eyes
Kat Von D Fair Eyeshadow Primer 
Milani Prep Set Go Setting Powder
Geek Chic Bork – crease and lower lid
Geek Chic Bamboozled – outer crease
Geek Chic Heck + Makeup Geek Corrupt – outer v
Makeup Geek Corrupt – smudged through roots of lashes
Geek Chic Smol Pupper – lid, inner lower lid and under brows
Wunderbrow in Jet Black
It Cosmetics Superhero Mascara 
Face
Colorescience All Calm – on red areas
Julep Cushion Complexion in Alabaster – to conceal under eyes and high points of face
Laura Geller Balance-n-Brighten in Porcelain – to set all over
Aromaleigh Digitalis Purpurea – contour
Glamour Doll Eyes Skeletina – contour
Milani Rosa Romantica – blush
Urban Decay TMI – blush
Makeup Geek Celestial – highlight
Lips
Urban Decay 24/7 pencil in Hex
Urban Decay Heartache
1. Use an eyeshadow primer.
No matter whether you have hooded eyes like me or any other eye shape, a good eyeshadow primer will lock in your color and make your eyeshadow last all day.
2. Use a translucent setting powder to set your eyeshadow primer.
This will make it easier to blend eyeshadow later. It also means that there are no 'wet spots' for the eyeshadow to adhere to, which can cause unwanted darkening of color. I like to use a big fluffy brush like the bdellium tools 787.
3. Experiment with transitional colors.
A transition shade should be just a little darker than your skintone. I like lighter colors, such as pastels, for transitional colors. So my Kat Von D Pastel Goth palette, shades like Anastasia Beverly Hills Buon Fresco or Urban Decay Laced, which are pinky taupes. I also love Urban Decay Teased, which is a taupe with a hint of purple. Urban Decay Bust can also be used. If you're looking for warmer colors, I like Darling Girl Break the Internet, Makeup Geek Buffed or Physicians Formula MuruMuru Butter Bronzer.
4. You need blending brushes.
The Sigma E25 or Urban Decay Iconic brush are a must for blending.
5. Tap off excess eyeshadow from your brush before you apply.
This helps prevent fallout. Also, where you first place your brush should be where you want the most color deposited.
6. Twirl your brush while holding it in place to help blend.
This helps to prevent it from going muddy.
7. Use shimmer eyeshadow to help blend a tricky seam.
If you're having trouble with blending the seams of two colors, or a matte shade, use a matching shimmer shade on top of the problem area to make blending easier.
8. Try a soft bronzer.
If you're still having trouble blending things out, try a light bronzer or contour powder to soften the transition.
8 Tricks to Make Eyeshadow Blending Easier Video
If you find this helpful, please share it! It means the world to me.
Products Mentioned in Video
If you implement these 8 tricks to make eyeshadow blending easier, I promise you'll be happy with the results. They really do make a difference!
What are your tricks for making eyeshadow easier to blend?