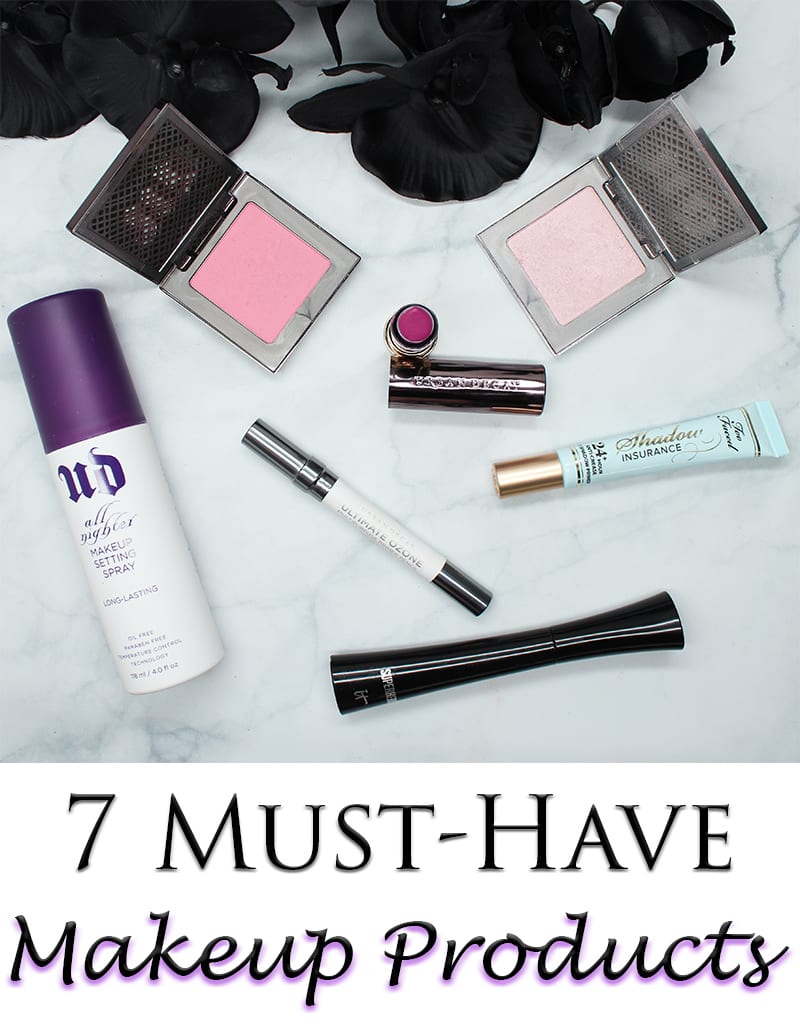 When you want to get into makeup but you don't know where to start, it can be overwhelming. So today I'm sharing my 7 Must-Have Makeup Products for Beginners. While I absolutely believe in foundation and eyeshadows, I feel like these basics are important too.
7 Must-Have Makeup Products for Beginners
PR + purchased by me.
1. Urban Decay Vice Lipstick
The Urban Decay Vice Lipsticks are beautiful. My favorite go-to is Crank, but if a bright magenta pink is out of your comfort zone, there are 99 other shades to choose from. For softer shades, Backtalk (nude pink) is a great MLBB type shade on my pale skin. Violate (pale pinky purple) and Twitch (pale purple) are both lovely. For bolder shades, you can't go wrong with Heroine (navy), Pandemonium (purple) or Perversion (black). Bad Blood is the PERFECT red, in my opinion.
2. Urban Decay Ultimate Ozone Multi-Purpose Primer Pencil
The Urban Decay Ultimate Ozone Multi-Purpose Primer Pencil an incredibly useful pencil. While you could use it merely to line your lips or reverse lip line, it can also be used to hold your eyebrows in place, correct makeup mistakes around the face, and help to hide blemishes. It's a worthy addition to any makeup bag. If you only buy one lip pencil, I highly recommend clear. While I normally use pencils in the same color family, many of my friends prefer to only use clear.
3. Too Faced Shadow Insurance
Too Faced Shadow Insurance is my holy grail eyeshadow primer and has been for the past 8 years. Eyeshadow primer is a must, especially if you have oily, hooded eyelids like I do. It makes your eyeshadow stay in place all day. It makes the colors vibrant. One mistake that people make with primer (of any type) is to apply it an immediately apply makeup on top. You need to give it a minute or two to dry down to create the perfect canvas. Oh how I wish I had known about eyeshadow primer in high school!
4. Urban Decay Afterglow Blush
I personally love the Urban Decay Afterglow Blush formula and I reach for my UD blushes more than any other blushes, NARS included (NARS are a close 2nd though!). A little blush helps to liven up the complexion. X-Rated (midtone pink) is a shade I bought from UD's website because I thought it would be the PERFECT hue for my skintone, and it is. But for someone new to makeup and unsure of where to start, I recommend Score (pinky peach with subtle gold shimmer). For the fearless, Bittersweet (purple) is a great choice. With a light hand it's pink and with a heavier hand it's purple. Fetish (pinky nude), Video (nude), and Rapture (mauve) are also great.
5. Urban Decay Afterglow Highlighter
The Urban Decay Afterglow Highlighters are gorgeous. I prefer highlighting to contouring any day. UD Aura (iridescent pink) is a lovely ethereal highlighter for pale skin. Sin (pale champagne) is gorgeous too. Applied with a light hand to the tops of the cheekbones, as well as an inner corner highlight on the eyes and you're good to glow.
6. It Cosmetics Super Hero Mascara
I love the It Cosmetics Super Hero Mascara formula and brush! It's easy to apply and get good results. As someone who struggles with mascara (which is one of the many reasons I do lash extensions), I found this formula the easiest to apply. I think this is a great mascara for beginners to start with. It also comes in a travel size so you can try it that way if you like.
7. Urban Decay All Nighter Setting Spray
The Urban Decay All Nighter Setting Spray the best setting spray for keeping your face makeup in place. You can also spritz it on a brush and then apply your eyeshadow damp with it to help intensify the color and keep your sparkles locked in. I prefer to apply it with a damp beauty blender or makeup sponge so that I can be assured I've sealed in my entire face. This is another product that I wish I had known about years ago, because it's especially helpful in the hot, humid summers of Florida and it's great for tropical climates too. (vegan)
The best foundation for you is going to vary based on your skin type. If you have dry skin, you'll likely want a moisturizing or dewy finish foundation that won't emphasize dryness. If you have oily skin, you'll likely want a mattifying foundation. I do also believe that everyone should invest in quality skincare to help your skin be its best. Paula's Choice is my number one skincare brand to recommend since they make skincare lines for all issues, including dry, sensitive rosacea skin like mine. Having your skin at its best means that you can use minimal foundation and let your real skin shine through if you desire. My current favorite foundations are Lucy Minerals Original Foundation (I pressed my own, see how to DIY press foundation) and Illuminare Moisturizing Liquid foundation. See my foundations tag for foundations that you might like.
Eyeshadows are everywhere! There are so many great palettes for beginners. Right now it's hard to beat the price of $25 for for the Gwen Stefani palette (15 shades). I also recommend the Naked Basics palette. You can also check my eyeshadow palettes tag for palettes that may interest you.
What makeup do you recommend for beginners?
More to See
Last Updated on