Marlena has done it again! She's created 5 new beautiful Makeup Geek

Eyeshadow shades and I've got them to share with you today. The new shades are Simply Marlena, Cosmopolitan, Pretentious, Graphite, Frappe, and Hipster. I've also included a 6th shade, Pretentious, because I thought you'd enjoy seeing it as well.
Makeup Geek eyeshadows are $5.99 for the refill pans and $7.99 for the compact

. I prefer the refill pans and I buy Z-Palette

for them.
You can purchase Makeup Geek products from MakeupGeek.com and Amazon.com

.
Makeup Geek is proudly cruelty-free.

Simply Marlena
Rosey pink with purple undertone and gold flecks
My Take
Rich, bright pink with tiny gold flecks. I love this! It's such a happy pink!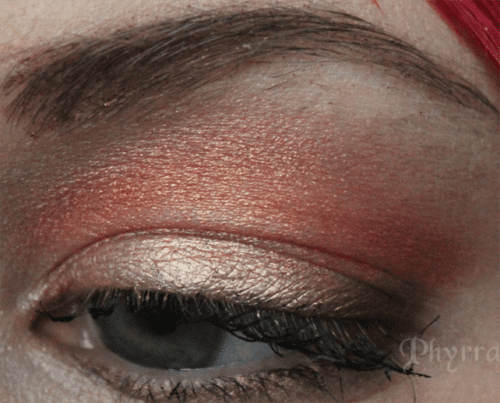 Cosmopolitan
Rose Gold with gold flecks and a shimmery finish
My Take
Rosegold with tones of orange. This is supposed to be similar to MAC Expensive Pink. I think this one is pretty but it can be difficult for me to figure out how to wear it. I can see why it's such a popular color though.
Pretentious
Metallic bronze
My Take
Metallic bronze with brown undertones. Bronze is the celebrity shade for Summer 2013. So if you're looking for one color to wear, this it it. It's got enough gold tones to brighten the eyes.
Graphite
Light graphite grey with flecks of silver
My Take
Gorgeous rich grey with silver glimmers. This shade looks amazing with blue-green eyes. I love it.

Frappe
Medium maple brown matte
My Take
Rich brown with peach tones. I think this would make for a flattering crease color.
Hipster
Dark sand and light taupe tan with slight shimmer
My Take
Sandy tan brown with taupe undertones. This is a color that I could see gracing the lids of Blair Waldorf from Gossip Girl

. Ultra flattering and feminine. I need to try wearing this, I'm just not sure what to pair it with. Suggestions?

I love Makeup Geek products. I feel that Makeup Geek makes quality products at an affordable price. I love that Marlena creates clones of MAC colors because her colors are cruelty-free. It is my hope that because they're cruelty-free, less expensive than MAC, and some are a close match to MAC shades with better pigmentation that more people will switch from MAC to this great cruelty-free brand.
What do you think of this latest round of Makeup Geek eyeshadows? Which shades are your favorite?