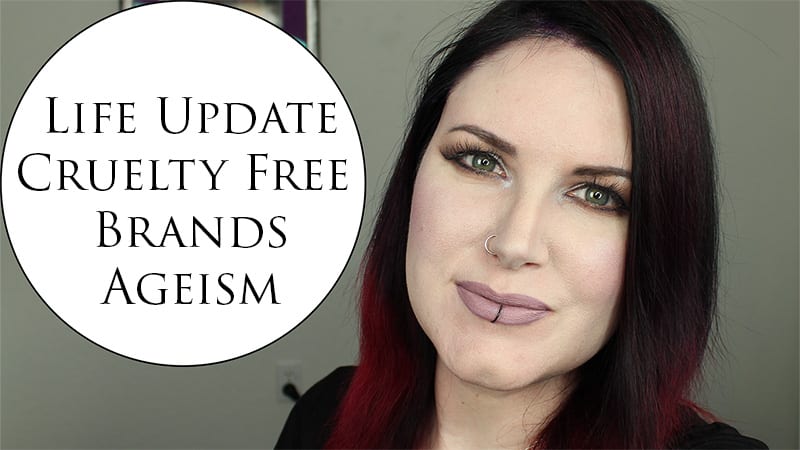 Phyrra Says Vol 41 Cruelty Free Brands, Ageism and a life update too! I talk about a weird doctor's office experience, my trip to Indiana to visit my family, cruelty free brands being bought by non-cruelty free parent companies and hair.
What I'm Wearing in the Video
Fashion
PattyBoutik Keyhole shirt (I love this so much I have it in black and purple)
Bunny Paige Dragonfly Necklace
Octopus Ring
Rogue & Wolf Black Midi Ring
Eyes
Urban Decay Primer Potion in Enigma
NARS Light Reflecting Loose Setting Powder
My Pretty Zombie Dead By Dawn, Grimdeva, Gangrenous eyeshadows
Aromaleigh Heloderma Suspectum
Tarte Black Clay Paint Liner
NARS Olympia (vanilla side)
Makeup Geek Moon Phase
Chella Ebony Brow Cream
Face
Flower Erase Everything Foundation in Sheer as Primer
Kat Von D Light 41 Foundation mixed
Nyx Pro Foundation Mixer in Opalescent 
Aromaleigh Digitalis Purpurea – contour
My Pretty Zombie Niacin – blush
Makeup Geek Moon Phase – highlight
Lips
Colour Pop Marshmallow pencil
Sugarpill Kimchi lipstick
Nails
Cult Nails Nevermore (discontinued, try KBShimmer Eclipse)
ILNP Ice House
Have you ever had an uncomfortable doctor's visit? Let me know below!
More to See