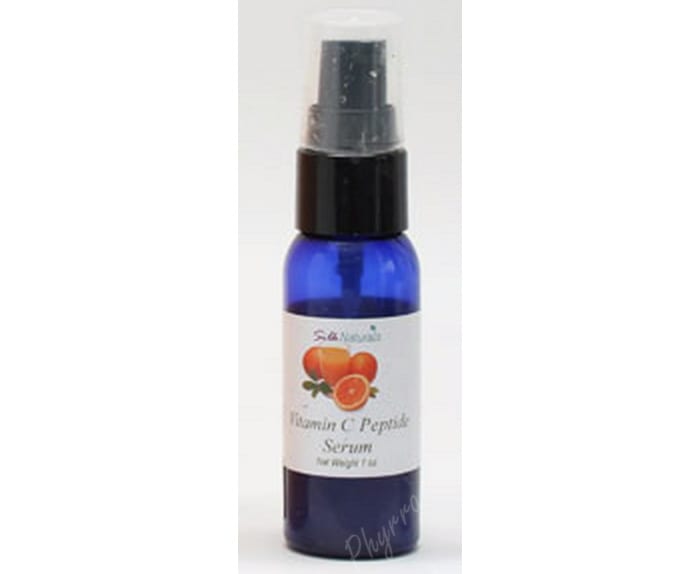 In the Fall I purchased Silk Naturals Vitamin C Peptide Serum because I was looking for a super-powered Vitamin C product that I could use under my eyes to help with anti-aging. I've been off of retinol for over 6 months this year, basically since I started doing IPL, so I've had to turn to other types of products for anti-aging in my skincare.
Silk Naturals Vitamin C Peptide Serum Review
Price
$15.95
Availability
Silk Naturals
About Silk Naturals Vitamin C Peptide Serum
Silk Naturals uses 3% magnesium ascorbyl phosphate. It's one of the most potent, effective forms of Vitamin C, and it's very stable. Other forms of Vitamin C aren't as potent or effective- and they go bad very quickly, even if they've been stabilized.
Shelf life 2 to 3 months
Gluten free
Pregnancy safe
Vegan
Ingredients
Distilled Water, Tamarind Seed Extract, Magnesium Ascorbyl Phosphate, Palmitoyl Tripeptide-5, White Tea Extract, Hydroxypropyl starch phosphate, Gluconolactone (and) Sodium Benzoate, Panthenol
Silk Naturals says this about the Ingredients
Syn-Coll is a specialty peptide that helps to rebuild collagen. The manufacturer says you can expect a 350% decrease in wrinkles in just 3 months.
Tamarind Seed Extract is a super hydrator. It's wonderful for enlarged pores and fine lines. In a recent study it out-preformed hyalauronic acid in skin hydration and the smoothing of fine lines.
Certified Organic White Tea extract is loaded with polyphenols and is a fantastic anti-oxident. It also helps with inflammation, and has slightly astringent qualities, so it feels fresh and lovely.
Panthenol– another great hydrator and humectant. It instantly plumps skin.
I'd tried another Silk Naturals skincare product in the past, but I missed the fine print about the shelf life being only 2 or 3 months, so by the time I got around to trying the product, I didn't feel like it did anything. So this time around, I made sure to use the product daily, usually twice a day, for 6 weeks. I've also been using this in conjunction with a vitamin C cleanser for part of that time.
I spent some time researching the ingredients in this serum and I'm impressed with them.  According to Paula's Choice website, tamarind seed extract has antioxidants and cell-communicating ingredients, which helps to build collagen. Syn®-Coll, also known as Palmitoyl Tripeptide-5, helps to stimulate collagen synthesis, firms skin, moisturizes it, and helps to remove wrinkles. White tea in skincare is debatably better for you than green tea according to some of the research I read. It has anti-infammatory properties, anti-aging benefits, less caffeine, and better moisture retention. I specifically wanted a product that would help with collagen production, anti-aging, and skin brightening, so that it would work with my IPL treatments. (When you're doing IPL, you can't use Vitamin C for 24 hours before or after the procedure.)
This is a clear serum that sort of has a gel texture. I find it easy to apply and spread. Once you apply it and let it sink into your skin, you'll want to put a moisturizer on top. It dries down pretty quickly. I apply it all over my face, eyes, neck, and décolleté. During the day it is critical to apply SPF 30 or greater on top of this.  I recently learned from my friend Kimmi at the Plastic Diaries to apply your skincare products into your hairline, too, so I've started doing that.
I've been very pleased with the results. For such a modest price, this serum has packed a punch! I feel like this has done an excellent job of brightening my complexion and I feel like the skin under my eyes looks and feels firmer. I feel like my face looks and feels firmer overall as well. This is definitely a serum I will repurchase.
What ingredients do you look for in an anti-aging product? Is Vitamin C on your list?