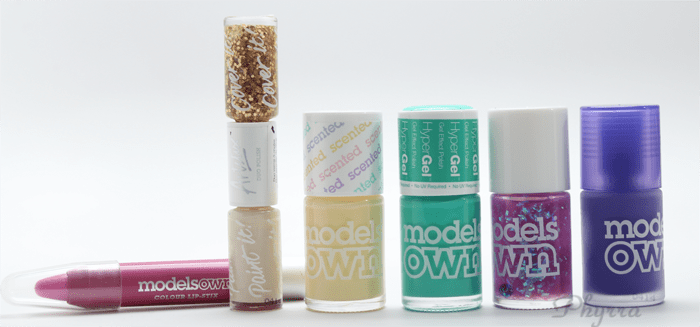 Happy Monday! Today I've got some Models Own Nail Polish and chubby lip pencil to show you. Models Own is being featured at gloss48 today, along with yours truly. Gloss48 interviewed me, so check it out! You can also enter a gloss48 giveaway here http://woobox.com/cyxjxw.
PR sample.
Models Own Nail Polish
Unfortunately the polishes didn't arrive until Friday, so I couldn't test any of these for wear time.
Models Own is cruelty free.
Price
£6.00 – Duo nail polish (£6 = about $9.89 USD)
£5.00 – Fruit Pastel, HyperGel, Splash, Ice Neons nail polish, lip stix (£5 = about $8.24 USD)
Availability
gloss48, ModelsOwn
Models Own Duo Cloud Drops – a creamy beige base with golden glitter top coat.
The creamy beige base color is perfect if you want to do leopard print nails. I like the large and small gold glitter mixed together.
Banana Split Fruit Pastel – light yellow creme. I can barely discern any fruit smell.
This is another shade that would be nice for a nail art base. It actually reminds me of Easter.
Turquoise Gloss Hypergel – turquoise green gloss.
This is a very pretty turquoise green and it's super shiny. It's supposed to be like a gel formula, so super shiny, long wearing and chip free.
Pukka Purple Ice Neon – bright blue-toned purple. You should keep this one in the fridge, according to Model's Own.
This is my favorite of all the ones sent to me to review. It's such a gorgeous purple shade to me.
Mermaid Tears Splash – sheer red-toned purple base with blue-violet flakies.
You can barely see the purple tinted base on the nail wheel. The flakies are definitely vibrant.
Mermaid Tears looks great layered on top of Pukka Purple. However, I found the Mermaid Tears formula difficult to work with. I had to really fish the flakies out to get them to cover the nail.
Pretty Pink Lip Stix – a pretty soft barbie pink
Pretty Pink is comfortable to wear and has a satiny type finish on the lips. It wore for 3 hours for me before I had to touch it up. I love the ever sharp style. I didn't notice any scent to it, but my allergies are flaring right now.
Overall, I like the formula of the Models Own nail polish (except Mermaid Tears). I also think the Lip Stix has a nice formula, but it definitely was not long wearing for me.
Have you tried Models Own? Any favorite products by them? Let me know below!