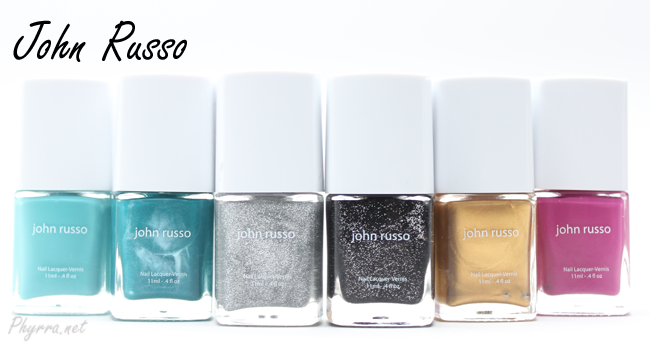 Happy Monday! I'm excited to show you some of the John Russo Lacquers. This is a new to me luxury brand, created by talented celebrity and fashion photographer John Russo.
PR sample.
John Russo Lacquers Review
John Russo is cruelty free.
Price
$18 for 11 ml / .4 fl oz
Availability
John Russo, Amazon, Folica
Jackie O's
Fashion icon, socialite and world traveler. She always the topic of discussion. Love her or hate her, you just can't get her out of your head. You can always find her on the dance floor at Jackie O's.
This stunning shade is a rich teal blue shot through with silver. I love it. It's so gorgeous.
Oh My Gosh
She has the Wow factor. Legs for days and a body that won't stop. Every guy wants her and every girl wants to be her. When she walks past you can only say, Oh My Gosh.
This is a beautiful silver glitter. It makes for an amazing accent nail.
Princessa
So Not your ordinary princess. She is the bold, outspoken and daring. She breaks every rule. She is the Princessa.
Lovely light aqua blue. This is a fresh shade.
Be That Girl
Don't be a hater, you know she's drop dead gorgeous. You see her on the cover of magazines and you know you want to Be that Girl.
This is a vampy black with silver sparks. It reminds me of Orly Goth. The formula is great.
Margate
Staying out until 3 a.m., dancing until your feet hurt and loving every second of it. Margate is synonymous with Party.
Beautiful metallic yellow gold. Sheer in one coat but great in two. This was the sheerest of all the polishes that I tried.
Little Fagie
She knows all and tells all. You can't get anything by her. Little Fagie is the center of the universe.
To me, this is an orchid pinky violet (slightly deeper than how it looks here). The formula on this one is great and you can get away with one coat.
My Thoughts
I found the formula on all of these polishes to be easy to work with and exceptionally smooth. Jackie O's is a shade that I haven't ran into in a while, a teal blue with silver. Usually you see teal blue with gold. Oh My Gosh is awesome; perfect for nail art! I love Princessa, as it's a nice light aqua shade without being too pale or streaky. Be That Girl is dazzling, especially with a top coat. Margate is a yellow-toned metallic gold that would look luxe on your tips. Little Fagie is a knockout shade that if you love that color you will love love the formula.
Jackie O's and Oh My Gosh are tied for my favorites of the polishes that I tried. I'm envisioning some cool chevron nail art with Princessa, Jackie O's and Oh My Gosh.
If you're looking for a new luxury line of cruelty free nail polish, definitely give John Russo a peek.
Pros
Cruelty free
Great formula
Beautiful colors
Cons
If you don't like luxury nail polish pricing, skip these