I meant to have my video on the Too Faced Little Black Book of Bronzers up sooner, I just saw that it was sold out! That said, I still wanted to share my video with you. In this video I demo me wearing Milk Chocolate Soleil as contour, Pink Leopard as blush and Snow Bunny as a highlighter. All bronzers are cruelty free and some are vegan.
PR sample.
Too Faced Little Black Book of Bronzers
Too Faced is proudly cruelty free.

If you like this video please give it a thumbs up and subscribe!
Availability
Sephora, Too Faced
Price
$30 – for individual bronzers
$139 – the Little Black Book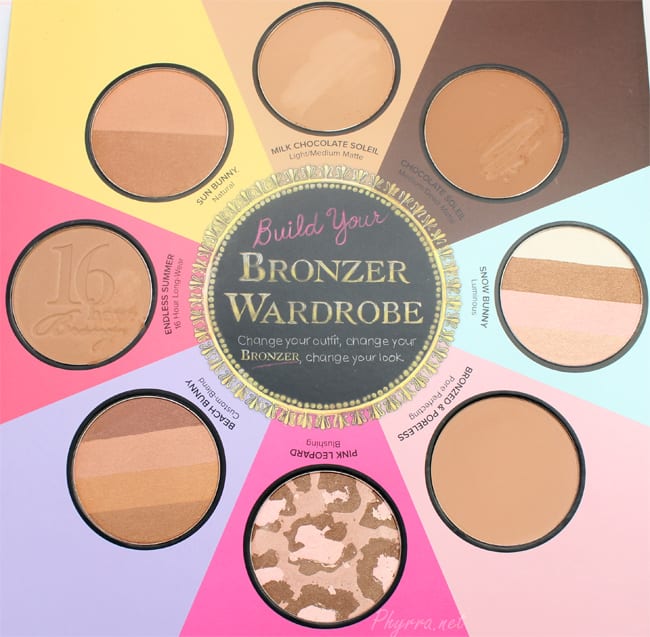 Pink Leopard
gorgeous shades of golden bronzes, gilded pinks and neutral fawns. This is beautiful.
Bronzed and Poreless Pore Perfecting Bronzer
Matte bronzer that will hide your pores and give you a glow
Snow Bunny
gives you the perfect winter glow
Beach Bunny
gives you a deep summer time tan
Sun Bunny
bronzer with a pink undertone to mimic a natural tan (Vegan)
Milk Chocolate Soleil
light matte bronzer that smells deliciously like chocolate (Vegan)
Chocolate Soleil
dark matte bronzer that smells like chocolate (Vegan)
16 Hour Endless Summer
The Double Bond formula combines staying power technology with long-wear pigments for a glow that goes all day and night (and then some)
This bronzer book is definitely a good deal if you're a bronzer lover. You can pick it up currently at Sephora!
Do you use bronzer? What's your favorite bronzer? Let me know below!