Beautisol Self Tanner Review
Last year, I was introduced to Beautisol, a vegan and cruelty-free company owned by Sinead Norenius. She took me backstage at HSN and we had a great day. Recently I had the opportunity to try out some of Beautisol's self-tanning products.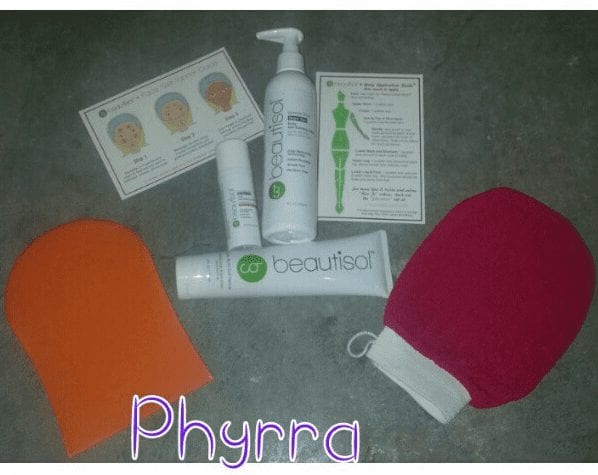 Products That I Tried
Need I Glow More, which is a face self-tanner for Normal-Dry-Sensitive skin types.
Summer Glow, the dark self-tanning body lotion.
Maroon Hammam Deep Exfoliating Mitt
Orange Applicator Mitt
Price
$8.00 Applicator Mitt
$12.00 Hammam Deep Exfoliating Mitt
$23.00 Need I Glow More face self-tanner (comes in normal-oily-problematic and normal-dry-sensitive skin types)
$39.00 Summer Glow body self-tanner
Now, I need to say that I'm not sure I've ever had a 'natural' tan. I had a trigger event when I was around the age of 12 where I fell asleep at a pool and ended up with second degree burns. Ever since that event, I remember only burning, never tanning. I practically bathed in sunblock from that point on. Because of that, I've embraced my pale and never really worried about whether or not I could tan.
Still, I figured it would be nice to give this a shot! Before I got started, I read through all of Sinead's Tips and Tricks. Then I made sure I was well exfoliated with the Hammom mitt.
I started with Need I Glow More. I first applied Need I Glow More to my face, ears and neck. I dabbed it on in streaks under my eyes, down my nose, across my forehead and my chin. Then I blended in circular motions. One of the great things about Beautisol products are that they have a guide color, so it made it easy to not miss a spot. After I applied it, I applied a little bit of my moisturizer and that really helped even things out.
Then I used the application mitt and applied Summer Glow to the rest of my body. I got my MIL to help me apply it to my back. After about 5 minutes it was dry enough that I could put on loose clothing and let it work its magic. There was no discernible smell to me or anyone around me.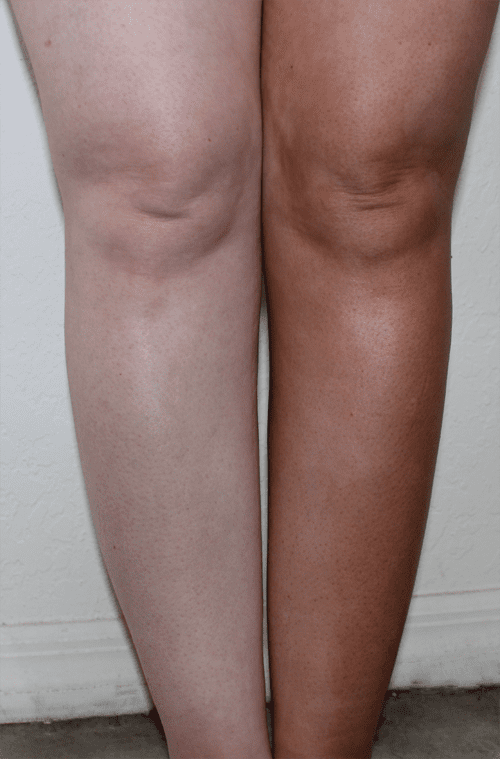 I ended up finishing my sunless tanning application around 3:45pm on Friday. Around 6:15 I ended up washing my face off because I needed to put on some makeup and go out to the movies. After the movies, I did another layer on my face and body (around 10:15 pm) and then left it on until around 10am Saturday morning. According to the instructions it's really best to put the sunless tanner on at night before bed and then sleep in it because you want to leave it on at least 5 to 6 hours.
The sunless tanner didn't smell and it didn't rub off on my clothes or sheets. When I went to wash it off, I used a wash cloth (as opposed to my typical net sponge) to remove all of the guide color. I had to pay particular attention around my hairline and neck. I was excited to see that I wasn't orange! It looked like I was evenly tanned.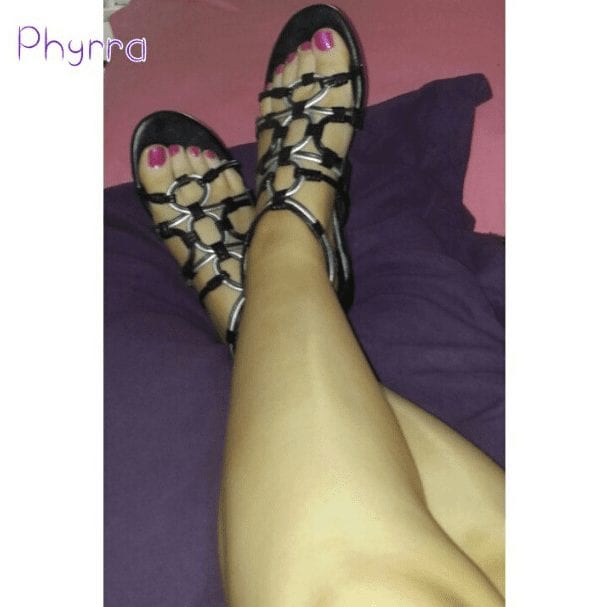 Here are my legs the next morning. I was impressed!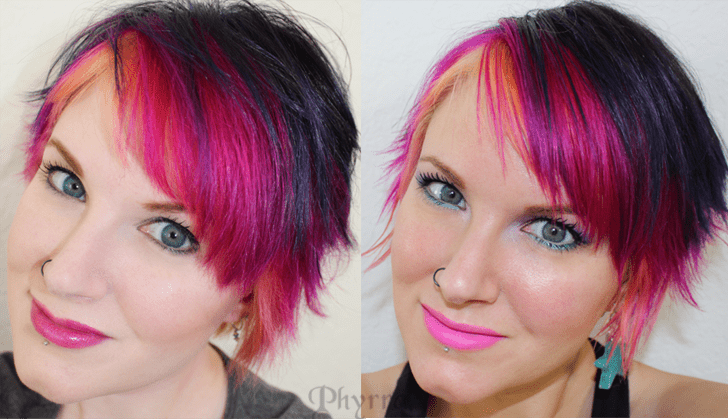 Here's my before and after. As you can see, it really does impart a healthy glow. I don't look orange.
Saturday I went to see Eugenia and Judi for lunch and they commented on my tan. They said that it was strange to see me with color but that they liked it. Several other people commented that it looked like I'd lost weight. Jen (from My Beauty Bunny) said that getting a tan is like dropping 10 lbs. I have to say that people seem to react positively to me with a tan.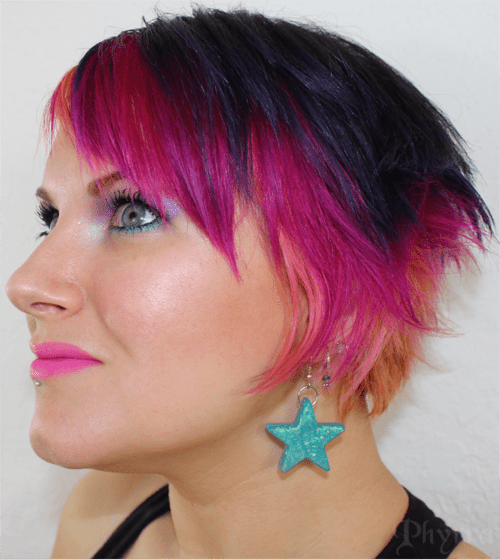 It's very strange to me though, almost like seeing a stranger in the mirror. I also noticed that I didn't really feel like I needed to wear foundation, as a lot of my skin imperfections were masked by the color. I typically feel like my skintone is uneven because of the rosacea, and the self-tanner just seemed to even me out.
By Tuesday evening, I could see some uneveness, so Wednesday morning I exfoliated to make everything match again. You're supposed to do that so that you fade evenly. By Thursday my face had almost completely faded but I still have a slight glow to my legs and arms. Even while faded, I think it still looks nice.
Would I recommend?
Absolutely! If you're looking for a cruelty-free, vegan, non-smelling, safe sunless tanner that will not turn you orange, this is it! It looks completely natural. It doesn't irritate my skin at all, even around the eyes. It's easy to use. If I can do it without goofing up on my first try, I truly believe it's easy enough for anyone to try out. Between the applicator mitt and the guide color, you won't miss a spot.
It's also the ONLY healthy way, in my opinion, to get a tan. You're not drinking in harmful UVA/UVB rays. Now, even when you use sunless tanner, since it's basically a tint for the skin, you need to still wear SPF protection.
I'm impressed. I never thought to try sunless tanner until I learned about Beautisol because I saw so many of the sunless tanning nightmares where people turned orange. I didn't want to look like a carrot. With Beautisol, you can lay that fear to rest. You'll end up with a perfect tan, every time.
What do you think of Beautisol sunless tanner? Have you tried it?
Products sent for consideration. All opinions are my own. Beautisol is cruelty-free and vegan.