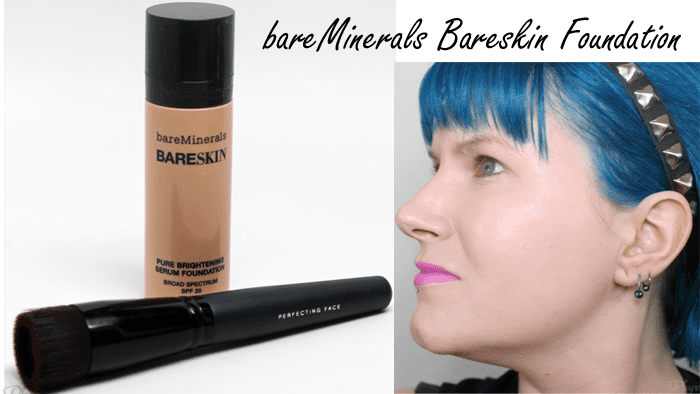 Today I've got the new bareMinerals Bareskin Pure Brightening Serum foundation to share with you. I was sent shade #6 Bare Satin, which is a cool toned shade from the Medium shade range. It's too dark for me, but I'm going to show you what it looks like and how to use Face Atelier Pro Foundation in Zero Minus to make it a better match. This is not a review as I have had this foundation for just under 24 hours; this is an introduction to the product.
PR sample.
bareMinerals Bareskin Pure Brightening Serum Foundation

If you like this video please comment, rate and subscribe!
About bareMinerals Bareskin Pure Brightening Serum Foundation
Created with exceptional purity in mind, this ultra-thin, skin-perfecting fluid provides seamless adjustable coverage, a natural finish and the look and feel of beautiful skin while delivering a noticeably brighter, more youthful appearance. Made with the bare minimum ingredients and formulated without water, oil, silicone, parabens or fragrance. It's like nothing you've ever felt before.
Multi-purpose – serum and foundation in one
Cruelty free
Paraben free
Oil free
Silicone free
Fragrance Free
Titanium Dioxide 11%: Sunscreen.
Vitamin C: This skin-brightening superpower is known to fade existing dark spots and discolorations for more even-toned skin.
SPF 20
bareMinerals Recommends
For dry skin, apply the appropriate moisturizer to ensure your skin is nice and hydrated.
For oily skin, make sure you have cleansed and hydrated your skin appropriately.
Start with a few drops at the center of your face and work your way towards the outside.
About the Clinicals / Claims
95% of women experienced a measurable improvement in the appearance of dark spots.(Based on an independent 8-week U.S. clinical study)
Price
$29 for 1 fl. oz. of foundation
$28 for the bareskin perfecting brush
Ingredients
Caprylic/Capric Triglyceride, Coconut Alkanes, Silica, Stearalkonium Hectorite, Lecithin, Glycerin, Maltodextrin, Coco-Caprylate/Caprate, Jojoba Esters, Propylene Carbonate, Tocopheryl Acetate, Soil Minerals/Syringa Vulgaris (Lilac) Leaf Cell Culture Extract, Magnesium Ascorbyl Phosphate, Sodium Hyaluronate, Phenoxyethanol. May Contain (+/-): Mica, Iron Oxides, Titanium Dioxide.
Availability
Sephora, Ulta, bareMinerals, QVC
Shade Range
20 shades are available. bareMinerals claims 100% match guaranteed.
Light Shades
1 Bare Porcelain (c)
2 Bare Shell (c)
3Bare Linen (n)
4 Bare Ivory (w)
5 Bare Cream (w)
Medium Shades
6 Bare Satin (c)
7 Bare Natural (n)
8 Bare Beige (n to w)
9 Bare Nude (w)
10 Bare Buff (w)
Tan
11 Bare Latte (c)
12 Bare Sand (n)
13 Bare Tan (n to w)
14 Bare Carmel (w)
15 Bare Honey (w)
Dark / Deep
16 Bare Almond (n)
17 Bare Maple (w)
18 Bare Walnut (w)
19 Bare Espresso (n)
20 Bare Mocha (w)
c = cool, w = warm, n = neutral
This product is supposed to be ideal for sensitive skin because it is fragrance free, silicone free, paraben free, oil free, etc. It's supposed to give you a no makeup look and feel. bareMinerals recommends this for all skin types.
Since I've only had this foundation about 24 hours, it's the wrong shade for me, and I had to mix more than 50% of it with Face Atelier Zero Minus to get a shade match closer to my own skintone (but it's still a bit dark as you can tell at my hairline), I can't really speak to how well it lives up to its claims. I can say with the amount of product that I applied I feel like nearly all the imperfections in my skin are gone. I have a rosacea flare up on my chin right now and it's barely discernible in the picture.
What do you think of the new bareMinerals Bareskin Pure Brightening Serum Foundation? Do you love the idea of a serum and foundation in one?