This post may contain affiliate links. Purchasing through affiliate links help support this website.
I have more of my NARS collection swatched for you today. I swatched the Danmari palette, which I truly love. It has Hungry Heart, Super Orgasm, Desire, Casino, Orgasm and Sin. I have velvet lip pencils in Train Bleu and Damned. I have a gloss pencil in New Lover. There's also a matte lipstick in Carthage and a versatile gloss in Born This Way. I also included my illuminators in Orgasm and Copacabana and my multiple stick in Luxor. Finally, my two eye pencils in Via Veneto and Kaliste.
The gorgeous Danmari palette!
The two pencils I have are Kaliste and Via Veneto. Via Veneto is long wearing and waterproof. Kaliste is more of an eye kohl.
These are the lip pencils in Train Bleu, Damned and New Lover. For this post I forgot to include pictures of the packaging of Born This Way and Carthage, but you can see pictures of them here.
These are the illuminators. I picked up Copacabana first and I really like it as a highlight. I was gifted with Luxor, and it's gorgeous too. I picked up Orgasm from the Trendshow and it really surprised me with how much I like it as a liquid/cream blush. The multiple stick is pretty awesome. It can be used on the eyes and the lips and the cheeks, basically anywhere on the face. I've had the best results on the cheek. It seemed a tad drying on the lips. When I first tried it on the eyes, I put too much so it creased. No bueno. However, after trying it again in different ways, it looks good

When I was at the Trendshow, Manny from NARS convinced me to pick up Born This Way Larger Than Life lip gloss. He said it worked on top of everything and was great for layering. It's not normally a color I would purchase because I would think it would make my lips look corpse-like, but it turned out that it really does look nice layered on top of everything! Above, I layered it on top of my NARS lip products.
Lips
Train Bleu (Velvet Matte Lip Pencil) – deep aubergine
Damned (Velvet Matte Lip Pencil) – magenta
New Lover (Velvet Gloss Lip Pencil) – gold infused strawberry pink
Carthage (Pure Matte Lipstick) – hot pink
Born this Way (Larger Than Life Lip Gloss) – milky lavender pink
Danmari Palette
Hungry Heart – gold ivory
Super Orgasm – peachy pink with gold glitter
Desire – cotton candy pink
Casino – A diffused deep brown powder with golden shimmer
Orgasm – peachy pink with golden shimmer
Sin – berry with gold shimmer
Blush
Nico – natural glow
I was very happy to have purchased this palette because it gave me a great range of blushes all in one. Hungry Heart makes for a nice highlighter. Desire and Orgasm are great everyday blushes for me. I don't like Super Orgasm as much as I like Orgasm, but it's still nice. I really like Sin and probably never would have purchased it, so I'm so glad it was included in this palette. I feel like it's a flattering color for me.
I like Casino, although it's another color I wouldn't have purchased on my own. It can be used to contour in a pinch (though I prefer matte contours), and it can give some nice warmth to the face if you want to look more natural.
I thought it would be good to see Nico and Hungry Heart next to each other. As you can see, Nico is more of a natural blush type shade on my skintone whereas Hungry Heart is a light highlighter with gold sparkle.
Eyes
Kalisté (eyeliner pencil) – teal
Via Veneto (Larger Than Life Long-Wear Eyeliner) – black
Kalisté was the pencil that Manny used on me during my makeover at the Trendshow as the color base for the lid and lower lid. It's a very pretty teal, especially with Eurydice and Tropic on otp!
Via Veneto is a black black black long wearing pencil. Good stuff.
The Multiple
Luxor (the Multiple Stick) – iridescent pink
This is very cute and very me. It's a nice highlight shade.
Illuminator
Copacabana (Illuminator) – glistening pearl
Orgasm (Illuminator) – peachy pink with golden shimmer
Both the Multiple Stick and the Illuminators will last you forever, or at least, last me forever. I've barely dented them. That actually makes me feel like they're well worth the price of purchase. Copacabana is similar to Luxor in terms of color, though I think it adds more of a glow. Orgasm is awesome if you want to get away with using it as a liquid blush. It's gorgeous.
Prices:
Danmari $65 (I think)
Multiple Stick $39
Illuminator $30
Blushes $28
Larger Than Life Lip Gloss $26
Velvet Gloss Lip Pencil $24
Velvet Matte Lip Pencil $24
Pure Matte Lipstick $25
Larger Than Life Long-Wear Eyeliner $23
Eyeliner Pencil $22
The Danmari palette was such a steal for the price. It was a worthwhile investment to me since it gave me a variety of NARS blushes and the amount of product was good.
Now, I'm not gonna lie. NARS is probably the most expensive department store makeup that I've purchased, but I'm consistently impressed with the quality. It makes me glad that I've dipped my toe in to try different products. I think they are definitely worth a splurge if you're looking to make one. I'm still in love with their Sheer Glow foundation in Siberia.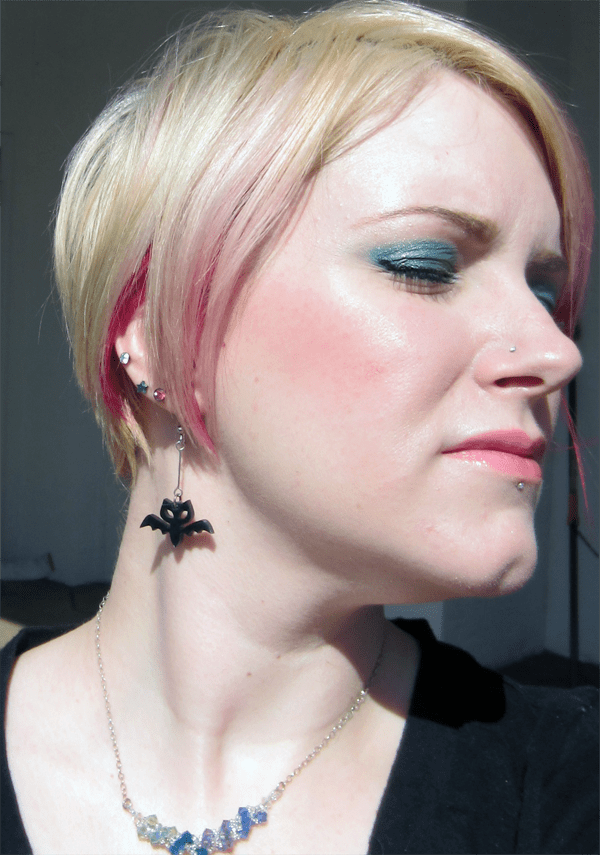 Me when I was blonde last March, wearing Siberia.
Other swatches of my NARS collection:
Eyeshadows
Chantilly Concealer
Pure Radiant Tinted Moisturizer SPF 30, Sheer Matte, Sheer Glow, and Powder Foundations
Trendshow Purchases
My Wish List for NARS includes:
Lamu (glazed apricot with gold sparkle, multiple stick), Luster (sheer golden apricot, blush), Lhasa (lavender grey, eyeshadow), Bombshell (powerful platinum, eyeshadow), and Albatross Torrid Duo (luminous glow, coral with shimmer, blush duo). Greys work on my eyes, what can I say? Also, peach/apricots seem to make me look more alive and vibrant these days.
What do you think of NARS? Do any of these colors call out to you? What's your favorite high end makeup splurge?
Orgasm Illuminator was a gift with purchase. Luxor Multiple was a gift from a friend. All other products purchased by me. All opinions are my own.