This post may contain affiliate links. Purchasing through affiliate links help support this website.
I wanted to a fun look with Flip, since I've not worn it in forever. I decided that green was the way to go, so I used Inglot 57, too. My hope is that this doesn't look to Christmas-y since I tend to think of green and gold as Christmas colors.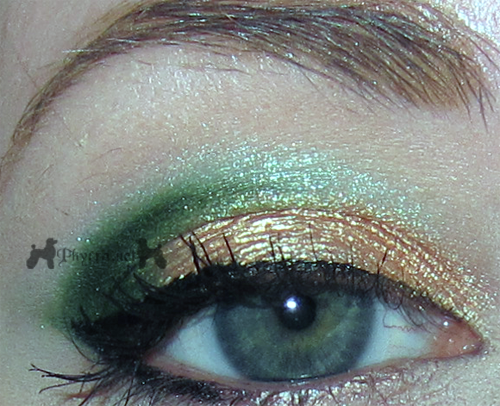 I started with TFSI. I applied Bisque with a large ecoTools blender brush to the upper crease and browbone, except for directly under the eyebrows. Then with a fluffy lid brush (I used a MAC 213 today), I applied Flip to the lid. I used UD's crease brush with Inglot 57 on the outer corner of the lid and outer crease. I used my MAC 224 blender to blend the green out. With a mini-chisel detail brush, I applied Telepathy to the edge of the upper crease, basically where 57 and Bisque met, and also along the inner crease. I used Revlon's brow enhancer in 001 gold under my eyebrows and at the inner corner of my eyes. I used Tokidoki's Perfetto liner in Sabochan along my upper lash line and outer lower lash line. I have to say, I REALLY like the shape of the Perfetto liner tip. It gives a great line and I find it easier to use than the Nyx pen and other pens that I've tried like this. I applied the Revlon 104 dark blonde brow pencils to define my brows and then took my stiff angled eye shadow brush to soften the edges a bit. I finished off with my favorite mascaras, one coat of each.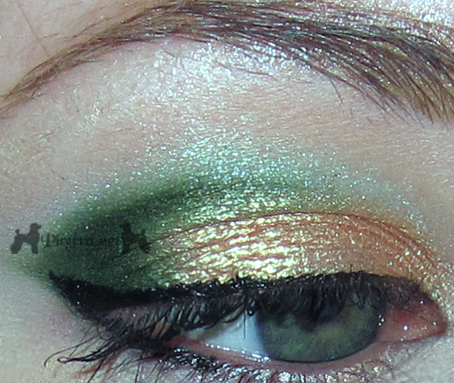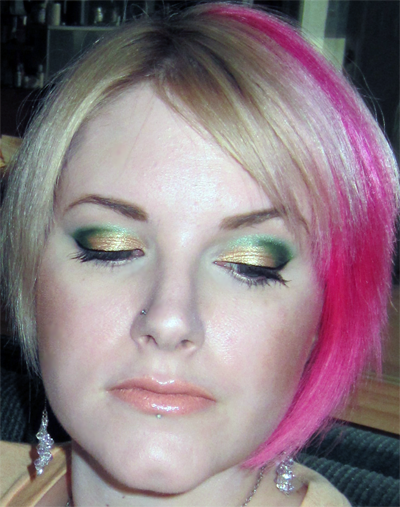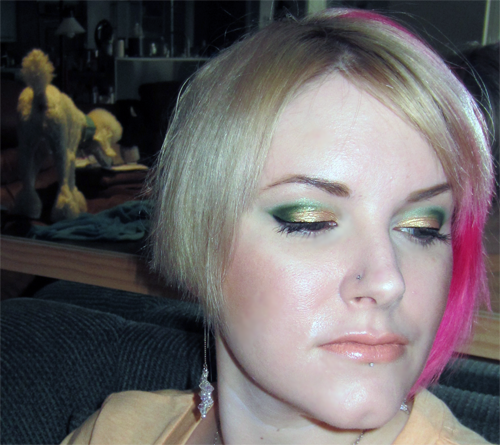 This picture with Phaedra in it made me laugh, so I had to share it with you.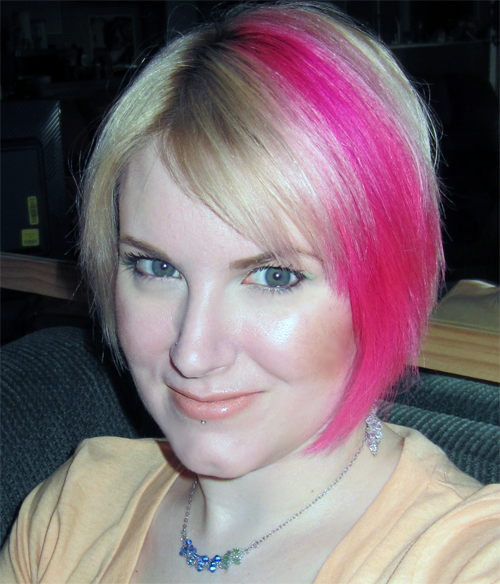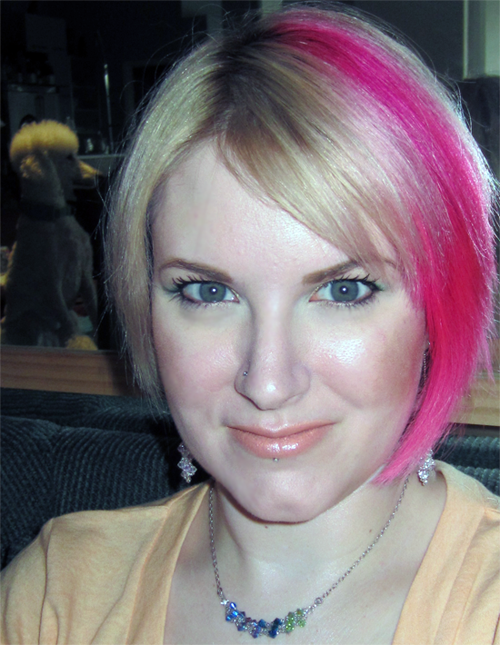 She looks really cute here, too. This morning was overcast and rainy so not very much natural light in my home.
Eyes:
Too Faced Shadow Insurance
MAC Flip – lid
MAC Bisque – widely in crease and browbone
Inglot 57 – outer corner of lid, outer v, outer crease
Meow Telepathy – upper crease
Revlon 001 Gold highlighter – under eyebrows and inner corners of eye
Tokidoki Perfetto Liner in Sabochan – upper lash line and outer lower lash line
Urban Decay 24/7 liner in Midnight Cowboy – inner lower lash line
Revlon 104 Dark Blonde Brow Pencil
Flirt! It Curls Mascara
Cover Girl Lash Blast Volume Mascara
Face:
LaVanila Healthy Sun Screen SPF 40 Face Cream
Fyrinnae Velvet-gel Silica Face Primer mixed with L'Oreal concealer & dotted under eyes and on red spots
Laura Geller Balance-n-Brighten foundation in Porcelain
Cheeks:
MAC Mineralize Skinfinish Natural in Medium Dark – contour
Tokidoki Inferno Bronzer in Royal Pride – blush
Lips:
Cover Girl NatureLuxe Lip Balm SPF 15
MAC lipliner in Naked – lined and filled in lips, then blotted
MAC lipstick in Shy Girl – applied, blotted, applied, blotted
I need to review the Crown brushes that I purchased from Hautelook. In short, they're ok, but they shed. I was actually surprised that they shed.