This post may contain affiliate links. Purchasing through affiliate links help support this website.
I wanted to talk about my favorite vegan cruelty free brushes. I get a lot of questions about what are the best brushes, and if I prefer synthetic or natural hair brushes. I personally prefer synthetic brushes now that I'm more educated on the subject.
1. ecoTools

$9.99 for the 6 piece brush set, and there are a variety of sets. This one breaks down to about $1.67 per brush.
I love these brushes for several reasons:
A. They're easily accessible as they're sold at several places such as Walgreens, Amazon.com, and Target.
B. They're very affordable, especially in the sets.
C. They make some great brushes.
D. They're made from sustainable materials. The handles are made from bamboo and the bristles are synthetic taklon and 100% cruelty free. The Ferrule is made from recycled aluminum.
E. I love the short handles as I feel they give me more control.
Cons:
The only con to these brushes are that they don't offer all the styles I use and that they don't offer some of the brushes separately, such as the fiber optic brushes.
2. Too Faced Teddy Bear Hair Brushes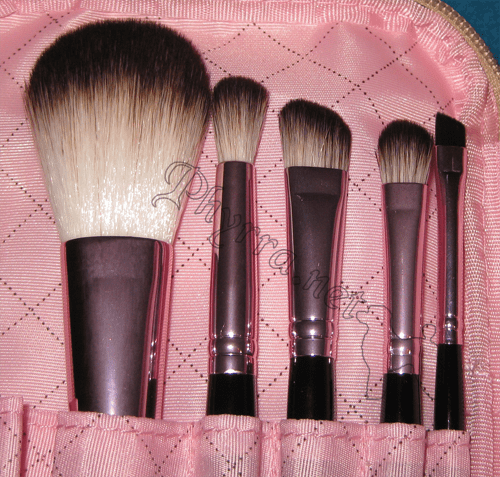 $65 for 5 brushes and a carrying case. That breaks down to roughly $12 a brush & $5 for the case.
I love these brushes because:
A. They're pink!
B. They've got silky smooth hair and feel awesome as well as perform wonderfully.
C. They're offered at a variety of places including Apothica,  Sephora, and Too Faced.
Cons:
They're only sold in a set, there's not a lot of variety of brushes offered, and they're the most expensive of the brushes.
3. BftE 18 Piece Vegan Brush Set (upcoming review, in short I love them)

$45 for 18 brushes, breaks down to about $2.50 per brush.
I love these brushes beause:
A. The silky smooth hair of the brushes feel wonderful. They feel very similar to the Too Faced Brushes.
B. There are a TON of brushes offered in this set! There's a brush for almost everything I need and a few I had never tried before that are amazing, such as the doe foot brush.
C. They're a gorgeous grey color.
Cons:
The handles are really long and they're only available in a set. They're only offered at BftE Cosmetics.

$25 for 5 piece brush set (it's $35 but offered at 40% off and it's a 6 piece brush set now), which breaks down to about $4.17 per brush.
I love these brushes because:
A. They've got fuchsia handles!
B. The brushes included in the set are the type I use daily.
Cons:
They're not as nice as the BftE brushes or the Too Faced brushes. After using them for over a year, the bristles are starting to look a bit shabby on the fluff shader brush. However, the eyeliner brushes, the smudge brushes and the lid brushes are just fine. They're only offered at Medusa's Makeup.
So tell me? What are your favorite brushes? What are your favorite brush styles?
Medusa's Makeup Brushes & Too Faced Brushes were purchased by me. Most of my ecoTools brushes were purchased by me and others were sent for consideration. BftE brushes were a gift. All opinions are my own.