This post may contain affiliate links. Purchasing through affiliate links help support this website.
Andrea sent me samples of her upcoming Pinup Girls collection and I've swatched them for you!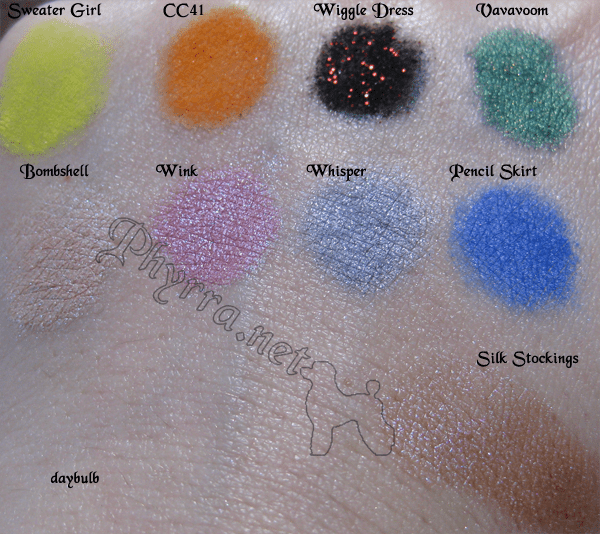 My Shade Descriptions:
Sweater Girl – hi-lite neon yellow
CC41 – bright orange matte
Wiggle Dress – deep carbon matte black with red glitter
Vavavoom – shimmery pine green with slight gold iridescence
Bombshell – creamy beige with slight blue iridescence
Wink – soft candy pink with slight blue siridescence
Whisper – light greyed lavender with slight pink iridescence
Pencil Skirt – midtone blue, almost cornflower, with slight pink-copper iridescence
Silk Stockings (lipstick) – nude-beige-pink with slight blue iridescence for a whitening teeth effect
Sweater Girl and CC41 are bright neon shades. I'm looking forward to trying CC41, I just don't know what I'll be able to wear it with.
Wink and Whisper are beautiful candy pastel shades.
Wiggle Dress is a smokin' hot shadow that I think would look good on its own on the lid and crease.
Bombshell is a great my skin but better type of shade, as it seems to brighten up the eyes.
Vavavoom is a really pretty green that because of its gold shimmer I think it would be quite versatile.
Pencil skirt is lovely and has an interesting, almost velvety texture.
I really love Silk Stockings. It's a fantastic nude lip shade.
Overall, I really like the new collection from Evil Shades. What do you think?
PR sample sent for consideration. All opinions are my own.