This post may contain affiliate links. Purchasing through affiliate links help support this website.
The lovely G of Nouveau Cheap did a post recently on the new Wet n' Wild Coloricon eye shadow trios. She also mentioned how Wet n' Wild had a sale going on at Walgreens today, 50% off. She's got the best sales! I saw I Dream of Greenie and I'm Feeling Retro and I knew I had to have them. Wet n' Wild must be really popular by me, because there was only one of each of the new colors left! I picked these up for $1.50 each.
I had to get I'm Feeling Retro because it just screamed Phyrra at me. The colors match my site pretty well! I also liked I Dream of Greenie for that yellow-green shade. I'm glad I snagged these two!
I'm Feeling Retro
Browbone – Pearly White
Crease – pearly mid-tone peacock blue
Eyelid – pearly fuchsia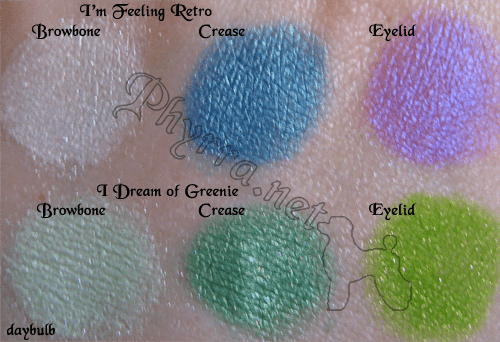 I Dream of Greenie
Browbone – pale pearly silvery mint
Crease – pearly mid-tone grass green
Eyelid – velvety yellow-green with silver sparkle
The standout color among these 6 shades is the Eyelid shade from I Dream of Greenie. It's an amazing velvety yellow-green shade. It's gorgeous. It reminds me a bit of Aromaleigh Erline.
The eyelid shade from I'm Feeling Retro is really gorgeous too. It reminds me of MAC's Pink Pearl pigment or of MAC's Stars & Rockets eye shadow. It's a color I always enjoy having around and I really like it paired up with the mid-tone peacock blue color.
The two highlighters are both really nice. They work well with the shades in their trio. The mid-tone crease shadows are nice and compliment the lid shades. The green especially makes for a perfect contour shade.
At $1.50 for 3 coordinating eye shadows (net weight .12 oz), they're a steal. Color me impressed with these new offerings from Wet n' Wild. Between the 6 eye shadow palettes, these color trios and the black creme liner, I like what the new Wet n' Wild has to offer!
What do you think of the new eyeshadow trios from Wet n' Wild?
Products purchased by me. All opinions are my own.