This post may contain affiliate links. Purchasing through affiliate links help support this website.
This is a list of my colors of the year, as well as swatches. This was the year of me getting back into pressed shadows, mostly thanks to Sugarpill. It was also the year of me appreciating mattes, highlighter and transitional shades. Only 2 pictures were taken with flash. The rest were taken with the daybulb and no flash. Part 2 will be listed tomorrow. You can also check out my Best of 2010 List.
Row 1 Stila Kitten
Row 2 MAC Vellum – MAC Vapour- Sugarpill Tako – Aromaleigh Milky Way – MAC Blanc Type
Row 3 MAC Copperplate – Concrete Lolita – Urban Decay Half-Baked – Aromaleigh Phaedra – Urban Decay Frigid
Row 4 Sugarpill Afterparty – Sugarpill Poison Plum – Sugarpill Dollipop – Sugarpill Love + – Sugarpill Midori
Row 5 Fyrinnae Switch – Suds n' Sass Seagrass – Aromaleigh Erlina – Sugaprill Absinthe – Meow Skeptic
Row 6 Fyrinnae Futuristic Glam Rock – Fyrinnae Javan Rhino – Fyrinnae Catrina Cabaret – Fyrinnae Glitterboi – Sugarpill Magentric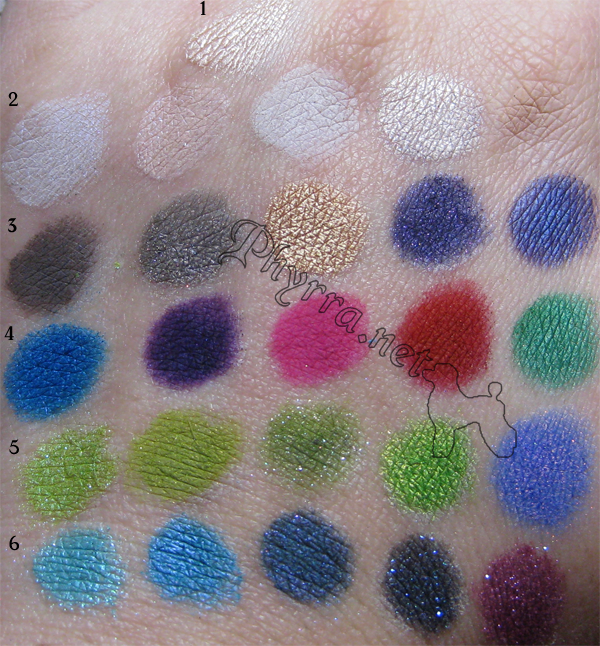 Shade Descriptions
Row 1
Kitten – shimmering nude pink
Row 2
Vellum – pale white duochrome with violet-blue opalescent shimmer (frost)
Vapour – soft pale peachy-pink duochrome flecked with violet shimmer (velvet)
Tako – pure matte white
Milky Way – cream-coloured velvet adorned w/soft golden highlight and subtle blue glimmer
Blanc Type – creamy beige (matte2)
Row 3
Copperplate – muted mid-tone grey (matte2)
Lolita – shimmery taupe with pink undertones
Half-Baked – subtle, lustrous bronze
Phaedra – a plush matte/luster that is the deepest blue purple with flashes of fuschia and iridescent pink
Frigid – deep purple with blue sheen
Row 4
Afterparty – bright turquoise with a semi-pearly sheen
Poison Plum – dramatic purple with a semi-pearly sheen
Dollipop – vibrant, matte hot pink
Love + – bright red with a semi-pearly sheen
Midori – vibrant green with a slight pearl sheen
Row 5
Switch – Yellow-green chartreuse with aqua reflect
Seagrass – a yellow/green with a slight golden shimmer (shimmer)
Erlina – lush, slightly yellowed green
Absinthe – a mischevious vivid lime green with yellow undertones
Skeptic – bright periwinkle with copper and pink iridescent color changing fire
Row 6
Futuristic Glam Rock – A gorgeous bright sky blue with strong green sheen. Closer to light, the green sheen becomes violet, giving it a strong lavender highlight. Metallic & sparkly.
Javan Rhino – vibrant turquoise with a lavender-pink highlight
Catrina Cabaret – Deep cool teal frolicks with a fun pink-purple highlight and sparkle.
Glitterboi – the most perplexing. In the jar a deep midnight blue, on skin it's a deep blue with purple sparkles and a very strong green sheen. Closer to light, morphs to a dark, vibrant blue-based purple. Metallic & sparkly.
Magentric – Metallic deep magenta with a dazzling turquoise sheen.