This post may contain affiliate links. Purchasing through affiliate links help support this website.
I haven't wanted to purchase anything for a while from MAC, but when I saw the Cham Pale release, I was interested in picking up some of the pencils. So I have to share my tale of pencils with you, as well as my look for the day and some swatches. By the way, MAC's Cham Pale is finally online and available at their website, and you can get free standard shipping with the code BUBBLES.
Yesterday, I worked from home. Ray offered to go pick up the MAC pencils I wanted for me, which I was ecstatic about. I texted him the exact names so he'd know what to grab. He braved the mall yesterday (which was INSANE) and picked up what he thought was MAC Feline Kohl Power Eye Pencil (a rich black) and MAC Chromagraphic Pencil in NC15/NW20. Unfortunately, the woman behind the counter was not paying attention to him at the crowded Nordstrom's MAC counter and handed him NW25/NC30 pencil. So he gets home and he's all excited because they were both in stock and he knew I wanted them. I take them out of the bag to check them out and see that Feline is right (YAY!) and the Chromagraphic Pencil is wrong (boo!). It's too late for me to drive back out to the mall and return it.
I check online on Temptalia's site and see that the Cham Pale should be available on MAC's website. I check and I can find Feline but I can't find NC15/NW20. The other sites I check have NC15/NW20 sold out. I'm a bit sad panda at this point, because it sounded like Nordstrom's would sell out of the pencil.
Today, Ray and I went back to International Mall, to Nordstrom's to exchange the pencil for the correct one. The store isn't nearly as busy as yesterday, but the staff seem cranky. We waited by the counter for several minutes before one of the 3 sales associates comes over to see if we want assistance. When I explain that Ray was given the wrong pencil, I didn't open it, I just want to exchange it for the right one, the sales associate kind of rolled her eyes and and stomped off to go grab it, as if by me saying that someone gave Ray the wrong product was impossible.  She then tells me we're sold out. So I say ok, I'll just take a refund. She's all, are you sure you don't want something else? And I say no thank you. She tries to press and I'm not having it. She processed the refund and then huffed off to watch one of the other MAC people do a makeover on a customer.
I then trudge down to the MAC store in I-Mall, which I tend to avoid because normally the nice people are at Nordstrom's and the not-as-nice people are at the MAC store. I guess this just changes depending on day. The people at the MAC store were not busy at all and were really friendly. I immediately was helped by a cute girl who found the NC15/NW20 pencil (YAY). Then when she asked if there was anything else she could help me with, I asked her to suggest a natural contour shade. She got super excited and took me over to see the MAC Mineralize Skinfinish Naturals. She fussed with the shades and finally decided that Medium Dark (matte caramel beige) would be a good shade for my coloring. She then showed me her technique and recommended brush for application. So I picked up that as well as the pencil.
I finally broke down and ordered two Sigma brushes to go with the Mineralize Skinfinish Naturals. I ordered the equivalent of the MAC 109 Small Contour Brush, which Sigma calls the F05. I also ordered the Sigma Small Duo Fibre F55, which I think may be the equivalent to the MAC 187. I became a Sigma Affiliate while purchasing these brushes, so I'll definitely be reviewing them and telling you what I think of Sigma as compared to MAC and ecoTools.
Now, on to the swatches!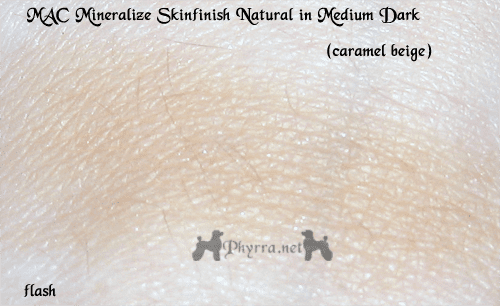 I will try a look with this soon, I promise, as well as the pencils.
I used to exclusively use MAC eyeliner pencils, but I always felt like they smudged on me. This was before I ever tried eye shadow primer. Once I tried primer, I still associated MAC pencils with smudging, so I tried out Urban Decay's 24/7 pencils and fell in love with those, since they tend to not migrate on me. I'm giving these a chance because I've been wanting something other than UD's Yeyo for my lower water line. You've probably noticed me using MAC's Blanc Type on the lower water line, so I thought that NC15/NW20 would be a nice change. I also wanted MAC's Feline after I saw Temptalia's Black Eyeliner Comparison Swatches and I saw how deep and dark it is. It really is an intense, rich, dark black.
I compared it to UD's Zero for you, which I normally use.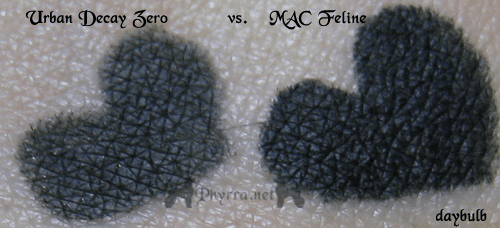 Ok, so I promised you a look. I haven't done a look for a few days because I had an allergic reaction. I strongly suspect it was from Stila's Smudge Stick in Peacock. I didn't use an eye shadow primer along my lower lash line and my lower lash line is where I had a reaction. Bleh. I did a very minimalistic look.
Eyes:
Flirt! It Curls Mascara in Bombshell Black
(yes, I wore mascara by itself, without a primer today!)
Avon Glimmersticks Brow Pencil in Soft Black
Face:
Hard Candy Welcome Matte Mattifying Powder – all over face and eyes
Cheeks:
Too Faced Blush Duo in Pink Provocateur
MAC Blush in Full Fuchsia
Lips:
Avon 24K Gold Lipstick in Golden Rose